The Independent's journalism is supported by our readers. When you purchase through links on our site, we may earn commission.
Those who've never detected much political conviction in David Cameron should think again
The Scottish referendum has revealed a previously unseen depth of emotion in the PM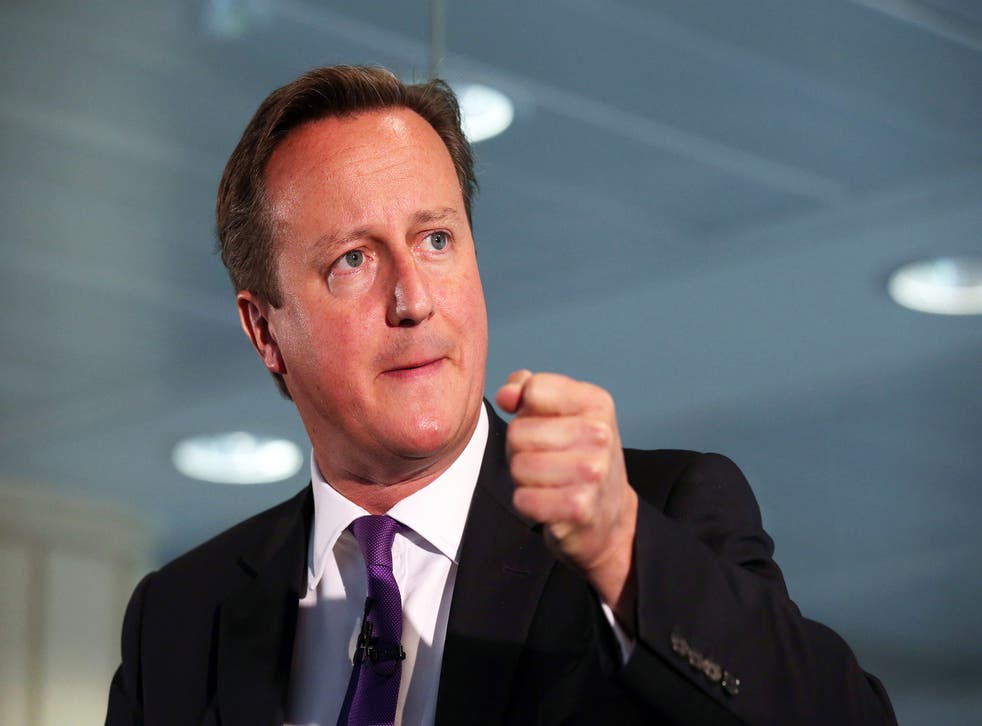 Are we seeing David Cameron as we have never seen him before? Those who dismiss the Prime Minister as just a PR man will have been alarmed to see him yesterday seemingly on the verge of tears when talking about the break-up of the Union. If this was faking sincerity, it was a tour de force.
But it wasn't. While there are parts of the national furniture that to most of us are a merely a given, for him they are character-forming. They are what he is. They have helped provide him with his supernatural assuredness and comfort in his own skin. He was marinated in the most mindset-moulding education a person can have, and it has served him well, personally and professionally. As PG Wodehouse suggested, when the sun has shone on you throughout your life, you're inclined to feel that it was put there for that specific purpose.
So when the certainties that go with that - that the British drive on the left hand side of the road, that, for example, ideological dogma and Germanic certainty is inherently ridiculous, that he is a Conservative, that Scotland is where a certain sort of English person goes for a certain sort of holiday in heartbreakingly beautiful surroundings – are shaken, you bet he cares, and more even than most of us as we blink and contemplate 300 years of the Union going down the pan.
For a start, he owes the good fortune of his upbringing in England's comfortable home counties to his great-great-grandfather Ewen, who left Scotland early in Queen Victoria's reign to work in the Far East, whence he moved to London, by then as a director of the Hong Kong Shanghai Bank. Having become a director, he eventually returned to London to manage the bank, and was knighted for his services. Cameron's great-grandfather became senior partner of stockbrokers Panmure Gordon, living partly at Blairmore Castle, near Huntly in Aberdeenshire and partly in London.
Scottish Independence: For and against

Show all 24
More recently, Cameron has enjoyed stalking deer on the edge of the Cairngorms and fishing for sea trout off the island of Jura, an idyll where, daily bread permitting, chillaxing might have been invented. There he can come as close as any PM ever can to switching off from high politics.
Jura has long been home from home for the Astors, his wife's mother's family, which owns a 19,500-acre estate there, and the nearest shop is 12 miles from the family's lodge. Cameron's higher-profile recent holidays have been in more child-friendly Cornwall, which may have been politically just as well, given how press pictures of deliveries from top people's delicatessens to the seaside lodge are likely to have gone down in, say, Easterhouse.
In truly wild countryside (seals, dolphin, red deer, eagles and otters), Cameron indulges an enthusiasm for early-morning swimming when he stays there. He is a hearty eater of venison, lobster and haggis, and has close friends north of the border. When you're used to that agreeable side of Scotland, at the very least, what's not to love about it?
Cameron, remember, stood among the crowds when Prince Charles married Diana Spencer. Imagine how he would feel having to explain to the Queen that, actually, the Union was being dismembered on his watch. The press has speculated that Cameron would feel obliged to resign if it ever came to that (assuming, that is, that the matter is in his own hands).
It is a possibility Downing Street is playing down, at last, having told the Independent on Sunday six months ago it was a "hypothetical issue" (which speaks volumes, in several ways). Of course it couldn't be admitted now, but that won't stop the speculation, any more that it would stop the anger that would result should his then understandable decision to narrow the Scottish electorate's choice to a simple Yes/No vote backfire.
A third, in-between option of increased devolution could have been offered, but presumably Cameron couldn't resist the prospect of giving Alex Salmond an unambiguous and final electoral slap in the face. How he must now regret that call. Win or lose, he won't now kill the issue, and the belated offer of greater powers to Scotland can easily painted as desperation.
This is not the magnanimous Cameron he was brought up to be. The campaign until this week now looks complacent, bringing to mind another facet of the Cameron character, his tendency to lose focus on an issue until humiliation looms. The Economist put it recently, in most un-Economist language, "the prime minister is so wilfully slapdash as to suggest a lack of regard for his own high office".
Cameron's job is on the line, and over something he really does care about. It may be that the essay-crisis prime minister, as my colleague John Rentoul calls him, will come through. If so, I suspect he will regard it as quite the scariest challenge of his time in the job. Presiding over the break-up of the Union would be a Ramsay Macdonald moment for the Conservative and Unionist Party. He may even think a win for No undermines him fatally, although surely the lack of an obvious successor would keep him in the job till next year at least.
He is at his best in a corner, and in going to Scotland he is playing the patrician against the streetfighter, but I reckon he may still surprise people. Sir Peter Tapsell's line has never seemed more apt. He says he has never known a Prime Minister so good at getting out of scrapes – or so good at getting into them.
James Hanning is the Deputy Editor of The Independent on Sunday and the co-author of a biography of David Cameron
Register for free to continue reading
Registration is a free and easy way to support our truly independent journalism
By registering, you will also enjoy limited access to Premium articles, exclusive newsletters, commenting, and virtual events with our leading journalists
Already have an account? sign in
Register for free to continue reading
Registration is a free and easy way to support our truly independent journalism
By registering, you will also enjoy limited access to Premium articles, exclusive newsletters, commenting, and virtual events with our leading journalists
Already have an account? sign in
Join our new commenting forum
Join thought-provoking conversations, follow other Independent readers and see their replies