Today's young women have betrayed feminism
I squarely blame the young with their foolish apathy and criminal self-indulgence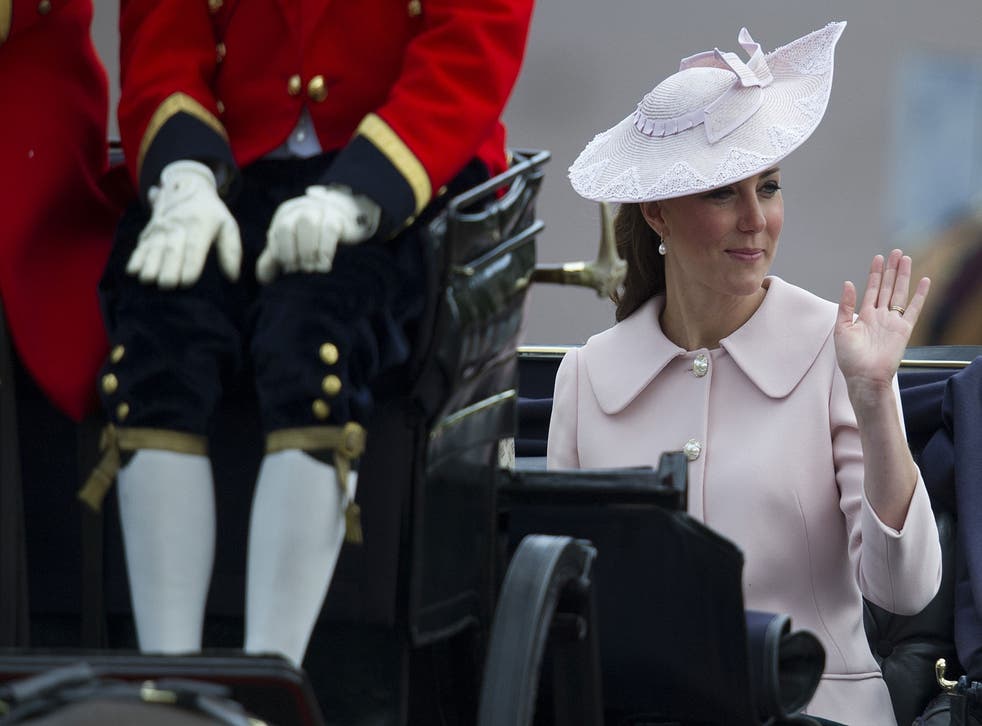 Kate appeared at the Queen's birthday parade, big with baby, smiling, blooming. She, who wore an ice- cream pink outfit, is a perfect icon of today's womanhood – rich and canny, compliant in public, not fearsomely feminist but sweetly feminine, a princess who, unlike rebellious Diana, may just live happily ever after because she fits in and fits our times. Hundreds of thousands of young, female undergraduates want Kate's life and luck. Why that should be so is too depressing for me to ponder. But it is so.
Other stories appeared this week about beautiful women having plastic surgery and also about pretty Kim Sears, the girlfriend of tennis champion Andy Murray, who is still waiting for a proposal. We learnt that the next Bridget Jones film is being made about that hopeless and dependent woman addicted to dieting and romance. Yes I have watched these movies and laughed, but then thought of the grim messages they convey. And the popular confessional journalist, Liz Jones, had extracts published from her memoir. Here is a taster: "[I wish] someone had told me I was normal and acceptable then I wouldn't have spent my life trying so hard to be better than I am. Lying. Manipulating. Tanning. Plucking. Jogging. Dieting."
Shame on those women between 20 and 40 who have squandered the hard-won achievements of original feminism. And to add insult to self-injury, these younger generations seem proud that they dissed and dumped all we fought for. We expected better and more from those who followed. It is, I know, very fashionable these days for the young to blame baby boomers for being "selfish" and spoiling it all. Well enough of that. I squarely blame the young, who, through foolish apathy, criminal self-indulgence and sometimes uninformed loathing of the women's movement, have ensured that our social, political and economic environment is less fulfilling, much less safe, less equal and less nurturing than it was even in the 70s and 80s when we old Fems were burning bras and raising hell. There are exceptions. There are always exceptions, but what matters are the common narratives and those, alas, are regressive and anti-women.
Are they proud, the "post-feminists", when their eyes scan the landscape? Catharine MacKinnon, radical feminist campaigner and theorist in the 1980s, wrote compellingly of how "the eroticisation of dominance and submission" creates social norms for male/female relationships way beyond the bedroom. So what do we get now? The bestselling Fifty Shades of Grey, a God-awful S&M trilogy, mainstreaming the idea of male domination and "knowing" female submission. The almost total pornification of Britain is now used without any embarrassment by males, aided and abetted by females. Internet porn sewage swills around and is defended in the name of "freedom". In one Sunday tabloid I found a full page advert for porn DVDs. You too could have Black and White Babes, Uni Girls in Sex Heaven, Gang Babes, Teen Group Sex costing a pound each. Meanwhile most modern girls suffer from body image problems; many find it hard to say no to sex; too many boys associate sex with porn images where females are roughly taken and look like Barbie dolls.
Prominent feminists used to say pornography is a metaphor for women's defeat in the long war for respect and parity. We are defeated. A report by the IPPR think-tank found that ambitious, middle-class, professional women are now more or less equal to their male counterparts, but that those on low wages and with little power are actually doing worse. I went to Ladywood, Birmingham last week, where 70 per cent of children are raised by single mothers with little money. They do their best and most look much older than they really are, both mums and children. The cuts are hitting women much more savagely than men. The cost of childcare is forcing the poor out of the legitimate job market, so many are forced into twilight jobs with slave wages. (This is happening to men too.)
The rape and murder of women, horrendous in real life, are now favourite subjects for slick thrillers, in which lady detectives lead the investigations. Domestic violence remains high and facilities to help the women are closing down. There was a shocking reminder of how vulnerable even the most powerful women can be with pictures in a Sunday newspaper, showing Charles Saatchi with his hands around the neck of his wife Nigella Lawson at an outside table of a restaurant. She was in tears.
With such a depressing scenario, it was good to hear that journalist Charlotte Raven, 43, once a wild child of Thatcherism, was to re-launch Spare Rib, the influential feminist mag which started in 1972 and died in 1993. It would be engaging, promised Raven, surprising, political and sharp. And then Marsha Rowe and Rosie Boycott, the two original founders, both of whom I like and admire, threatened to sue Raven if she used their title name. Damn pity that. We needed this mag to appear and succeed.
But never mind, soon Kate and William's baby will be born, and young British women will rejoice and talk about little else. Transformative politics? Not for them. They have cuter things on their little minds.
Register for free to continue reading
Registration is a free and easy way to support our truly independent journalism
By registering, you will also enjoy limited access to Premium articles, exclusive newsletters, commenting, and virtual events with our leading journalists
Already have an account? sign in
Join our new commenting forum
Join thought-provoking conversations, follow other Independent readers and see their replies