UK flood crisis: If we faced a devastating terrorist threat, would our government be responding with such astounding apathy? Of course not
And they certainly wouldn't be indulging in the crass finger-pointing of the past week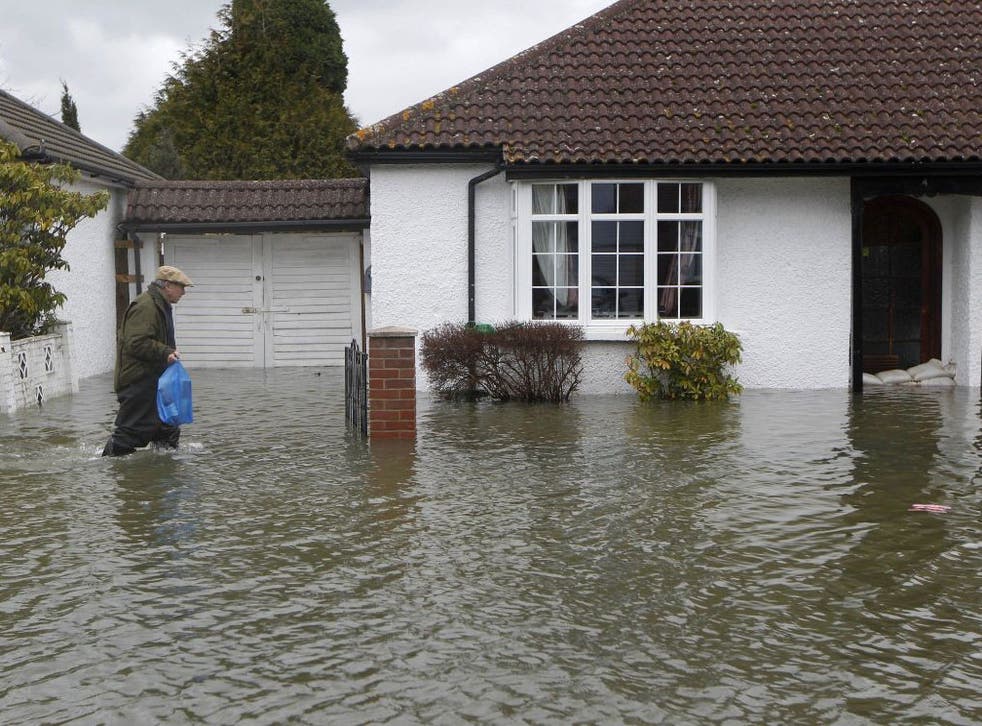 With much of the UK facing a red weather warning and with our politicians caught up in an appalling blame game over the floods, imagine instead if we faced a different kind of threat. Imagine if our Government received even the tiniest shred of evidence that the UK faced a significant terrorist threat from a foreign power. One that could threaten lives, homes, infrastructure and livelihoods. How would our rulers respond?
What they wouldn't be doing is indulging in the crass finger-pointing of the past week. Instead, you'd expect our representatives to rise to the occasion, for party leaders to show unity and leadership, and to get on with the task of mobilising the country, so that thousands of homes wouldn't be at threat.
Compare and contrast with how successive Governments have handled our national resilience to the threat of flooding and the worst effects of climate change. Indeed, a decade ago the then Government's Chief Scientist, Sir David King, stated that climate change was a far greater threat to the world than terrorism. Yet our political classes have, for the most part, ignored the warnings as the evidence of risk mounts. It's a tragedy that it has taken thousands of people to be displaced from their homes to get politicians talking about climate change again.
Defra's most recent Climate Change Risk Assessment projects that a million more people will be at significant flood risk by the 2020s, but instead of being prepared for climate change, efforts have fallen woefully short of what is needed to cope in a crisis. Our current administration has cut flood defence spending, excluded climate change from its flood insurance scheme and appointed a climate sceptic as Environment Secretary. It's slashed staff working on climate adaptation at Defra from 38 officials down to just six, and is forcing the Environment Agency to make huge cuts to frontline staff that will inevitably impact on future flood responses.
It's clear that the Prime Minister believes global warming is real. Indeed, in his Downing Street press conference yesterday, he stated that "climate change is a very serious issue". Last month, he said: "We are seeing more abnormal weather events. Colleagues across the house can argue about whether that is linked to climate change or not. I very much suspect that it is." On this, he is backed up by the Met Office, who last weekend published a fresh report that states, ominously: "There is no evidence to counter the basic premise that a warmer world will lead to more intense daily and hourly heavy rain events."
No, the problem is not the Prime Minister's warm words about global warming, but his inability to match this with action. "Money is no object", he has said, when it comes to cleaning up the mess left by the floods. But David Cameron has failed to put his money where his mouth is when it comes to preparing in advance for the threat of climate change. His Government opted to steadily dismantle our ability to cope with a changing climate, and is now finding itself in desperate crisis-management mode, pouring money down the storm drain.
What we need now is a mature response from Government that shows they recognise the warnings and will ensure our ability to cope in future. The independent Committee on Climate Change has advised that a half-billion pound gap has emerged between flood defence spending and what needs to be invested to keep pace with our changing climate.
Floods UK: Before and after images of affected areas

Show all 21
They need to invest in rejuvenating our natural flood defences by overhauling unsustainable agricultural practices. We have systematically destroyed the ability of nature to deal with storms by clearing vegetation from uplands, clearing out streams and turning rivers into concrete culverts. This should also be a wake-up call to the Coalition on the need to show international leadership on carbon reduction at climate negotiations and move away from fossil fuels and their ill-fated venture into UK fracking.
While the Government's lamentable response to the floods over the past few weeks may not reflect the urgency that we'd expect in an international security crisis, more and more, the deluge may force politicians to reconsider their priorities when faced with questions from an angry and flood-besieged electorate.
Craig Bennett is Director of Policy and Campaigns at Friends of the Earth (England, Wales and Northern Ireland)
Register for free to continue reading
Registration is a free and easy way to support our truly independent journalism
By registering, you will also enjoy limited access to Premium articles, exclusive newsletters, commenting, and virtual events with our leading journalists
Already have an account? sign in
Join our new commenting forum
Join thought-provoking conversations, follow other Independent readers and see their replies