Ukip didn't actually win very much, but we seem to have lost the will to take a stand against the xenophobes
Not all Ukip supporters are racist, but all of them support a party that attracts racists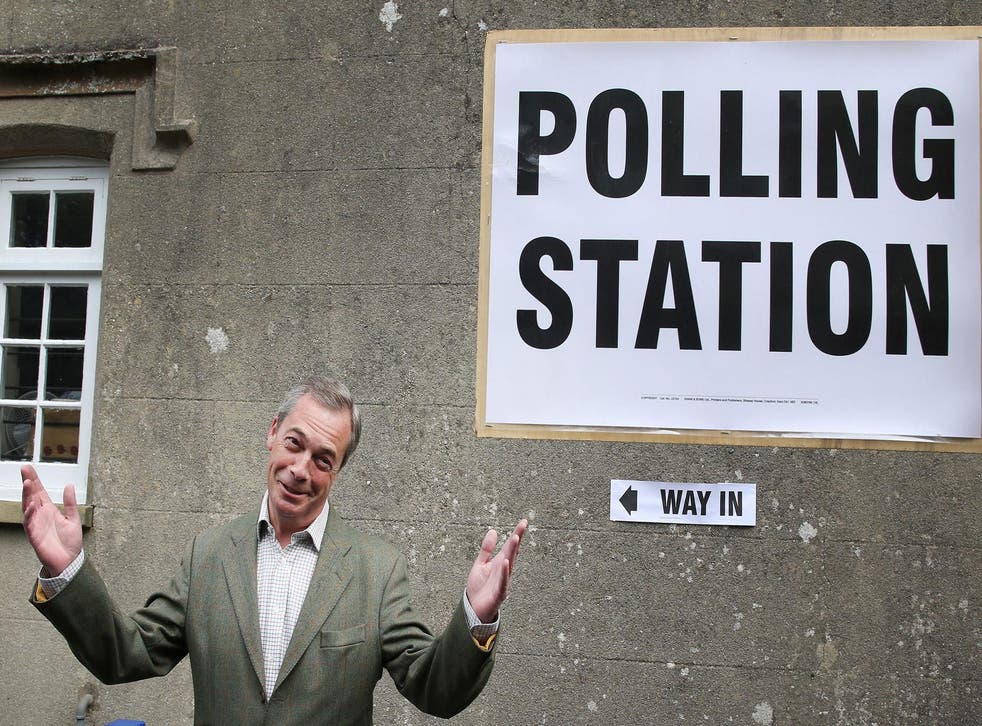 Goodness me, what panic-cum-frenzy over a minor party. Tories, Labour, Lib Dems, commentators and voters need to get a grip, to calmly assess what really happened at the local elections last week. I am not being blasé. Ukip, led by a smiley, suited smoker and drinker, did win more seats than ever before. The reasons are obvious. For months now the blustering Farage has mouthed off on TV and radio, appeared in our newspapers, pushed himself centre stage. Several right-wing hacks cast him as the slayer of dragons for England, a man of the people and a victim of witch-hunts. What baloney. His interview with the incisive James O'Brien on LBC was not cosy, but most others were. Even Paxman played it soft. And since the results, once again, this party of sound and fury is being bigged up incessantly, given cachet and esteem. The other parties are scared.
So here are some facts and thoughts that may just bring down the fever. The BBC regularly projects from local election results what the share of votes would be in a national election. It is plain, honest statistics. In 2013, the projected share for Ukip was 23 per cent; this time, it is 17 per cent. Not a single council is run by Ukip and they still have only 163 seats out of about 4,200 in England. So why the shock and awe? Let's look at more detail. Thirty-six per cent of the new Ukip seats came from a tiny number of councils – four in Essex, one in nearby Havering, and others from Rotherham, Portsmouth, north-east Lincolnshire and Newcastle-under-Lyme. Some of the places where Ukip support was highest have barely any migrants. Chimeras and delusions can take over the human mind and I can feel only pity for such folk.
Ukip also pulls into its embrace those with unshakeable racist, sexist and homophobic views. They can't vote for the existing main parties; the BNP is a spent force and the English Defence League is not quite there yet. Not all Ukip supporters are racist, but all of them are supporting a party that attracts racists and xenophobes.
London, our diverse and dynamic capital, engine of the nation, where most immigrants live, did not fall for Ukip's fear-mongering. When I said that on the BBC, I was told by others on the programme that it was important not to focus on London. So, if Ukip had succeeded in the metropolis, that would not have been significant?
Labour's good show has been written off. In Ealing, it took 12 seats from the Tories and one from the Lib Dems; in Hounslow, 14 seats were taken from the Tories; in Tory Wandsworth, six seats went to Labour; Hammersmith and Fulham is now led by Labour; in Brent, the Lib Dems lost 16 seats to Labour, and so on and on. Beyond London, in Manchester, Redditch, Nuneaton and Milton Keynes, Labour again made significant gains. In Bradford, where ethnic tensions are high, Ukip gained one seat but so did Labour. I am not being partisan – I have many quarrels with the Labour Party, but it is surely unacceptable for their wins to be treated with such indifference, at times even contempt.
In Rotherham, Ukip gained 10 seats but I think there is a microclimate in that town. Denis MacShane's conviction, some unpleasant Muslim politics, and economic stresses have led to disillusionment and anger. I have not heard any analysis in the past two days about the particularities of such places. Everything has been swept into one loud victory song for Ukip.
What frightens me is not Ukip, but the way it has been puffed and still is; and, more seriously, the cowardice of mainstream politicians who will probably be even more discombobulated after the European elections. Ed Balls is already muttering anti-immigrant sentiments. (He, shamefully, would say and do anything to stay in power.) Right-wing Tories want a pact with Ukip. The infighting among Lib Dems will kill them off before the voters do, although I praise Nick Clegg for taking on Farage in those debates and for defending Europe and the contributions of migrants. Sadly, the blasts and bombast of Nigel Farage beat him down.
To reclaim good politics we need politicians with integrity and courage. We have had some such leaders over the centuries who stood up against xenophobia. At the end of the 16th century, Sir John Wolley defended immigrant craftsmen in Parliament. When, in 1690, Sir John Knight, MP for Bristol, wrote a pamphlet, Consideration upon the Mischiefs that may arise from Granting too much Indulgence to Foreigners and called in Parliament for all non-natives to be thrown out of the country, he was roundly condemned by fellow MPs and his speech was ordered to be burned. In the 20th century, Ted Heath stood up to Enoch Powell and Margaret Thatcher invited in Vietnamese refugees. Farage needs to be taken on, not pandered to or imitated. Is there anyone up to this task?
This brilliant, gritty, believable and hateful thriller sickened me
Happy Valley is a BBC six-parter where the central character, police sergeant Catherine Cawood, is played by the superb, award-winning Sarah Lancashire.
Written by Sally Wainwright, this series is touching, technically brilliant, gritty and believable. And hateful. Hateful because of the close-up savagery shown in detail and because it is yet another example of too many thrillers already where young females are horribly mutilated, tortured, raped and/or killed in the name of good drama.
Earlier this year Helen Mirren complained about the now commonplace, gratuitous murders of females in the most-popular detective series – including all those we now call "Scandi Noir".
David Hare was also highly critical of this unstoppable trend. Nobody is listening. Happy Valley has hooked 8 million viewers.
Wainwright is ferociously unapologetic. After raging against her critics, and also (curiously) accusing them of being "childish", she goes on to claim such stories and scenes are not only showing us dark reality but are "uplifting" and "beautiful".Maybe this stuff uplifts those who get off on violence against women. Personally, I was sickened by it. (Oh dear, does that make me sound childish?)
Wainwright used to be a feminist and now is "a post-feminist", as if feminism was a short sojourn, soon forgotten in the chase for fame and fortune.
It makes me want to bang her head against a wall, metaphorically of course.
Women can often turn out to be the worst foes of feminism.
Twitter: @y_alibhai
Register for free to continue reading
Registration is a free and easy way to support our truly independent journalism
By registering, you will also enjoy limited access to Premium articles, exclusive newsletters, commenting, and virtual events with our leading journalists
Already have an account? sign in
Join our new commenting forum
Join thought-provoking conversations, follow other Independent readers and see their replies