Voices in Danger: The abuse of activists in Bahrain
First Ali Abdulemam was tortured and jailed for his pro-democracy blog. Then it forced him into a terrifying secret journey to asylum in Britain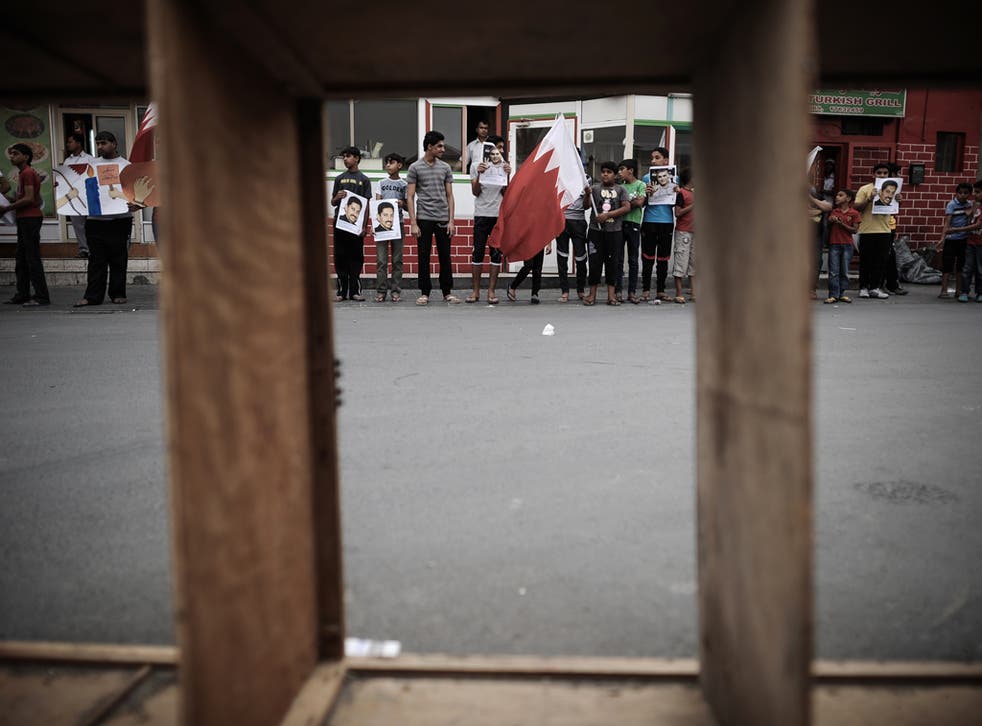 Ali Abdulemam smiles when he remembers speaking to his family for the first time in two years.
The prominent blogger and founder of Bahrain's largest pro-democracy website, Bahrain Online, went into hiding during a government crackdown on critical bloggers and activists just before the February 14 uprisings. He had been arrested by the National Security Agency before, and knew what torture felt like.
For two years, his wife Jenan, their eight year old son and three year old twin daughters had no idea where he was, when they might speak again, or whether he was even alive. But last month, Abdulemam resurfaced in the UK. Somehow, he had avoided arrest and escaped the island kingdom. Finally, he was able to log on to Skype and tell them he was OK.
"It was just like a crazy thing, everyone was shouting," he says.
"For two years, they didn't know where I was or how I lived. The women, especially my mum, were saying – 'OK, thank God you're not tortured or in jail, but are you sleeping well, are you dressing well, was the atmosphere good for you when you were hiding?"
Like many bloggers in Bahrain, Abdulemam, 35, voiced criticism of a Sunni-led government he considered undemocratic and discriminatory towards Shia Muslims, who make up the majority of the population. He says that the Internet is one of the only vehicles for free speech in a country where independent journalists are few and far between.
"There is always some political prisoner, some human rights violation, some corruption in the government, something that the media won't consider," Abdulemam says.
"Due to the situation in Bahrain, the traditional media can't cover these things. The only choice was the internet."
Bahrain's press freedom rating plummeted in 2011-2012 because of its 'relentless crackdown on pro-democracy movements... and its suppression of all space for freedom' during the Arab Spring uprisings, according to the Reporters Without Borders Press Freedom Index. A recent report into the state of press freedom in Bahrain says that journalists still practice self-censorship to avoid prosecution by the authorities.
'Against this backdrop, the internet provides a welcome free space for journalists, although one that is increasingly monitored,' it adds.
Determined to make his voice heard, Abdulemam launched Bahrain Online in 1998 and nurtured one of the most popular citizen journalist websites in the country.
"My website was like my second wife, or my son. If it was down, I didn't sleep," he says.
It was a challenge to run. The government repeatedly tried to censor it and shut it down, and Abdulemam was even arrested and detained for two weeks in 2005 for 'encouraging sectarianism' and 'insulting the king' – charges he vehemently denies.
Bahrain has had bloggers for years, but Abdulemam says this "exploded" as the Arab Spring gathered pace and the international media focussed on the Middle East. This explosion led to a number of crackdowns on dissidents and the government imposing emergency rule. According to reports, demonstrators were injured, beaten and killed by the authorities.
On September 4, 2010, Abdulemam was summoned to the offices of the National Security Agency.
He did not return.
The next his family heard from Abdulemam was when they read a government news agency's story, which reported that he was accused of being part of a terrorist organisation and had been 'diffusing fabricated and malicious news on Bahrain'.
He says he was tortured in custody.
"They made me stand for five days. They hit me everywhere on my body. They insulted me, they insulted my family, they insulted my religion. They threatened to do things to me, to my brother, and to my wife," he says.
"I had no access to a lawyer, I didn't know what my charge was. I was forced to sign three confessions."
Abdulemam was not the only one. Allegations of torture and the verbal and physical abuse of activists, which continue to this day, has caused outcry among human rights organisations. In November 2011, an independent Commission of Inquiry in Bahrain published a report admitting that detainees of the February and March protests were subjected to torture and abuse, and five people died, while in government custody.
Abdulemam was released five months later, in February 2011 amid mounting demonstrations in the capital, Manama, calling for reform and the release of political prisoners. During another series of raids on activists' homes three weeks later, he disappeared. He was gone by the time the security forces reached his.
"That morning, when I woke up, I read about the news that they raided all of the activists' houses. They arrested most of my friends. I expected they would come to my house again, and I was right," he says. "But they came and I wasn't there."
"I told my family that I would go into hiding and that it was better for them if they didn't know where I was going. And that was it."
The blogger's last tweet before his disappearance reads, 'I get tired from my phone so I switched it of no need for rumors plz'.
"It was very difficult," he says.
"At the beginning, I felt like I was cut from the world because there was no access outside the room I was hiding in. I didn't have the internet, I only had news on the TV – and not even that much. I couldn't understanding what was going on, but as a human rights [activist] I needed to understand the situation on the ground. The situation for bloggers was so hard.

"At the time, the situation wasn't just an uprising in the streets, it was blood on the streets. You expected to die if you went out the door. There was Martial law, killing in the street was so easy at the time – so many horrible things," he says.

"They [the authorities] even tried to track me down. They sent someone to my family saying, 'I can get Ali [Abdulemam] outside of Bahrain, just let me contact him', but my family did not know where I was. Then I learned this was a trap, so thank God they didn't know."
Abdulemam was tried in absentia by a military court and sentenced to 15 years in prison for 'plotting a coup'. Some of his co-defendants received life sentences.
He does not want to discuss where he stayed or how he managed to escape Bahrain – it could endanger those who helped him, but a few of the extraordinary details of how he first managed to avoid detection on an island which is just 34 miles long and 11 miles wide, and then escape, have found their way online. He left the Gulf kingdom in the secret compartment of a car and travelled up a causeway to Saudi Arabia. From Saudi, he went by land to Kuwait, where he was smuggled into Iraq in a fishing boat. From a port near Basra, in southern Iraq, he travelled to Najaf where he boarded a commercial Iraqi Airways flight, to finally arrive in the UK where he has been granted asylum.
The Bahrain Government maintains that it has "a zero tolerance policy for torture" and freedom of speech is "assured" there. They consider the Bahrain Online blog to be a "highly sectarian and inflammatory internet forum", "an instigator of indiscriminate violence against civilians and the police" and one which glorifies terrorism. But they are views that have not affected his asylum application.
On May 13, 2013, he tweeted a simple word to his 8,000 some followers: 'Online'.
Abdulemam no longer runs Bahrain Online – he says that he is too old to connect with the young bloggers in Bahrain today. He says that he is now looking for a home, some stability, and is slowly beginning to rebuild his life.
As for his family, "we are trying to reunite again. We need to do paper work and these things, but hopefully it will happen very soon."
Join our new commenting forum
Join thought-provoking conversations, follow other Independent readers and see their replies