Voices in Danger: In Iraq, intimidation threatens the media's ability to report
In a country still recovering from war, reporting is as dangerous as ever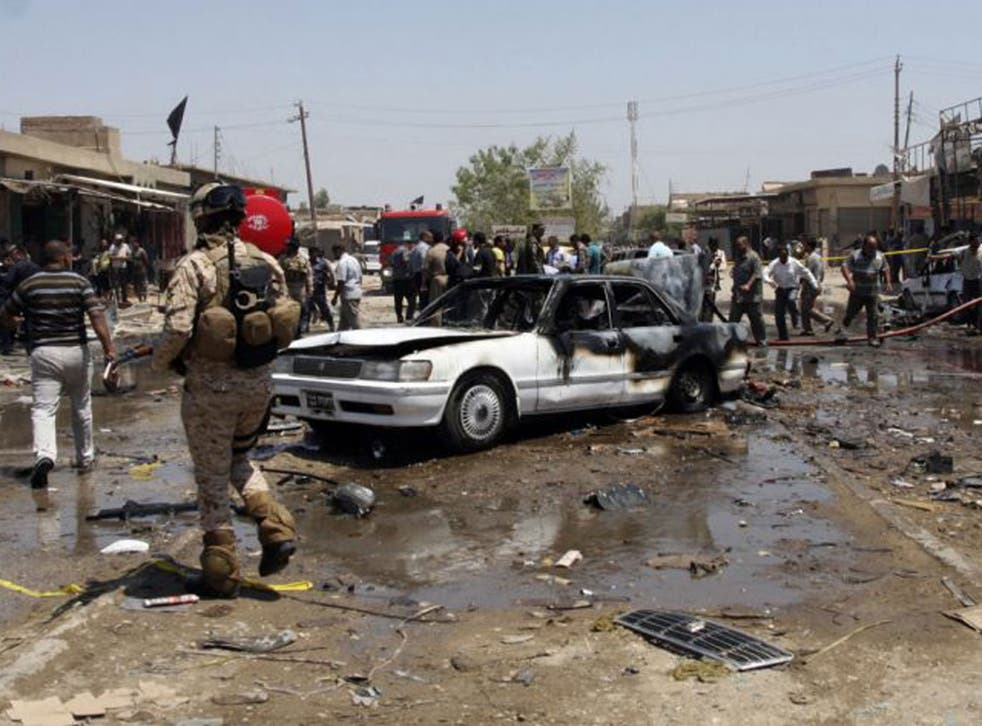 When Omar was 21 he was sent an envelope with a line from the Koran and a bullet inside.
It was a clear message: Leave now, or face the consequences. He knew then that he had to quit his native country, Iraq.
Seven years later, he remains in exile and still does not want his full identity published for fear of reprisals.
Of Palestinian descent, but born in Baghdad, Omar had co-founded independent news agency Small World News and kick-started its first project, the 'Alive in Baghdad' news website, with American friend Brian Conley the year before, in 2005. Trained as a pilot, but disillusioned with the way the mainstream media was covering the war in Iraq, Omar turned to journalism to try to give the outside world a sense of everyday life in the city.
"Journalism wasn't my thing at the time, but the situation in Iraq, and the loss I'd been going through – the number of family and friends I lost - pushed me," he says.
"I gave up on mainstream media and people around the world caring about the Middle East or the value of human life there. One incident I documented myself, was when there was a car bomb attack and ten or eleven people were killed, but the media reported that only two or three had been killed.
"You want these stories to be heard, you want these stories to be told, because you can't live day by day knowing these things happened and you didn't report it."
Every day, he and his small team of local reporters would take to the streets to cover a country entrenched in violence.
It was dangerous work, because growing sectarian violence meant local reporters were targeted from all sides. From 2003 to 2009, the Committee to Protect Journalists recorded 140 journalists killed in Iraq, 117 of which were Iraqi. And being caught in crossfire was not the greatest risk – CPJ research shows that more journalists were murdered in targeted killings in Iraq than in combat.
In 2006, the Iraqi Journalists Union published a report with details about the number of Iraqi journalists killed over the previous three years. According to the report, 69 were killed by militias or unknown armed men, 21 were killed in combat, 17 were shot by American troops and 2 were shot by Iraqi troops.
"It was extremely dangerous," Omar says. "If you were seen working for a Western media channel or news agency, that could put you at risk of being seen as a 'spy', and that would make you a target for armed militia.
"And if you walked around the streets of Baghdad carrying a camera, and you were trying to film something, a US soldier could think you were filming for Al Qaeda, and you were planning a bombing and wanted to take footage of it to put on the internet. They could shoot you, or detain you."
According to the CPJ, Iraq continues to have the world's worst record on impunity, with more than 90 unsolved murders over the past decade and no sign that the authorities are working to solve any of them.
In 2006, Omar received the bullet in the envelope. He cannot say for certain who sent it to him, but is "95 per cent sure" it was sent by an Islamic fundamentalist group, and related to his work as a journalist and working with Western news organisations and NGOs.
"Anyone that had collaborated with foreign journalists, or Western organisations, was thought to be a 'non believer'," he explains.
"I received an AK 47 bullet in an envelope, and writing saying, 'We are going to kill you, and we are going to come after your family if you do not leave immediately.'"
He says that it was "useless to seek help from [the] authorities" to report the threat. "The only person who could take you out of that kind of situation was yourself," he says. That year, he fled to Syria where he could manage his team remotely and safely and keep Alive in Baghdad running.
"It's a difficult thing to leave your home and leave the place you grew up," he says.
"But if the place where you grew up, and where you had your friends, doesn't exist any more there is no point in staying. My high school doesn't exist any more because it's been demolished by several bombs. I can definitely say that 70 per cent of my childhood friends and the people I knew in my neighbourhood don't exist any more, because they died for different reasons.
"I'm not personally attached to [Baghdad]. I'm more attached to the people and places that were there before."
Omar managed the Baghdad team of correspondents remotely for a further three years, speaking to them on the phone and sending them cameras and tapes delivered from the United States.
In December 2007, one of the Alive in Baghdad correspondents, Ali Shafeya Al-Moussawi, was gunned down while working on a report about an Iraqi militia group. The Director of Small World News, Brian Conley, wrote in a blog post on the 'Alive in Baghdad' website, that the circumstances and the motive of the murder were unclear, but said that the reporter had received a threat the week before.
Further threats to Omar meant he had to leave Syria as well, and in 2009, the website collapsed because it became too difficult to run.
Omar is now exiled and does not wish to reveal his full name or current location because he fears reprisals against himself and his family. Although he cannot disclose the nature of the threats, he says that he had to "disappear" from Syria in one night. Now, he is working in a different profession and his involvement in Small World News, and its other projects around the world, is minimal. But he says he hopes to go back.
"There is a great cause for blogging, for producing articles and videos, whether it is in Iraq or Syria," he says. "I will probably continue with journalism, as soon as I have the chance again."
Iraq: 93 journalists killed in the past decade - but no arrests
Jim Armitage
While the number of killings has fallen dramatically since the end of the war, Iraq has remained a dangerous place for local journalists since Omar fled.
Last month, 50 men armed with clubs and knives attacked the offices of four Baghdad-based newspapers: Al-Mass, Al-Barlaman, Al-Dustour and Al-Mustaqbal Al-Iraqi.Six journalists were hospitalised.
That was just a few weeks after Al-Anbar TV reporter Karar Al-Tamimi was kidnapped in March and found two days later with multiple fractures and psychological trauma.
Meanwhile, Iraq's Media and Communications Commission recently suspended 10 foreign-based satellite TV channels, including Al Jazeera, for "inciting violence and sectarianism". They had been airing speeches of Sunni protests against Shiite Prime minister Nuri Al-Maliki's government.
A blanket ban on foreign journalists visiting the troubled Al-Anbar province was imposed at the start of March, and on 22 March, both local and foreign media were forced to leave Tikrit. Both areas were the scene of demonstrations demanding the release of prisoners.
They were the latest in a string of harassment, violence and legal curbs on journalists, Reporters Without Borders says.
There is a distinct lack of concrete measures being taken by the authorities to protect reporters, and, according to the Committee to Protect Journalists, of the 93 killed in the past decade, there have been no arrests. Zero.
That makes it the worst country in the world for killing journalists with impunity.
Iraqi security forces are often themselves involved in the current wave of harassment, RWB claims. In other cases, such as the kidnapping of Al-Tamimi, militias are behind the action.
But, be they officials, militiamen or gangsters, the knowledge that nobody ever gets prosecuted emboldens the perpetrators to attack reporters simply for telling the inconvenient truths.
Help bring pressure to bear on the Iraqi government to improve its record on protecting journalists and allowing them to do their work freely and responsibly.
Please distribute Omar's story widely on social media. You can also write to the offices of the prime minister and minister of human rights at the following addresses:
Prime Minister and Acting Minister of Defence and Interior
His Excellency Nuri Kamil al-Maliki, Prime Minister
Convention Centre (Qasr al-Ma'aridh)
Baghdad,
Iraq
Salutation: Your Excellency
Minister of Human Rights
His Excellency Mohammad Shayaaal-Sudani
Convention Centre (Qasr al-Ma'aridh)
Baghdad,
Iraq
Salutation: Your Excellency
This article is part of our series Voices in Danger, which aims to draw attention to journalists working in difficult conditions around the world.
Register for free to continue reading
Registration is a free and easy way to support our truly independent journalism
By registering, you will also enjoy limited access to Premium articles, exclusive newsletters, commenting, and virtual events with our leading journalists
Already have an account? sign in
Join our new commenting forum
Join thought-provoking conversations, follow other Independent readers and see their replies