Voices in Danger: What happened to Andrei Stenin in Ukraine?
Many questions still remain over the Russian photographer's death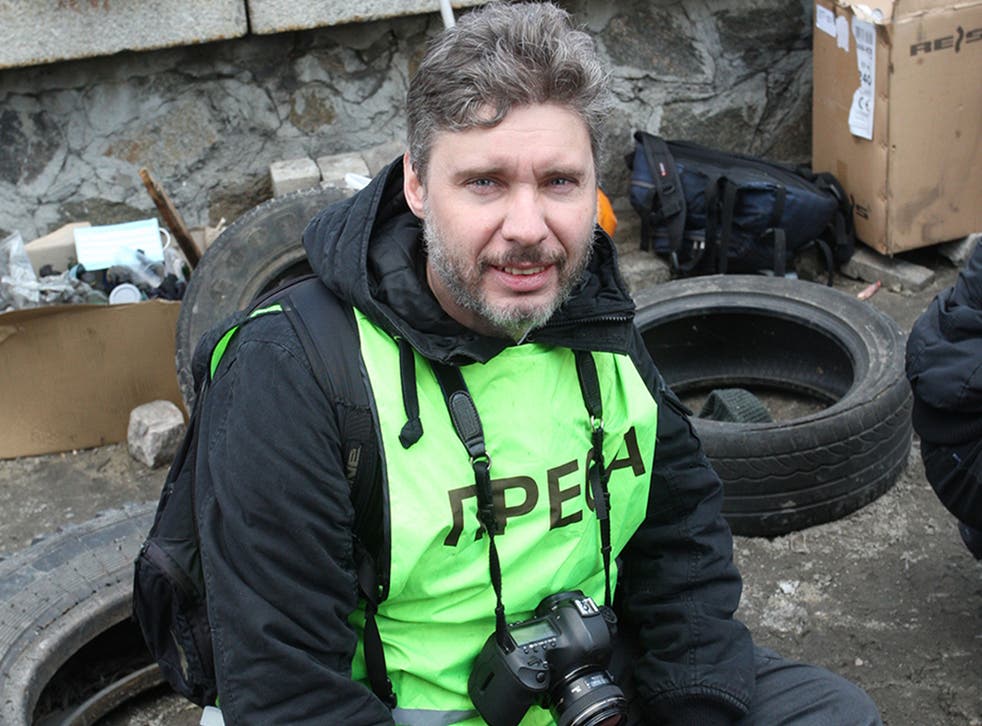 Russian forensics experts confirmed last week that human remains found in a burnt-out car near Donetsk, Eastern Ukraine were those of 33 year old Russian photographer Andrei Stenin. Despite last week's conclusive forensic report, speculation around his death still remains.
Alexander Shtol is Director of Photography at the agency Stenin worked for in Moscow, and describes him as a "highly developed photographer who was very deep for his age."
He recalls when Stenin's enthusiasm to cover the world's hotspots began. "Two years ago he covered the demonstrations in Egypt," he says. "After that, he asked me if he could be an exclusive photographer for the hotspots around the world. I said a definite no. He would have to stick to stories of children and animals."
But Stenin's enthusiasm eventually prevailed. In May 2014 he travelled to Sloviansk where he took "very, very good pictures," according Shtol. But when the frontline moved into Sloviansk, Stenin and other journalists journeyed to Donetsk.
Shtol implored him to leave Ukraine in July, but Stenin wanted to stay in Ukraine as long as it took to capture the whole story. "What bothered him more than anything else was the end of the story, but the story ended differently for him," says Shtol.
Stenin went missing in eastern Ukraine on August 5. By mid-May, Stenin was reportedly captured by the Ukrainian Army. He later launched a public campaign in support of the missing photographer. Kiev never officially confirmed the information.
However, Anton Gerashchenko, an adviser to the Ukrainian Interior Minister, said, "As far as I know he has been arrested by our security service." He later retracted his statement.
Questions surrounding Stenin's death remain. No side has claimed responsibility for firing the bomb. It is also unclear how many bodies were found in the burnt-out vehicle that is said to have formed part of a convoy.
Ukraine crisis: A timeline of the conflict

Show all 23
"We are deeply saddened by the results of the genetic expertise, which we had been anxiously waiting for," said Johann Bihr, Head of Reporters Without Borders (RWB) Eastern Europe and Central Asia desk. "As far as we know, Andrei Stenin is the sixth media professional killed while covering the conflict in Eastern Ukraine."
RWB calls for the belligerents to take all necessary measures to protect journalists and civilians as enshrined in resolution 1738 of international law set out by of the UN Security Council.
They also call on all competent authorities to carry out full and impartial investigations into the death of Stenin and other journalists killed in this conflict.
According to RWB, at least four journalists are currently detained by the Luhansk People's Republic and one by the Donetsk People's Republic. Several journalists have also been arbitrarily detained by Ukrainian forces and voluntary battalions recently.
I attempted to contact the Ministry of Internal Affairs and Security Service of Ukraine, but no one was willing to give a statement.
Register for free to continue reading
Registration is a free and easy way to support our truly independent journalism
By registering, you will also enjoy limited access to Premium articles, exclusive newsletters, commenting, and virtual events with our leading journalists
Already have an account? sign in
Join our new commenting forum
Join thought-provoking conversations, follow other Independent readers and see their replies