Voices in Danger: Who ordered the brutal attack that almost killed a journalist in Azerbaijan?
Ilgar Nasibov sustained a severe head trauma, broken cheekbones, nose and ribs, bleeding wounds in the head and body, and sight-loss in one eye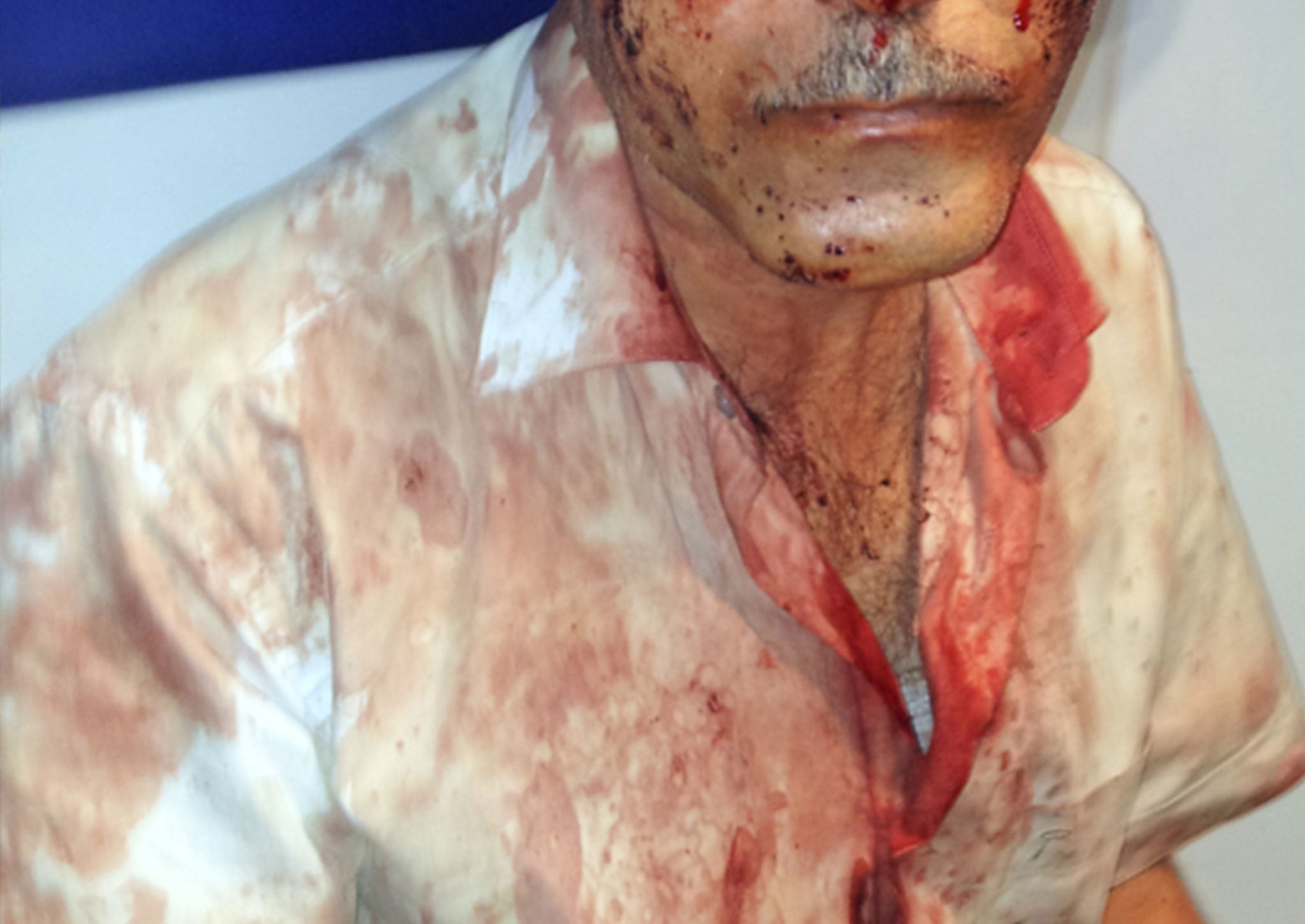 Last August, assailants burst into the offices of the Nakchivan Resource Centre, the only independent human rights organisation operating in the northwest province of Azerbaijan, and brutally attacked Ilgar Nasibov, an independent journalist and rights activist. According to Human Rights Watch, the attack coincided with a wave of government repression designed to squash independent, critical voices in the oil rich country.
According to Nasibov, one of his assailants used brass knuckles to beat him, another grabbed hold of his neck to choke him and the remaining assailants ransacked the offices. They destroyed office equipment and left Nasibov unconscious in his own pool of blood on the fateful evening of 21 August.
Three hours after the vicious attack, Nasibov gathered enough strength to make a life-saving phone call to his wife, award-winning journalist Malahat Nasibova, but by then he had already lost litres of blood. According to Malahat Nasibova, medical reports confirm that her husband sustained a severe head trauma, broken cheekbones, nose and ribs, bleeding wounds in the head and body, and sight-loss in one eye. He had a dozen stitches on his face and head, and suffered intracranial haemorrhage.
When Nasibova first rushed to her husband's side, she described how she was, "...very afraid," when she entered the office, and that, "After all that has happened, I have a lot of psychological scars." She and her husband had to travel abroad for specialist intensive care medical treatment that is not available in the country.
The Observatory for the Protection of Human Rights Defenders, a joint programme of the World Organisation Against Torture (OMCT) and the International Federation for Human Rights (FIDH), has expressed concern that the police reported the attack as, "an ordinary conflict between friends as a result of alcoholic intoxication."
The case has since been dropped, after the court ordered "a truce" and a mutual apology between one of the identified attackers and Nasibov. The remaining attackers are still unknown.
She went on to state: "We are sure this attack was planned due to our activism in Nakchivan. Prior to the attack, we had several attempted break-ins, Ilgar also was a victim of a hit and run that left him injured, plus I got a call by someone in the National Security Ministry of Nakchivan who threatened my family."
The Radio Free Europe reporter also claimed that the couple has been subjected to further "acts of intimidation" since the attack, but this time of a financial nature: "[Our] personal and the organisation's bank accounts have been banned. Also, the Baku Office of the Prosecutor took a statement from me about the money in my bank account."
The Committee to Protect Journalists Europe and Central Asia Program Coordinator Nina Ognianova said, "We are outraged by the barbaric assault on Ilgar Nasibov and call on Azerbaijani authorities to immediately mount a thorough and effective investigation into his beating, focusing on Nasibov's journalism and human rights work as a motive."
A spokesperson for the Embassy of Azerbaijan in London issued a statement saying, "The freedom of press and expression is among the fundamental rights guaranteed under the Constitution of Azerbaijan," and "...any journalist who claims to face any harassment for their professional work can and should take the judicial course of action....[in turn] the courts need to carry out a thorough and independent investigation into these claims."
The spokesperson also affirmed the Azerbaijani government's pledge to, "...stand ready and determined to continue working with our international partners with a view to further strengthening protection of journalists." but likewise warned that, "...some journalists try to hide behind the shield of their professional activities when they breach the law."
Azerbaijan has just completed its six month chairmanship at the Council of Europe, and is a founding member and board member of the Extractive Industries Transparency Initiative (EITI), a prominent international coalition that promotes government openness in natural resource management.
Human Rights Watch has called for Azerbaijan's involvement in EITI to be suspended. Azerbaijan ranks 160th out of 180 countries in the 2014 Reporters Without Borders press freedom index.
Join our commenting forum
Join thought-provoking conversations, follow other Independent readers and see their replies