War with Isis: The militants will remain until the region's Sunnis feel safe
The US plan of strengthening local tribes is no match for the brutality of the jihadis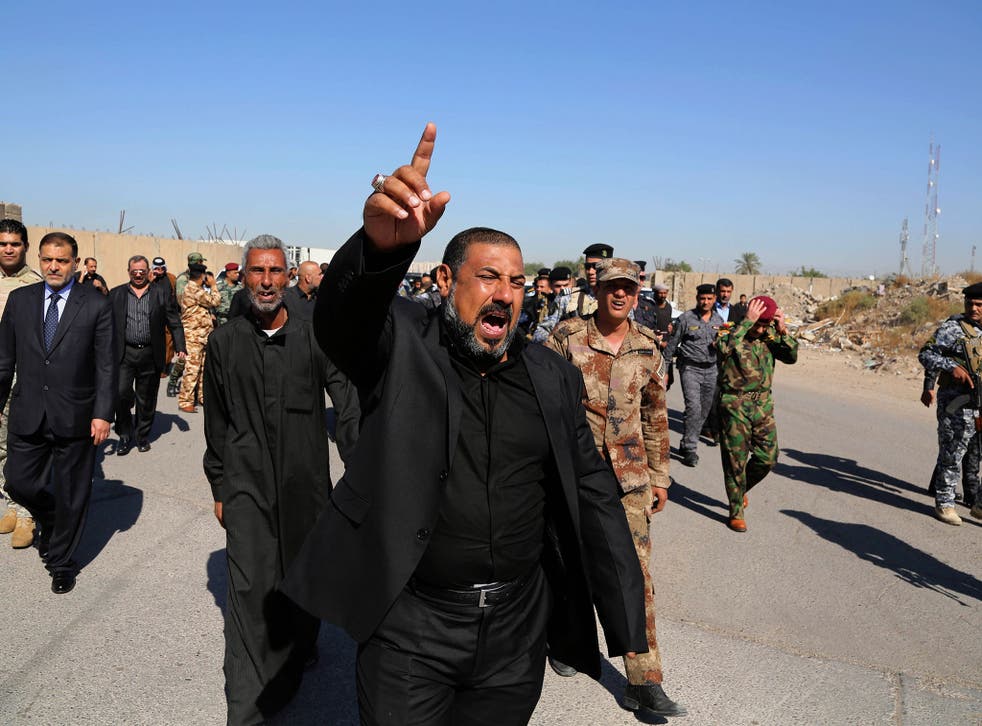 Islamic State (Isis) has a grisly ritual whereby its victims are compelled to chant "the Islamic State remains" in the moments before they are executed. Unfortunately, the slogan remains all too true: five months after Isis defeated the Iraqi army and captured much of northern and western Iraq, it is still tightening its grip on its territory in Iraq and Syria and nobody has devised a feasible policy to defeat it.
The US announced on Friday that it is to send another 1,500 soldiers to Iraq to advise and train its army, doubling the number it already has in the country. A new development is that the extra troops will be sent to serve in Iraqi army and Kurdish units and no longer be confined to Baghdad and the Kurdish capital, Erbil. The supposed reason for sending them, according to the Pentagon press secretary, Rear Admiral John Kirby, is because "the Iraqis have demonstrated the willingness and the will to go after Isil [Isis]".
A more likely motive for sending US reinforcements at this time is that, over the past six weeks, the military situation in Iraq has either not changed or, in parts of the country, has deteriorated significantly. On 2 October, Isis launched an offensive in Anbar, a vast province west of Baghdad that makes up a quarter of Iraq. It captured most of the towns, villages and bases it did not already hold, winning a victory in the battle for Anbar that has been going on since the start of the year and opening the way for an attack on Baghdad. Contrary to what the Pentagon is saying, the Iraqi army showed that it remains unable to stop Isis and launch an effective counteroffensive.
The most important feature of the Iraqi and American plan to weaken and ultimately to defeat Isis is to turn the Sunni tribes against the movement, as happened in 2006-07. Then, Al-Qaeda in Iraq (AQI), the predecessor of Isis, faced a revolt by the so-called Awakening Movement, provoked by its brutal rule and encouraged by US money and protection. But this time round, it is not happening like that: Isis is determined to prove that it will slaughter any Sunni tribe, party or individual opposing it.
The tragic fate of the Albu Nimr tribe over the past few weeks is a demonstration of why it will be so difficult to engineer a Sunni tribal revolt against Isis. The Albu Nimr claim half a million members concentrated in central Anbar but also present in Mosul, Salahuddin and Baghdad. They played an important role in combating AQI from 2006 on and, from the start of this year, were one of the main forces fighting Isis. But, in early October, they lost two important strongholds at Hit and Zauiyat, and, ever since, Isis has mercilessly hunted down their tribesmen.
So far, the Albu Nimr say that 497 of their members have been killed in a series of massacres, including 20 women and 16 children. On 29 October, 55 tribesmen were executed who had been members of the Awakening Movement and police at Zauiyat before it was overrun. Others were rounded up and killed in the following days. Isis had sleeper cells in Zauiyat who identified tribesmen to be arrested and later killed. Often their homes were taken over by Isis fighters and black flags raised above them. Much of the rest of the tribe is now in flight.
When the Albu Nimr's stronghold at Zauiyat was under siege by Isis, the tribal elders appealed to Baghdad for help in the shape of weapons and air strikes, but they received neither. It is an important failure because other Sunni tribes, angered at Isis's seizure of power in their territories, will think twice about staging a revolt when the penalty of failure is mass murder and the eviction of survivors from their homes.
In its determination to eliminate all who threaten Isis from within, the organisation does not rely solely on collective punishment of known opponents. Unlike AQI, it has its own security and intelligence service, similar to the Mukhabarat of Saddam Hussein and the present Iraqi government. It strikes pre-emptively, seeking out tribal sheikhs, former members of the Awakening Movement and retired army and police officers critical of the new jihadi regime. It sees enemies everywhere, responding with a fresh wave of killings to calls for an anti-Isis uprising by Sunni leaders in Baghdad and Erbil. Much of this may be paranoia, since it is the weakness of the Sunni political leaders and their lack of a mass following that has opened the door to extreme Sunni jihadis in both Iraq and Syria.
There have been some small successes by the anti-Isis forces on the periphery of the caliphate declared by Abu Bakr al-Baghdadi on 29 June. These could be viewed as an optimistic sign that Isis can be beaten in the field, but these victories are not quite what they seem and are certainly not all good news from the point of view of Washington. One success was the recapture of the Sunni town of Jurf al-Sakhar, south of Baghdad, an important development since it lies across the capital's communications with the Shia heartlands to the south. But the defeat of Isis here was by Shia militiamen, reportedly under the overall direction of Iranian officers; it was only after the town had fallen that it was handed over to the Iraqi army. Its 80,000 Sunni population fled and there is little likelihood they will return because they are too frightened to do so, and the location of their town is too great a threat for the Baghdad government to allow them to come back.
Similarly, when Kurdish Peshmerga recaptured the Arab-Kurdish town of Rabia on the Syrian border, they found that just one Sunni Arab had stayed behind – and he was regarded with suspicion. What happened in these two widely separated places highlights the dilemma facing millions of Sunni in Isis-held areas in Iraq and Syria: they may detest and fear Isis, but they hate and are even more terrified by the Iraqi and Syrian governments.
In these circumstances, no wonder the US is doubling its forces on the ground to try to stiffen Iraqi government resistance. Sent to bases in the field, the soldiers would presumably be able to call in close-support US air strikes. Hitherto, only about 10 per cent of 6,600 air missions flown in Iraq and Syria have led to air strikes because Isis has evacuated bases and buildings it used to occupy and hidden its vehicles and heavy weapons. Only at the siege of Kobani have its fighters been concentrated and vulnerable to air attacks using precise intelligence from the Syrian Kurds on the ground.
President Obama was criticised during the run-up to the congressional elections for his limp response to the escalating wars in Iraq and Syria. But the Republicans were sensibly wary of suggesting an alternative strategy: the US problem is that it has never had a credible partner on the ground in Syria in three years of war, and none in Iraq since the fall of Mosul on 10 June. Until it has, Isis will remain.
Register for free to continue reading
Registration is a free and easy way to support our truly independent journalism
By registering, you will also enjoy limited access to Premium articles, exclusive newsletters, commenting, and virtual events with our leading journalists
Already have an account? sign in
Join our new commenting forum
Join thought-provoking conversations, follow other Independent readers and see their replies