What I've learnt from speaking to male victims of domestic abuse every day
Men might make up the minority of domestic abuse victims, but they need our help too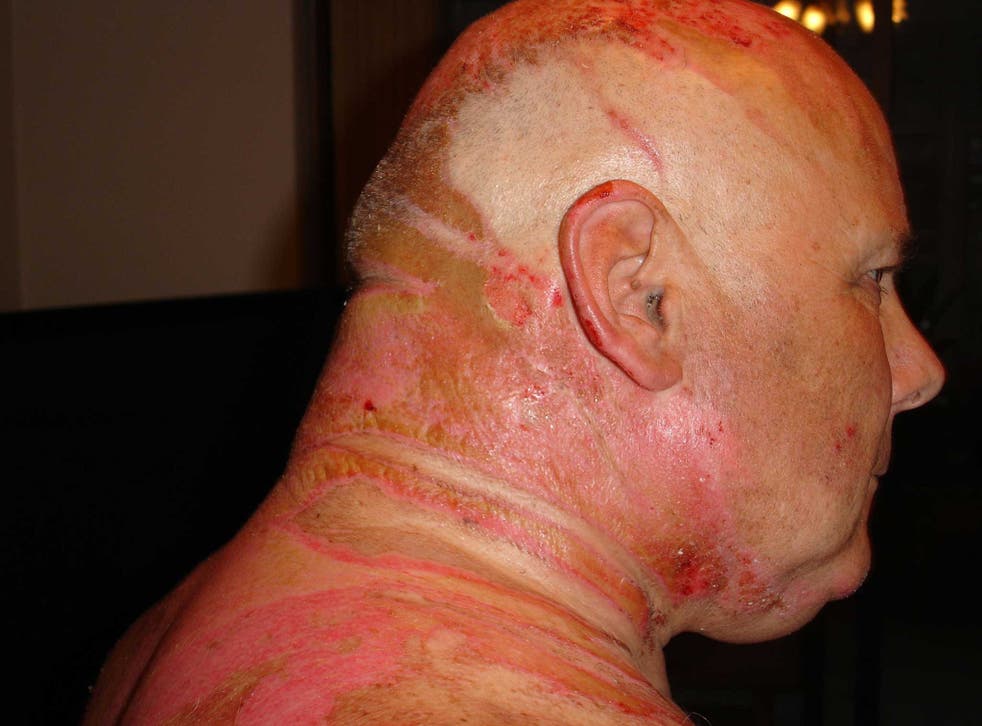 David, a man in his early thirties, was hospitalised after being stabbed by his partner, Judy. He told his story to an advisor working at the Men's Advice Line, and described how he was increasingly abused until until he was constantly living in fear, and being seriously injured.
Roberto, a gay man in his twenties, left his abusive partner Justin when the relationship broke down after a toxic mix of substance abuse, infidelity and domestic violence. Since then Roberto has been sleeping on friends' sofas, and has been having suicidal thoughts. He's also incredibly anxious, as Justin said he would kill him if he got another boyfriend.
Daf, a 73-year old man, was recently hospitalised after his wife attacked him with a glass. He says she has been gradually getting more violent, and he's worried things will get worse. But he doesn't want the Police involved or the relationship to end. He just wants the violence to stop.
Men like David, Roberto and Daf contact the Men's Advice Line every day, trying to make sense of their situation and get help and support.
There has been an increasing amount of awareness around domestic violence against men in the last few years, which has helped more male victims come forwards. For example, a woman was sentenced to four years in jail today after being found guilty of abusing her partner Ken Gregory. She had poured boiling hot water over his head, giving him first and second degree burns.
Ken was able to find help, but what most men tell me is that they don't know where to turn when they find themselves in an abusive relationship. They don't think they'll be believed and that, as men, they should be able to fend for themselves.
Worse still, some men still receive negative messages for being abused. A lot of the time it's from other men, but sometimes it can even be from the Police. According to some men I've spoken to, they've been told by policemen that they should "man up", and "teach [their partner] a lesson".
Men also tell me that they feel a lack of recognition as male victims, and that they feel "invisible". As all major domestic violence campaigns focus on women (who make up the majority of victims) men often think that their needs don't matter, and that it's not worth them asking for help.
Many men also think that support services are only available to women, which is not true. The Men's Advice Line has an ever-expanding directory of services for male victims across the country. These aren't enough on their own, but the idea among men that there is no help for them (because "women get everything") only helps to further isolates them.
Along with the patchy provision of domestic violence services for men, these barriers end up aggravating many male victims, and often leads to them making harmful choices. They might respond to their partner's violence with violence of their own, attempt suicide, or start abusing drugs and/or alcohol.
The biggest problem support services like mine face is that far too many men choose not to report domestic violence to the authorities. More men need to realise that there's people out there to talk to, and that experiencing domestic violence is not their fault. Whatever happens, being abused never makes them "less of a man".
The Men's Advice Line is available on freephone 08088010327 Monday-Friday 9am-5pm and by email: info@mensadviceline.org.uk
Ippo Panteloudakis is the Operations Director of Respect
Register for free to continue reading
Registration is a free and easy way to support our truly independent journalism
By registering, you will also enjoy limited access to Premium articles, exclusive newsletters, commenting, and virtual events with our leading journalists
Already have an account? sign in
Register for free to continue reading
Registration is a free and easy way to support our truly independent journalism
By registering, you will also enjoy limited access to Premium articles, exclusive newsletters, commenting, and virtual events with our leading journalists
Already have an account? sign in
Join our new commenting forum
Join thought-provoking conversations, follow other Independent readers and see their replies