When I sat for Britain's best and most notorious portrait painter
There's an art to pleasing a brilliant artist and avoid being punished for posterity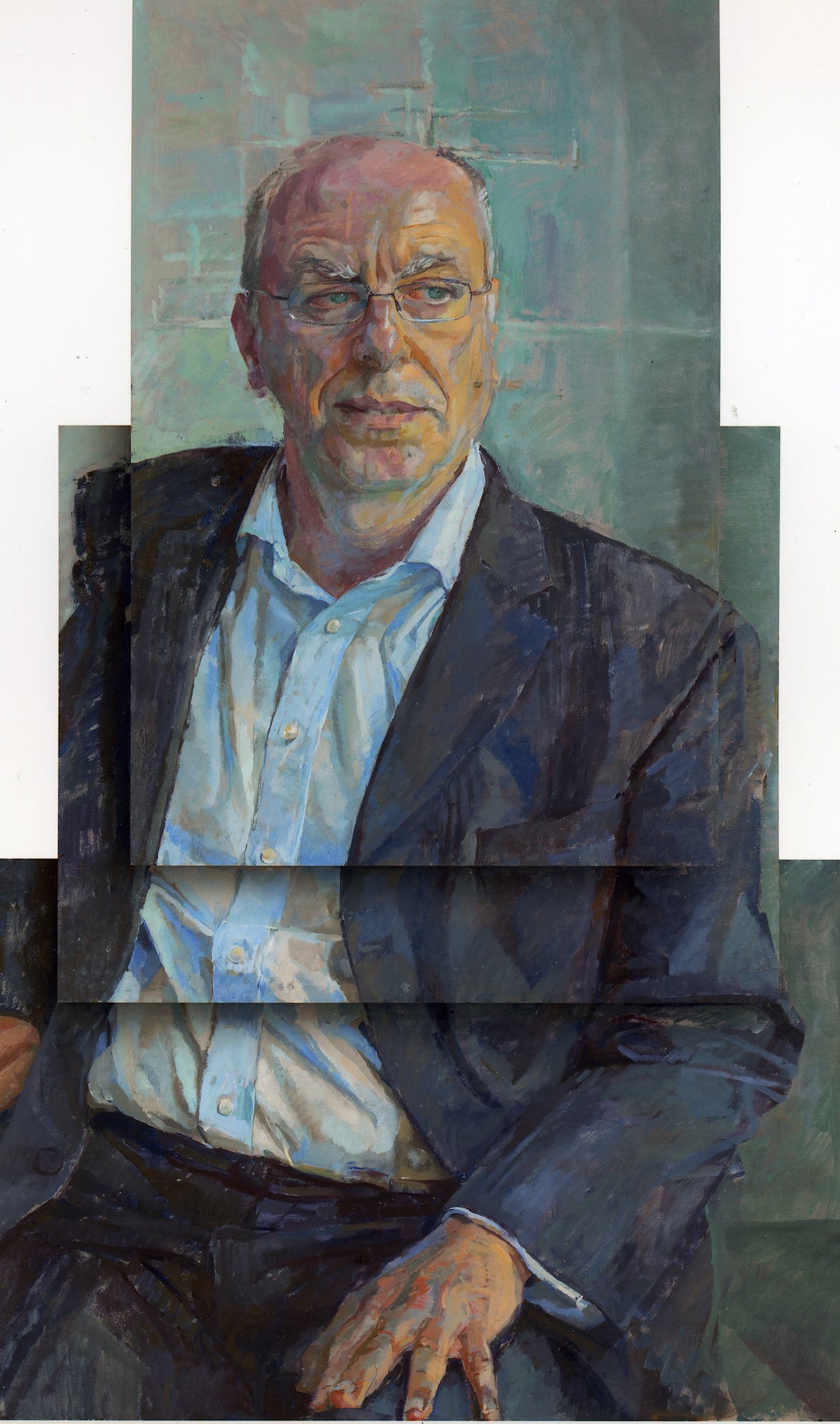 Newspaper reports of portrait painter Daphne Todd secretly painting horns underneath the portrait of one of her sitters showed a subversive side to this distinguished former president of the Royal Society of Portrait Painters. She had apparently disliked the " young gentleman", as she described him. I took a particular interest in the story, as I have sat for Daphne Todd. Could the offender have been me?
Colleagues cruelly pointed out that I was in the clear as I did not fit the adjective in "young gentleman" (nor the noun, actually). He also had a mane of hair under which she could paint the horns. Again, not applicable. And Todd and I had actually got on extremely well. Besides, she recounts having travelled to this sitter's house to paint him, whereas I travelled to hers, and we had lunch on the several occasions that I sat for her. I had an inkling then that it was a good idea to see one's portrait painter in her own domain, and strike up a good relationship. I didn't know until now how right I was.
It has been said of Todd that she explores the landscape of a face in the same way she examines the face of a landscape. Certainly, I can testify to the silent but searching interrogations in her gaze every few minutes before she applies paint to canvas. Of course, one tends not to be allowed to see the portrait while it is a work in progress. And this can lead to unfortunate results. She told me of one trade union leader whom she had painted. He came in casual gear, an old shirt and trousers. And thus he was painted. When the portrait was unveiled at the union HQ, he was furious, having thought it was the norm for a smart suit and tie to be painted on to him during the process.
Shortly after Todd's admission of a little artistic subterfuge, another portrait painter, Mark Roscoe, admitted that he had included in the painting of TV wildlife presenter Bill Oddie the shadowy form of a bird – a long-tailed tit – with its name in Latin alongside, in a pointed reference to the television presenter supposedly being long in the tooth.
My experience with the brilliant, if now notorious, Daphne Todd taught me that there are artistic imperatives for the sitter as much as for the painter in portrait sessions. First, avoid falling asleep, which can be surprisingly tricky when you are sitting still for three hours at a time. It might appear a little rude. Second, only speak when you're spoken to. Artists aren't keen on their concentration being interrupted. Third, realise that all questions put to you are all a subtle part of the artistic process, and your answers, both in tone and content, will somehow inform the finished work. Lastly, if you are in their studio, be aghast at the astounding talent the works on the walls show. Otherwise, like the "young gentleman" and Bill Oddie, you might end up being punished for posterity.
And the award goes to... a very old show
The Olivier Awards shortlists contain some of the best performances of the past year, including Mark Strong in A View from the Bridge, Richard Armitage in The Crucible, Imelda Staunton in Good People, and Kristin Scott Thomas in Electra. But I was more struck by the shortlist for the Audience Award, the only prize voted for by audiences rather than by a judging panel. It comprised Billy Elliot The Musical, Matilda The Musical, Jersey Boys, and Wicked. All are musicals, and all have been running a very long time. I suppose it's refreshing to see the new and cutting edge discarded for old favourites. Perhaps we should have audience awards in book and film award ceremonies. To Kill A Mockingbird and Casablanca would win every year.
Anatomy of a Wild sex scene
The New York Times has conducted some very forthright interviews with movie directors about shooting sex scenes. In one, Jean-Marc Vallée, the director of Wild which had an Oscar-nominated performance from Reese Witherspoon, told the paper: "It wasn't specifically planned for this guy to take Reese, to turn her on her back, and take her from behind, but it just happened as we were shooting." It just happened, Guv. No doubt, that's what they're taught to say at drama school.
d.lister@independent.co.uk
twitter.com/davidlister1
Join our commenting forum
Join thought-provoking conversations, follow other Independent readers and see their replies