Who can blame the Scottish for trying to distance themselves from the deep-fried Mars bar?
It's unfair for Scots to go out into this world tarred with this big, battered brush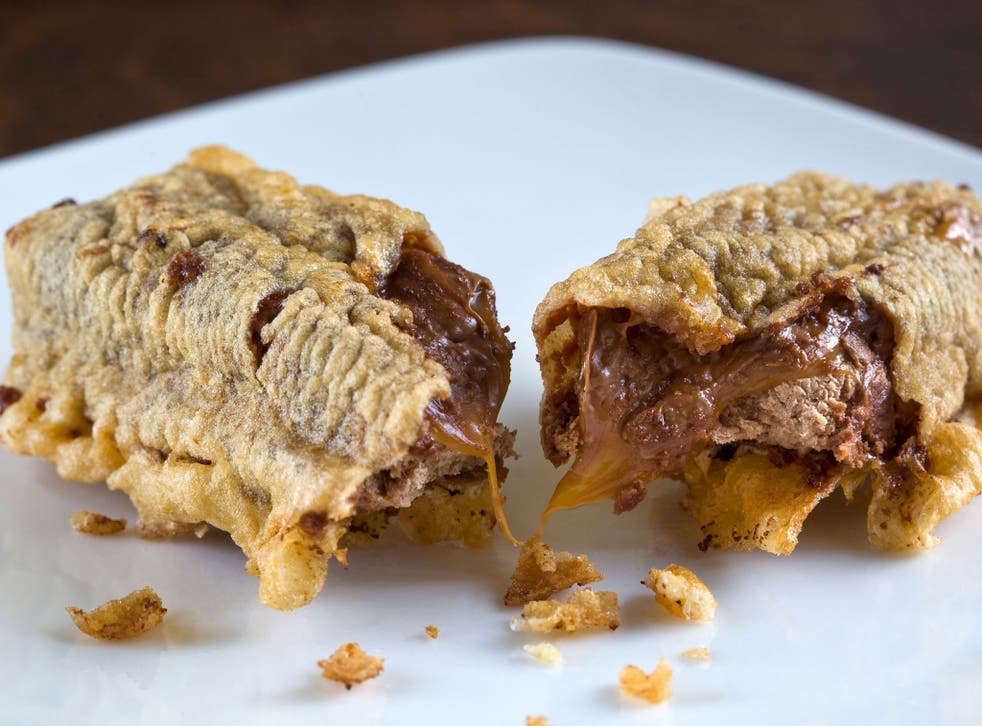 It is surely to the chagrin of many in Scotland, as well as Aberdeenshire Council, that they find themselves linked to the deep-fried battered Mars bar. Or "national delicacy, the battered Mars bar" as it's sweepingly referred to, suggesting that just past Gretna Green one will spot hoards of sticky-faced, morbidly obese nougat-addicts, cramming fats fried in fat into shame-free fat gobs.
I don't find it surprising that Aberdeenshire council want the Caron Fish Bar, Stonehaven, to remove their large banner that reads "Birthplace of the World Famous Deep Fried Mars Bar". It's not what the banner says, I feel, but all the things it suggests.
Yes, Cornwall's Cornish Pasty may not be a diet product – I have eaten enough to clarify this – but its delicious golden pastry and skirt steak and turnip innards are seasoned with historical tales of hard-working tin miners and other industrious bien pensants. Not mobility scooters or post-stroke physiotherapy, as is a Mars bar chucked into 130C beef dripping.
So while Cornwall has protected its pasty fiercely since 1993 with a European Union "Protected Geographical Indication", walloping anyone who mimics their beloved snack, Aberdeenshire Council would rather forget.
Or, more accurately, they are advising Linda Watson to remove the banner "for the good of the wider community", in keeping with a plan to smarten the town up, while denying they wish to make a dent on the fish bar's business. But the business revolves around – Mrs Watson's words – "thousands and thousands of tourists from all over the world" arriving to spend £1.50 and have a photo taken in front of the big silly, tacky sign. Silly and tacky is exactly the point.
I'm not sure how the council plans to gentrify the concept of visitors cramming 1,200 calories of fried sugar into their faces. Perhaps they can compromise with a small, delicate sign from a hip design agency in Farrow & Ball Elephant Breath shades and a classy font. And safety warnings asking visitors to eat the fried Mars bar responsibly, while running on a council-funded treadmill. Or perhaps they should stop being snobs and leave Linda Watson and her enormous sign alone.
But I have sympathy with both sides. Because there's definitely a sense with the battered Mars bar saga that here is a joke that got way out of hand. This was a funny minor item in a local newspaper in 1995 – Schoolboy orders battered Mars bar – which went "wooosh" through the national media and was quickly mimicked by other chippies. Now it's adored by tourists and dangles as a huge honking millstone around the necks of each and every Scot engraved with the legend: "THIS IS WHAT I EAT." Except it isn't.
The strangest food hybrids

Show all 6
Because unlike a Cornish Pasty or a Melton Mowbray pork pie – also EU protected – chucking a mass-produced chocolate bar into fat previously used to fry haddock does not create a delicious, much-called-upon kitchen classic. The Scots do, it must be said, pull off snack food with grand aplomb. In fact, Scottish chip shops are the best in the world. If you, the traveller, are lucky enough to find yourself in a Scottish chip shop, faced with its dazzling array of battered sausage, haggis, white pudding, curry sauce, pakora, pies, onion rings and endless fresh chips, well, requesting a battered Mars bar will mark you out as one of life's apprentices. Why would you?
Instead of a go-to snack, that battered Mars bar – which Scottish people don't eat, but are told every day that they do – is symbolic of a devil-may-care approach to mortality and a rough 'n' ready approach to cuisine. It's chucked about as quick, jolly shorthand when summing up five million Scots as an army of booze-sodden, enthusiastic smokers who never taste a vitamin or see a sun ray. Annoyingly, like all daftly amusing stereotypes, it steamrollers over a more complex truth. In fact, every time someone on Channel 4's Eight Out of Ten Cats uses "Deep-fried Mars bar" as a punchline, somewhere in Lochinvar, Balloch or Nairn, a Michelin-star chef is weeping. While tourists Instagram Scotland's "national dish" of fried chocolate, the country's gyms, playing fields, bike tracks and mountain paths are chock-full of actual Scots.
Yes, some do order Munchie boxes and drink Buckfast, but there is something about the Scottish psyche that nurtures Olympians – as well as inventors, thinkers and scientists. And Saturday night in a Glasgow nightclub is filled with beautiful, chiseled, self-tanned sorts who haven't touched carbs since 2011. Scotland has poverty, obesity and eye-watering rawness but it also has great pomp, finery and peacock swagger. It's unfair for generations of young Scots to go out into this world tarred with the big, battered-Mars-bar brush. But then – as Westminster is showing right now – Scottish people tend to be quite hardy, I'm sure they can stick up for themselves.
One of the funniest footnotes, for me at least, of this local council stand-off is that the manufacturer Mars will not authorise or endorse a connection with the Caron Fish Bar as it does not fit with the company's promotion of healthy living. Seemingly, without the batter encasement the Mars bar, only 242 calories for around four mouthfuls, is quite the health food. That's why the nigh-continuous Mars advertising we've all soaked in for decades – doubled at Christmas and Easter – has been so useful to my quest to wear hotpants. During the 1970s and 80s I was told in almost every ad break that "A Mars a day helps you work, rest and play". At 1,500 calories a week, the only game Mars encouraged an entire generation to play was struggling to see one's own feet.
Register for free to continue reading
Registration is a free and easy way to support our truly independent journalism
By registering, you will also enjoy limited access to Premium articles, exclusive newsletters, commenting, and virtual events with our leading journalists
Already have an account? sign in
Register for free to continue reading
Registration is a free and easy way to support our truly independent journalism
By registering, you will also enjoy limited access to Premium articles, exclusive newsletters, commenting, and virtual events with our leading journalists
Already have an account? sign in
Join our new commenting forum
Join thought-provoking conversations, follow other Independent readers and see their replies