Why do we prop up an industry destroying lives across Britain?
The digital roulette offered on fixed odds betting terminals is gambling's crack cocaine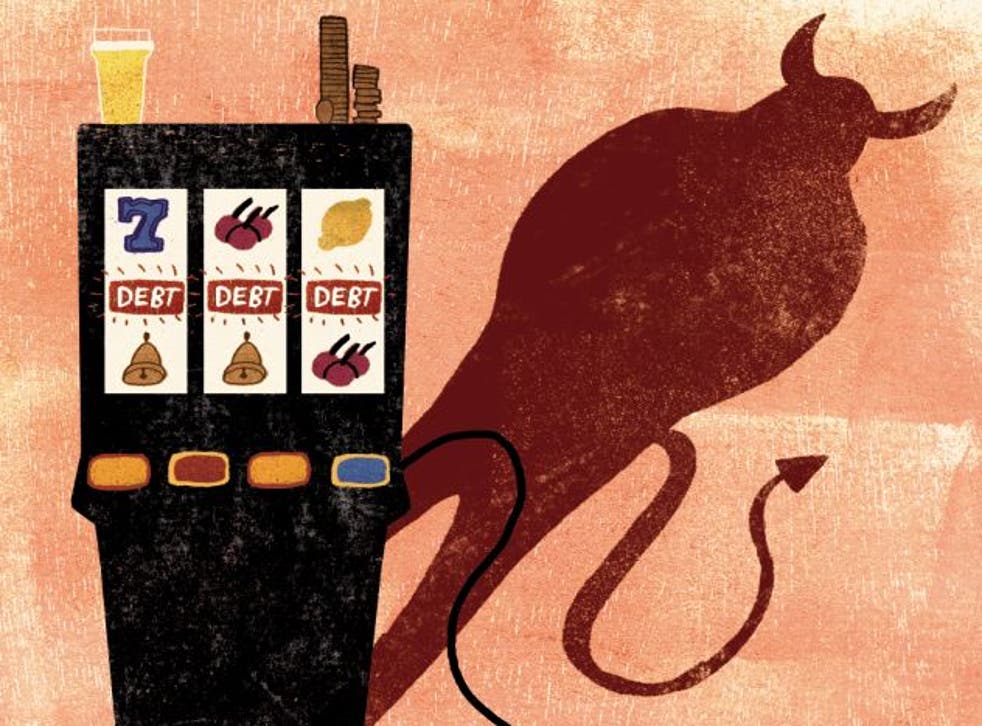 As always when dawn breaks over this day, we turn to the parlour game of Fantasy Queen's Speech. All regal orations have a strong element of fantasy, by painting a rosier picture of the legislative year ahead than the one that will come to pass. But the point of FQS is not to moan about the wishful thinking to which Her Majesty is condemned to give voice. It is to imagine what the old girl might say if a mischievous Black Rod spiked her water with a Mickey Finn truth serum.
This year, my preferred fantasy statement is as follows: "My Government will knowingly, deliberately and cynically add to my subjects' sufferings, by colluding in the betting industry's drive to increase the addiction to gambling."
On reflection, the sovereign may be in the dark on this one, and, if so, she is in good company. The ruthless targeting of potential problem gamblers through the proliferation of the electronic gaming devices known as fixed odds betting terminals is a national scandal. But since very few of us ever enter a bookmakers', and since the bookies' prey are primarily those who do not vote and have no voice, it is largely hidden in plain sight.
I should state, in the hope of pre-empting any squealing letters of complaint from the bookies and their friends at Westminster, that I am not a puritanical enemy of gambling. Like Derek Webb, a professional gambler who made a fortune from inventing casino games, and now spends part of it fighting the march of FOBTs via his Campaign For Fairer Gambling, I am the precise opposite.
From the moment my parents loosed me on the Brighton pier slots, at the age of six, I was lost, and spent every penny of pocket money (and the odd fiver nicked from a wallet or purse) on fruit machines. At 17, I altered the month of birth on a temporary passport to make me 18 so I could get into an Algarve casino. At least 23 and a half months of a two-year law course were spent in a north London Mecca, betting on the dogs and horses. The first month's wages as a journalist were swept away by the croupier's rake in Cannes. I have played in the World Series of Poker main event in Las Vegas, and spent an insane amount of time playing cards in home games and online. Until 2002, I never met a form of gambling I didn't love.
Then the Blair government did something astoundingly crass. Possibly more through ignorance than avarice for the tax yield, and possibly not, it allowed high-street bookies to install machines simulating roulette (though they now feature all casino games and other amusements).
Writing about these armless bandits a few months after they first appeared, it was the safest of bets to predict they would cause colossal grief. An acquaintance had already fled the country to avoid the Russian mafiosi from whom he had borrowed £30,000 to feed the craving. Before he fled, I watched him playing the roulette machine incessantly in a William Hill in Bayswater. A changing cast of characters at the neighbouring FOBT included an Albanian who blew in minutes the £1,000 he had painstakingly saved for two years to take his kids to meet their grandparents in Tirana, and various old biddies rattling through their pensions.
This was inevitable. For centuries, roulette has obsessed and ruined the once wealthy. Here it was in a new, deadlier form aimed not at playboys on the Riviera, but at the penniless of grimy inner cities and sink estates. Where an effort is required to go to a casino for a spin of the wheel every five minutes, the game became available to passing trade on the high street with a spin producing an adrenaline surge and other psycho-chemical reactions every 15 seconds. The distinction is similar to the one between a recreational drug which the vast majority of users take occasionally and at low risk, such as cocaine, and a drug that is intensely, instantly addictive and designed to cause addiction, such as crack. Hence the now ritualistic description of these machines as gambling's crack cocaine.
In the intervening decade, the scourge has spread. Today, a stroll down the high street suggests that every other new shop replacing a failed one is a bookmaker's. The chains are expanding so quickly not to reduce unemployment (the machines, according to the Campaign For Fairer Gambling, kill two jobs for each they create), but because there is a limit of four per shop. With a maximum stake per spin of £100, FOBTs account for more than half the industry's turnover, with estimates of the amount annually wagered ranging from £40bn to £46bn.
While statistics on the rise in addicts defy easy analysis, because the simultaneous growth in internet gaming also plays a part, the Gambling Commission's 2010 national survey found that the number almost doubled to 450,000 since 2007. Just as the betting industry denies opening twice as many new shops in deprived areas as elsewhere for any more sinister reason than population density, it disputes that FOBTs are addictive. When it insists that there is "no empirical evidence" for their addictiveness, I was reminded of the tobacco industry's long and categorical rejection of those fanciful medical claims about a link between smoking and lung cancer.
What the bookmakers are peddling is a toxic drug with a ferocious capacity to wreck lives. After the fashion of the dealer who sucks in new clients with a freebie line or crystal, they entice the vulnerable with garish window posters offering free plays under the guise of "competitions". The Treasury, meanwhile, is content. Whether by design or not, with these machines disproportionately targeted at the poor, the £300m collected last year from the profits represents a peculiarly wicked regressive tax.
"I have got the most heart-rending letters and emails and calls that I've ever had in 30 years of being an MP," said Harriet Harman of this plague, "just saying, 'Please, do something about this. It's ruined my life, it's ruined my family, it's really dangerous'." So it is, and while the bookmaking industry exists to maximise profits however it legally may, a Government exists to minimise the sum of human misery where it can. By allowing the growth of high stakes FOBTs in return for tax revenues (which may not even cover the costs of increased crime, children taken into care and other attendant side effects), this one, like its predecessor, abrogates its duty and covers itself in shame.
Register for free to continue reading
Registration is a free and easy way to support our truly independent journalism
By registering, you will also enjoy limited access to Premium articles, exclusive newsletters, commenting, and virtual events with our leading journalists
Already have an account? sign in
Join our new commenting forum
Join thought-provoking conversations, follow other Independent readers and see their replies