Why I risked arrest to protest against fracking
Ministers are ignoring analysis that undermines the myth it will lower fuel bills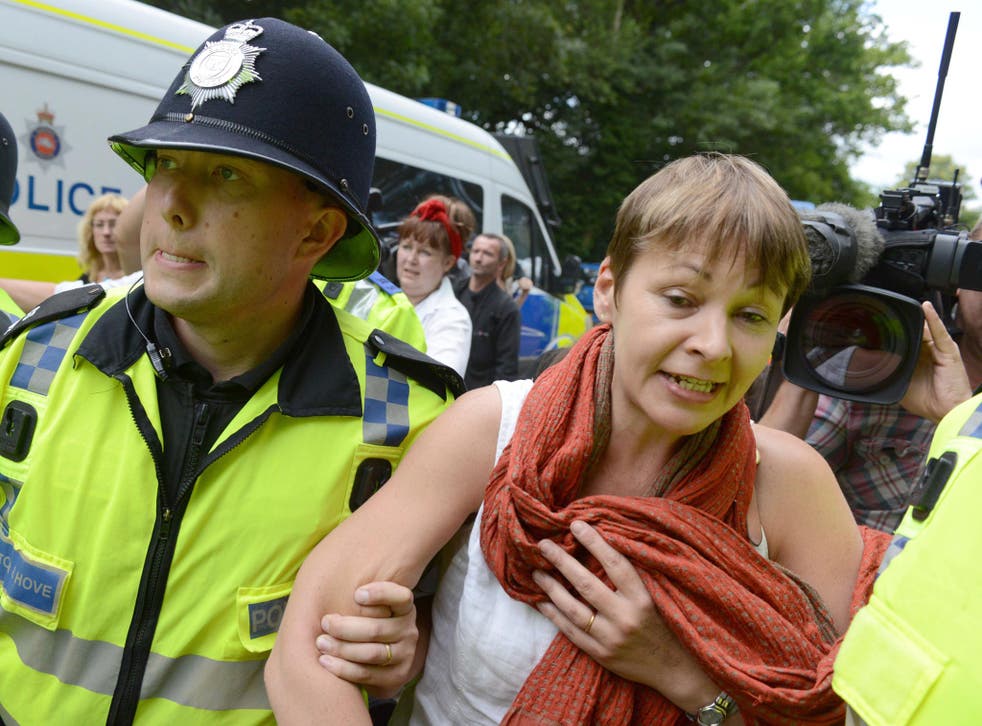 There are some major questions to be asked about the role of politicians in the fracking debate. To me, the biggest are about why the Prime Minister is acting as a public relations man for the shale gas industry, and why there are people with financial interests in the sector who have senior roles in Government.
Over the past 24 hours, however, two rather different questions have been put to me several times. The first is: why would an MP would feel the need to "get herself arrested" in a peaceful, non-violent protest against fracking? The second is: should an elected representative ever take direct action?
In response to the first, neither I, nor any of the protesters I have spoken to, set out with the intention of spending time in police custody. Through entirely non-violent action, we are standing up against a process that would seriously undermine efforts to tackle climate change, and which exposes the local environment to risks such as ground-water contamination.
The second question is more reasonable. It is certainly true that, as an MP, I am in a very privileged position – I get to speak up on behalf of constituents, put questions directly to the Government, and push for parliamentary debates. However, like the people of Balcombe – most of whom oppose fracking, and who have written countless letters to MPs and ministers on the subject – I've found that the Government has its fingers firmly in its ears.
As well as the people who are directly affected, ministers are ignoring industry experts whose analysis undermines the frequently repeated myth that shale gas will mean lower fuel bills. Deutsche Bank, Chatham House, and Ofgem all predict that it will not bring down fuel bills. And the International Energy Agency has forecast that natural gas prices will rise by 40 per cent by 2020, even with an influx of cheap supplies from shale. The comparisons being drawn with US – with its very different energy markets, geology, population density and planning laws – just do not stand up.
Some of the proponents of fracking have used the term "nimbyism", as if this technology were a force for good being opposed only by a handful of people in the home counties worried about property prices. On the contrary, this is part of the much bigger debate about the future habitability of our planet. Between 60 and 80 per cent of known fossil-fuel reserves must remain in the ground if we are to have any chance of avoiding dangerous climate change. The widespread use of shale gas is quite simply incompatible with the Government's international commitments to keep global warming below two degrees.
Britain can go down one of two routes now. One is to a future based on renewables, alongside greater investment in energy efficiency, where local communities have much greater say how their power is provided. The other is to a future based on polluting fossil fuels. The people who took non-violent direct action at Balcombe were sending a very clear message about which we should choose.
Join our new commenting forum
Join thought-provoking conversations, follow other Independent readers and see their replies