Why Instagram won't #freethenipple
The site has no problem controlling content, even when it abides by their rules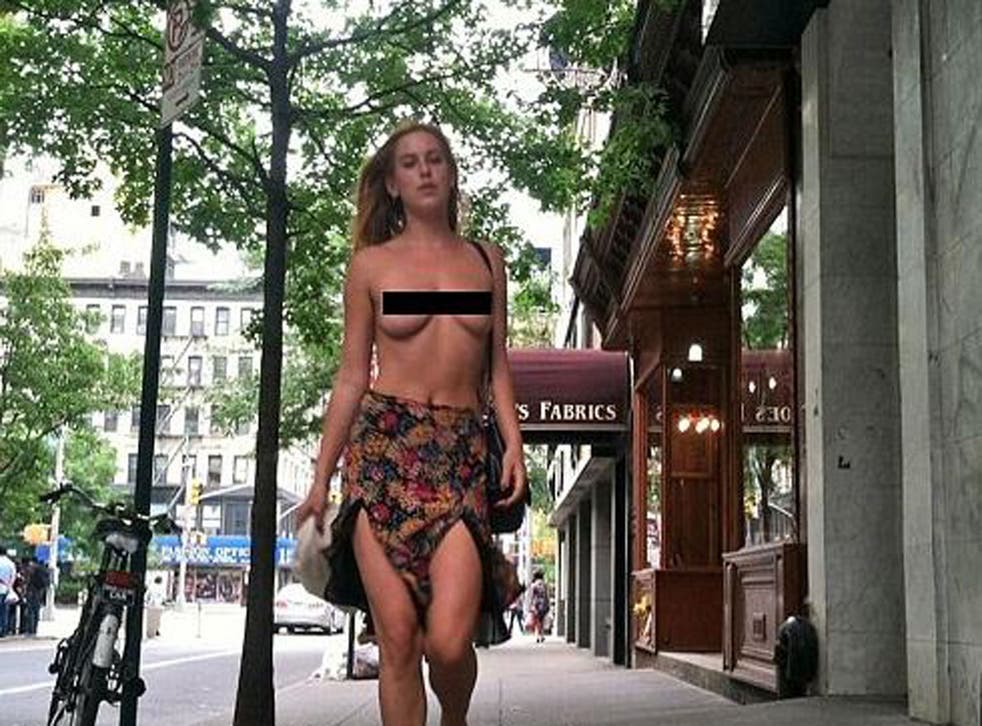 Last week, Scout Willis, the actress daughter of Demi Moore and Bruce Willis, took to the streets of New York wearing only a skirt, baring her breasts in protest at Instagram's strict no-nipple rules.
As causes go, it would surely be filed under First World Problems, but Willis is angry at the photo-sharing app after it suspended her account due to her consistent flouting of its strict no-nudity rules.
And so she posted topless pictures of herself taken on the streets of New York – in broad daylight, she was buying flowers – on her Twitter account (nipples are allowed on Twitter), captioning one topless photo with the line "Legal in NYC but not on @instagram" and using the hashtag "#freethenipple" under another.
"This is about helping women feel empowered to make personal choices about their bodies not dictated by what society says is decent," she tweeted.
The actress is not the first Instagram user to fall foul of the app's puritanical ethos: Rihanna's account was famously shut down earlier this month after the singer repeatedly posted topless photos. US Vogue's Grace Coddington account was temporarily removed after she posted a topless illustration of herself, a fairly rudimentary line drawing in which nipples were nothing more than two black dots.
The fact that Instagram moved quickly to remove a line drawing of nipples proves just how ardent they are about their no-nipple policy, a policy that includes removing pictures of women breastfeeding.
It is that arbitrary approach to nudity that has so incensed Willis, who is enraged that the app won't allow her to post "beautiful" and "tasteful" photos of her breasts, but will allow pictures of near-naked women draped over men as long as their nipples are covered.
She takes umbrage with the fact that Instagram seems fine with the objectification of women, allowing pictures of semi-nude women with captions like "big titty broads", as long as a nipple tassel (real or digital) covers the areola.
Instagram meanwhile has responded to Willis with a statement saying "we prohibit all forms of nudity on Instagram because some audiences within our global community are particularly sensitive to this type of content".
Regarding bottoms, though, the site appears to have a more pernicious strategy. Bottom selfies are a thing – they are so established a thing, there is even a catchy portmanteau to describe it: belfie.
And Instagram is full of them (remember Kim Kardashian's?). But last week Instagram was forced to apologise to a woman who claimed that her legitimate belfie had been removed purely because of her weight.
Meghan Tonjes posted a picture of her bikini-clad bottom to Instagram (i.e. a picture clearly complying with Instagram's no-nudity rules), only to have it removed by a moderator, a move that she says was enacted because she was a "big girl".
She challenged Instagram on the issue, uploading a video asking why her butt selfie was taken down while many others remain, and her picture was reinstated. What the incident proved is that Instagram has no problem controlling its users' content, even when it abides by their rules.
Last year, the fashion brand Michael Kors became the first-ever advertiser on Instagram, and the app is poised to collect big-budget digital advertising campaigns, as big brands such as Levi's and Burberry are reportedly seeking to spend their budgets on digital and mobile platforms.
Instagram is the ideal place for these brands to spend: its loyal users check it daily and are, on the whole, an image-obsessed, consumer goods-buying bunch.
Because of its intimate nature, the #aftersex selfies and the countless pictures of your dinner and your cat, it feels like the site is something that you created.
But actually, Instagram is in charge and it's manipulating its image with more than just fancy filters. It's about to start making massive amounts of money, and there's no way the company would ever #freethenipple if it meant jeopardising that.
Register for free to continue reading
Registration is a free and easy way to support our truly independent journalism
By registering, you will also enjoy limited access to Premium articles, exclusive newsletters, commenting, and virtual events with our leading journalists
Already have an account? sign in
Join our new commenting forum
Join thought-provoking conversations, follow other Independent readers and see their replies