Why should Fiona Woolf be expected to remember every dinner date?
If they have to replace her they could always get Lady Brittan to do the job instead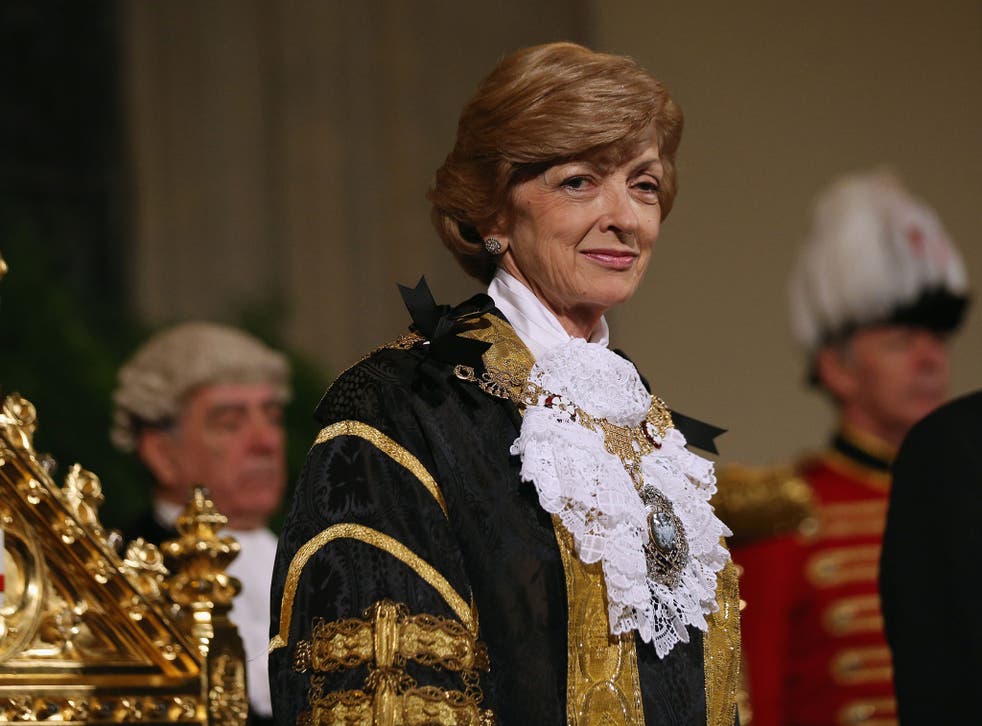 This investigation into child abuse has already been a marvellous success, before they've even agreed who's going to conduct the thing. Because Fiona Woolf, the woman appointed to investigate the conduct of Establishment figures independently, including Leon Brittan, turns out to have had a number of dinners with Leon Brittan.
That should make the investigation so much easier to carry out. Instead of going through the rigmarole of formal hearings, they can chat about it during pudding. Then her final report can read, "During my first interview with Lord Brittan, we agreed that as child abuse is rather a dry and stuffy issue, instead he'd show me his holiday snaps. As a result I have no hesitation in recommending that if you have been a victim of abuse, a fortnight in a villa in the Caribbean seems an ideal setting to relax and get over it."
This is after the first person they appointed to run it turned out to be the sister of the Attorney General at the time. If they have to replace Fiona Woolf they'll announce, "We have now appointed someone whose experience and impartiality can surely not be challenged – Lady Brittan, who will be ably assisted by Lord Brittan."
Theresa May, who appointed her, insists Fiona Woolf only had dinner with the Brittans a few times, complaining that if we're going to be that fussy who can we get? Her argument seems to be, "Well, everyone has been to dinner with Leon Brittan now and again. I suppose if we scour the council estates of east London we might find someone who's only had him round for tea and whelks. It's not his fault he's so sociable."
After denying she knew him all that well, it has emerged Woolf also had a meeting with him she'd forgotten about. You can understand this, because none of us remember every meeting we've had with a former Home Secretary. And in case she'd forgotten about the time she was out and about with Lady Brittan, luckily for Woolf, a photograph has emerged showing them together. But then you're bound to forget the odd occasion, such as when Douglas Hurd popped round to watch the darts. Or when you fed Jack Straw's fish while he was away at a party conference.
Next it will turn out Fiona Woolf was married to Leon Brittan for eight years. But she'll assure us, "This was some time ago, and as a busy professional woman I can't be expected to recall every marriage I participate in."
Already, many of the victims of the child abuse to be investigated have expressed dismay at the appointment, and have said they won't bother taking part at all. But the official reaction is: "There's always someone who can't stop whining, isn't there? What do they know about child abuse compared to this highly distinguished posh person?"
In a way though it's fitting that an investigation into whether hundreds of victims of child abuse were routinely ignored and dismissed by members of the Establishment should be run by a member of the very Establishment which is telling them to shut up and go away.
The most confusing part of the story may be that she denies vehemently she is "part of the Establishment" at all. I suppose she's one of those working-class lord mayors of London and presidents of the Law Society that you get.
Part of her explanation for how she forgot a meeting with Lord Brittan was she met so many prominent people in the City of London. And we all know that feeling when those meetings with prominent people in the City of London all blur into one.
I suppose it depends on where you draw the line of where the Establishment begins. Prince Andrew probably says, "I'm hardly Establishment – not now I'm down to fifth in line to the throne."
So simply being the official representative of the financial centre of London, wearing medieval gowns and pointed hats and chains of medals to address the CEOs of banks, and standing at Law Society banquets to propose a toast to the Queen, who you may or may not have met over the last month but you can't quite remember – that barely qualifies you as lower-middle class, does it?
There are snooker clubs that wouldn't let you join if that's how ropey your background is.
But maybe this is a new trend, and even criminal investigations will be run by mates of those involved. The judge in the trial of a gang of drug dealers will be Crystal Meth Jimmy, who will deny angrily that photos of him parcelling up rocks of crack with the accused in any way compromise his impartiality, especially as he hasn't met any of them since April, except for the times he's forgotten.
The other issue that should possibly be raised is that if Fiona Woolf forgets things as easily as she says, especially things such as whether she met anyone at all, let alone what they said during the meeting, is she the ideal person to run an investigation? Her final report is likely to read "Then I turn to wotsisname, you know, the bald one. His testimony stated very clearly that, oh hang on, I've mixed him up with my postman."
It would be more in keeping with the tradition of inquiries into disgusting behaviour if, instead of running the investigation, she was a major witness, and like Rupert Murdoch, sat there saying, "Sorry, I can't remember a thing", and was somehow believed by everyone, except anyone not part of the Establishment.
Register for free to continue reading
Registration is a free and easy way to support our truly independent journalism
By registering, you will also enjoy limited access to Premium articles, exclusive newsletters, commenting, and virtual events with our leading journalists
Already have an account? sign in
Join our new commenting forum
Join thought-provoking conversations, follow other Independent readers and see their replies