Why the Tories are home and dry in 2015
It turns out we would rather vote for someone who would give us more cash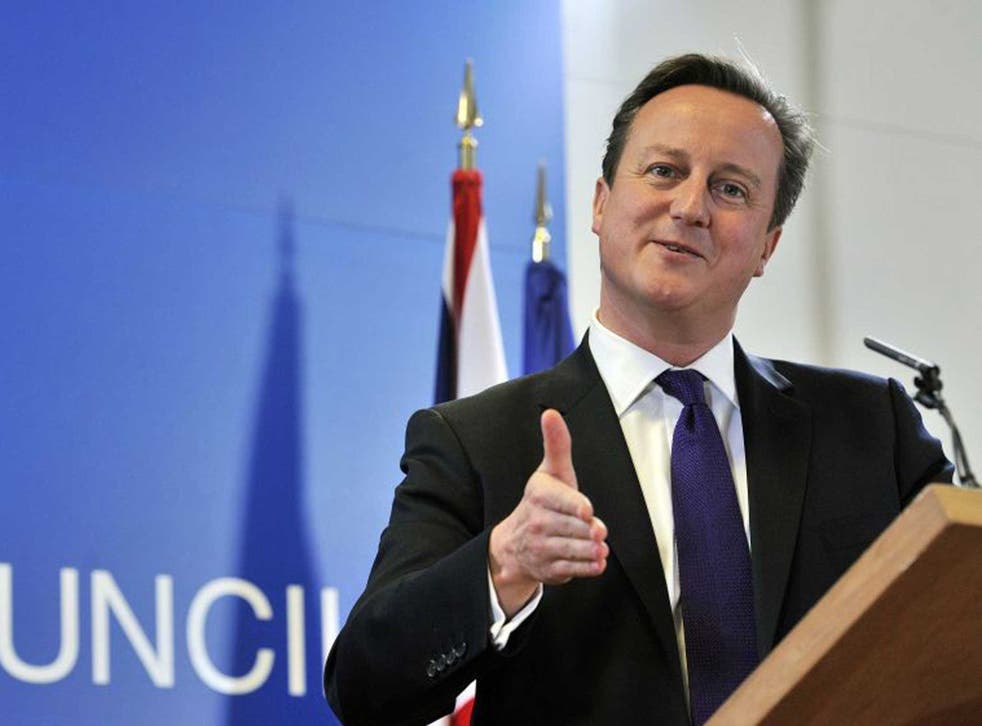 That's the next election, then. Friday's growth figures were not decisive, but they were the end of the beginning of the election. From now on, the facts of economic life are Conservative.
Until last week, David Cameron had lived up to his promise to lead the greenest government ever. In its first three years, the coalition achieved the dream long advocated by "deep green" environmentalists who are opposed to economic growth. Under this Government, Britain has become poorer, more equal and happier.
The poorer part we know about. Ed Miliband has made "the cost of living crisis" central to Labour's mid-term campaigning. For what feels like 40 months he has repeated "prices have been rising faster than wages for 39 of the past 40 months". Friday's Gross Domestic Product figures leave that slogan unaltered, for the moment.
A couple of weeks ago, the Prime Minister tried to slide past Labour's fact-bastion. He said in the House of Commons that "disposable income went up last year". This was what you might call a decorative fact. It looks good, but it is not much use. The figures for disposable income have oscillated around a flat line since the recession bottomed out. The average for 2012 was indeed just above the average for 2011, but the latest figure for real disposable income per head is still lower than the level inherited from Labour in 2010. For the year to mid-2013 compared with the year to mid-2010, it is down 2.2 per cent.
So, yes, on average we are worse off. Everyone knows that. Everyone also thinks that they know who has borne the brunt of the worsening. It is the poor, obviously, while the rich have escaped unscathed, as they usually do. Except that the reverse is the case. The rich have borne more of the cost of the recession than the poor. This surprising fact is contained in a statistical bulletin produced by the Office for National Statistics, which is now independent of the Government, called "The Effects of Taxes and Benefits on Household Income". It was published in July and shows that incomes, after taxes and benefits, have become more equally distributed since Cameron became Prime Minister.
The narrowing of the gap between rich and poor is fairly small; and the Gini coefficient, which measures overall inequality, doesn't explain why food-bank use has risen so sharply – it doesn't capture everything that happens at the extremes. Furthermore, even a small cut in income feels worse to a poor person than a larger percentage cut does to a rich one. But the picture is certainly different from that of the immiseration of low-income Britain and tax cuts for the rich that is so widely accepted as fact.
As Hamish McRae pointed out in this newspaper two weeks ago, Britain is unusual in this respect. In all the other countries studied by UBS, the poor lost a greater share of their income than the rich in the recession. As he said, some credit should go to "Gordon Brown as well as David Cameron for managing to give some protection to people at the bottom".
So we are poorer, but the pain has actually been shared surprisingly fairly and, thanks to Cameron's pre-recession dalliance with the idea that there is more to life than money, we now know that we are happier too.
When he was still Mr Sunshine, Cameron wanted to replace our obsession with gross domestic product with a more rounded measure of "general well-being". Something of this idea survived the post-Lehman Brothers whirlwind, so last week the independent ONS published another statistical bulletin, called "Personal Well-being Across the UK". This reported a survey that asked people "how satisfied are you with your life nowadays?" It found that, in the year to March 2013 compared with the previous year, the average rating out of 10 for life satisfaction went up from 7.4 to 7.5.
Somehow, gratitude to our benign rulers for bringing us this statistically significant increase in our contentment is withheld by the British people. It turns out that money does matter after all and that, satisfied as we tell someone with a clipboard that we are, we would rather vote for someone who would give us more cash.
Hence the significance of Friday's GDP figures. That is the money we are earning as a country. It hasn't filtered through to our bank accounts yet, but it will. Which is why Ed Balls's response was puzzling. It is a bit late, he said, which is true but irrelevant. "It's good news on growth, but not for families," he said, which is also true, but probably not for long.
"I don't like to see these things in political terms," an economic forecaster told me. He was saying that he expected the economy to grow strongly for the next couple of years at least. He thought wages would start to grow faster than prices at some point in the first half of next year. A year before the election, then, I asked. He didn't like to see these things in political terms, but it is unavoidable.
If people feel that they have been getting better off for a year before the election, that is all that there is to it.
Join our new commenting forum
Join thought-provoking conversations, follow other Independent readers and see their replies