World Cup 2014: Why Germany's beachside resort may signal a happy holiday to come
German football reflects German business. Both value stability, demonstrable competency and obedience to a set of tried and tested rules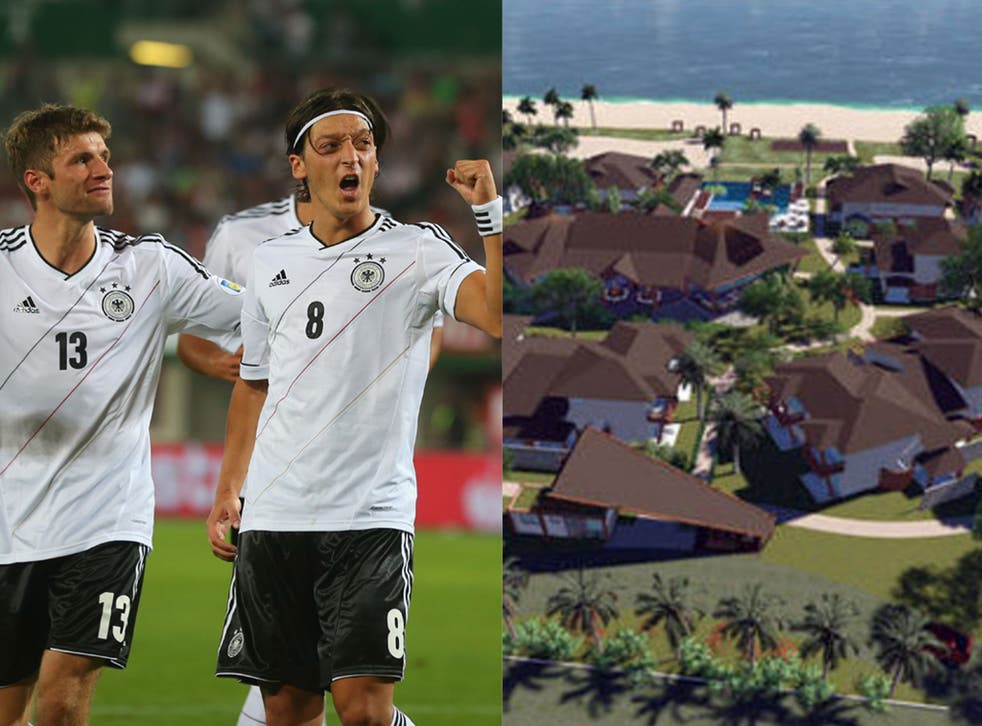 Campo Bahia, in north-eastern Brazil, promises delight. Situated on a remote stretch of coastline, the state of the art 15,000 square metre complex offers 60 bedrooms, a swimming pool, open plan kitchen and unbeatable views of the region's palm-treed beaches.
When it opens in 2014, however, Campo Bahia will not be an option for the regular punter. This is the Munich-based building venture designed to house Germany's national team during their World Cup bid – with the construction site entrance already bearing the colours of the German flag on its entrance. If that colonial stamp of pride weren't enough, Campo Bahia is also being built a stone's throw from the site where Portuguese explorers first sighted Brazilian land in 1500. Clearly, the Germans are coming, and they are doing things their own way.

The reason for this bespoke luxury is, allegedly, a lack of good facilities elsewhere – a claim given some justification by the apparent shortcomings of the England team's hotel of choice: the Royal Tulip in Rio de Janeiro. If claims on trip advisor are to be taken seriously ( 'it pretends to have 5*!', 'a… nerve-wracking place', 'DO NOT STAY HERE') the England team may be about to check into one of Rio's less comfortable hotels, while in a wonderland far away Mesut Özil and Bastian Schweinsteiger will be building sandcastles to their hearts' content.
None of which, of course, should come as much of a surprise. German football and the culture that surrounds it has been characterised by an almost slavish regard for quality in the last decade. Consider, for instance, the heroic if gas-guzzling movements of the Bayern Munich team bus. Setting off three or four days before every overseas Champions League game, the Bayern coach crosses snow and sea to meet the Munich team by the airport – simply so the players feel comfortable away from home.
A similar level of care is clearly being lavished on the German national team and their facilities at Campo Bahia, with particular attention being paid to the potential effects of travel time and weather conditions. The camp is located in the same climate zones as the venues for Germany's three group stage matches and the Porto Seguro airport, located 45 minutes from the complex, will take the German team to their three desired destinations (Salvador, Fortaleza and Recife ) in no more than two hours on each flight. Oliver Bierhoff, the German team manager (not a coaching role), said of the site: "we looked for a base where the players could adapt effectively to the kind of things they can expect to encounter during each match."
That attention to detail, circumstance, and above all fitness, is symptomatic of Germany's careful, if somewhat bookish, approach to modern football . As Simon Kuper has observed before, the Germans were the first to borrow tricks of the athletic trade from the US to enhance their game. When Jürgen Klinsmann took charge of the German national coach in 2004 he brought home with him the skills learnt from his time as technical adviser at LA Galaxy. Hiring American fitness coaches, he instructed players to take cold showers after matches, and devised bespoke work-out homework programmes for each player.
Data analysis also became key to this brave new world of German football. In a secret codebook of rules for the national team, one stipulation was that the optimal distance between German defenders was to be eight meters. Meanwhile, the taking of penalties, corners and free-kicks became increasingly determined by back office number-crunchers toiling over spread sheets.
German football also reflects German business. Both value stability, demonstrable competency and a general obedience to a set of tried and tested methods. In 2012, an astonishing 95 per cent of German businesses had a family at the helm. Family-run businesses (which make up a meagre four per cent of British industry) have a corporate strategy informed by an emphasis on sustainability, on thinking in terms of generations. In practical terms this amounts to a commitment to long-term growth, solid succession planning and ultimately a rosier economic outlook. Consider the fact that Germany, the second biggest exporter in the world, has 42 per cent of its GDP accounted for by family business and 61 per cent of its work force employed by family firms.
The recent success and consistency of German football is attributable to a similar set of values. Think of the emphasis German football puts on succession planning – on rearing new talent before the old guard dies out. After a dreadful performance in Euro 2000, every Bundesliga team was ordered to create an academy. And in the last decade almost £600 million has been invested in youth scouting and development – the result being that the backbone of the national team is made up of a group of youth academy graduates: Bastian Schweinsteiger, Phillip Lahm, Mario Götze and Thomas Müller, to name but a few.
Things look interminably bright for the Germans. Three years ago, an unfamilar picture surfaced of Angela Merkel an empahatic 4-0 win over Argentina in the 2010 World Cup quarter final. Arms raised aloft and mouth contorted chaotically, it is the the best evidence the world has of the lady in red's capacity for unbridled joy. Provided her national team don't become overly distracted by the local opportunities for beach volleyball and snorkeling, they may be about to give the Chancellor reason to practice the expression.
Join our new commenting forum
Join thought-provoking conversations, follow other Independent readers and see their replies