World Vegan Month: Want to be a winner on and off the field? Go vegan
A vegan diet can provide all the nutrients you need - why make animals suffer for a moment of taste?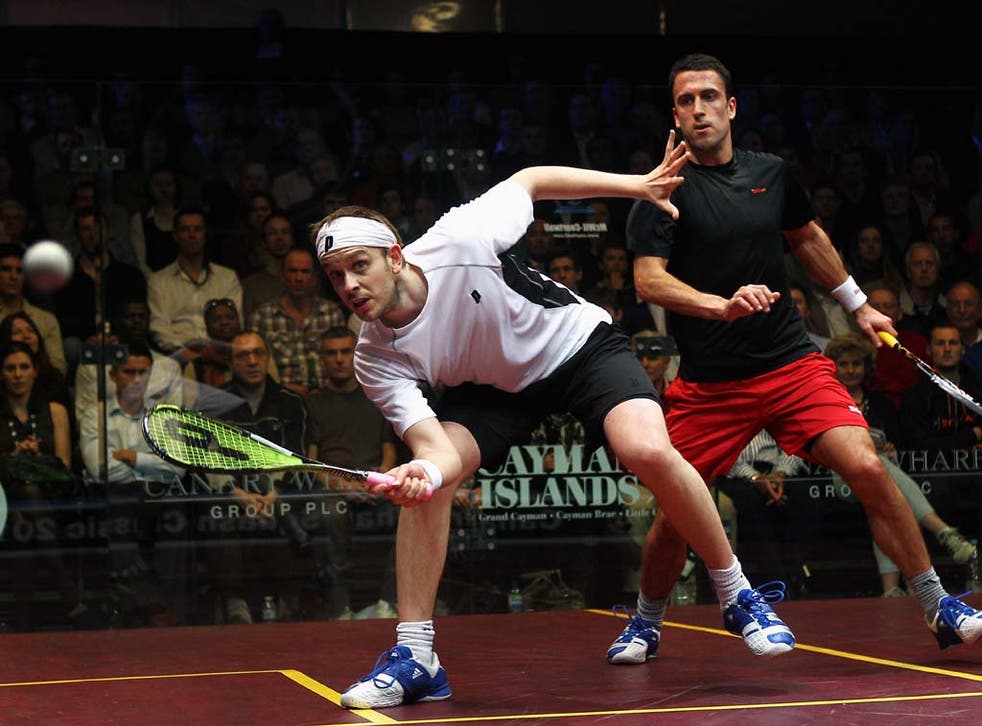 I was recently in San Francisco, California, for the NetSuite Open Squash Championships, where the talk was not just of squash but also the country's national pastime – baseball.
My visit coincided with the playoffs leading up to the rather grandiosely named World Series, and while watching one of the playoff games I was struck by the fact that some of the players were – how to put this delicately – rather well nourished. I was somewhat taken aback by this, because there are no, ahem, "well-upholstered" squash players. Like baseball, squash is an extremely demanding sport. You have to be in peak physical condition to be among the top competitors. And you need the best fuel for the strenuous training and competitions. In my opinion, that's a vegan diet, and, pleasingly plump sluggers aside, I'm not the only athlete who thinks so.
I'll always remember Carl Lewis crediting his vegan diet with helping him set a world record in the 100-metre event in 1991. More and more athletes are now fuelling up on plant-based foods – and they have the strength and stamina to show for it. During this summer's Olympic Games, Britain's first medal was won by distance road cyclist Lizzie Armitstead, who has refrained from "eating corpses", as she puts it, since age 10. Tennis legends Venus and Serena Williams, who also netted Olympic medals in London and just won the Wimbledon Doubles Championship, switched to a raw vegan diet earlier this year after Venus was diagnosed with a potentially debilitating autoimmune disease.
Football stars are also at it. Reading striker Jason Roberts calls himself a "tactical vegan", and he credits his diet with keeping the weight down and enabling him to play Premier League football at the ripe old age of 34. Other top athletes powered by plants include Ultimate Fighting Champ Mac Danzig, welterweight winner Timothy Bradley, international bodybuilder Robert Cheeke, triathlete Brendan Brazier and marathoners Scott Jurek and Rich Roll. American football is an undeniably gruelling sport, yet three of its elite players – Arian Foster, Tony Fiammetta and Tony Gonzalez – eschew meat (and several retired players are vegetarians as well).
So why are so many top athletes turning to a vegan diet? Vegan foods are cholesterol-free and high in vitamins, minerals, protein, fibre and other nutrients that are essential for strength, energy and endurance. Vegan athletes are at an advantage because, to give muscles fuel, they need ample carbohydrates – and plant-based sources of protein such as nuts, beans, root vegetables and grains are higher in carbohydrates than meat or fish.
Vegans also tend to have a lower body-mass index than non-vegans, and studies show that in addition to boosting athletic performance, plant-based foods can lower blood pressure, improve blood flow and make you less prone to heart disease, strokes, diabetes and cancer. The American Journal of Clinical Nutrition has even reported that a meat-free diet is an optimal sports diet because of its high-carbohydrate and low-fat content.
But aside from all the obvious health benefits, for me, the way we raise and kill more than one billion land animals and fish for food each year in the UK was reason enough to make me go vegetarian many years ago.
Most animals are raised on filthy, crowded factory farms, caged, deprived of all that is natural and important to them, and rarely if ever get to breathe fresh air or feel the sun on their backs until the day they are sent off to slaughter. They are made to live a lifetime of suffering for a fleeting moment of taste. I'm sure a vegan diet is something to aim towards, especially after having learned how dairy factory farms force cows to produce unnaturally high yields of milk, pushing their bodies to exhaustion.
Repeatedly impregnated, their calves are torn away from them within days of birth. Female calves enter the same hellish cycle as their mothers, and the estimated 100,000 bull calves who are born in the UK each year are shot simply because they are unable to produce milk. It's the same with hens, who, in the wild, would lay only about 20 eggs a year but in farm sheds, where they are subjected to near-constant lighting and fed a high-protein diet, they produce about 300 eggs a year. Female chicks follow their mothers into a lifetime of intensive confinement, while the unwanted male chicks are gassed, macerated or crushed to death. I've found that the only way not to contribute to this cruel cycle of animal abuse is to limit eating animal products.
November is World Vegan Month, a time for us all to consider the impact of our eating habits on our health and on the animals with whom we share this planet. Whether you want to lift weights, run marathons, play rugby on the weekends or just stay in shape, a healthy vegan diet can provide all the nutrients you need to be a champ. (Animals will be rooting for you, too.)
Visit PETA.org.uk to order a free vegan starter kit.
Register for free to continue reading
Registration is a free and easy way to support our truly independent journalism
By registering, you will also enjoy limited access to Premium articles, exclusive newsletters, commenting, and virtual events with our leading journalists
Already have an account? sign in
Join our new commenting forum
Join thought-provoking conversations, follow other Independent readers and see their replies