World-leading conservationists join together to put a stop to illegal wildlife trafficking
The London conference will hear how as many as 50,000 elephants are being shot every year across Africa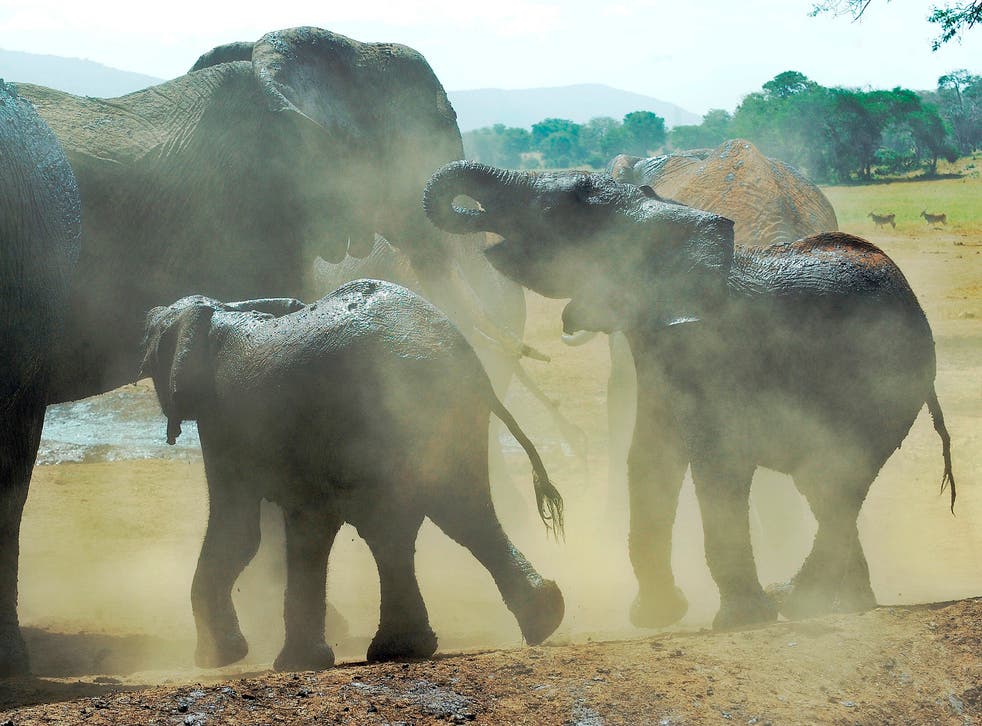 A coalition of leading conservationists, led by the Duke of Cambridge, launched an unprecedented global initiative to tackle illegal wildlife trafficking today, as the world's largest conference on the £12bn trade gets underway.
United for Wildlife, a coalition of seven of the most influential conservation organisations, pledged to use their combined resources to combat what they dubbed "one of the most pressing conservation issues of our times: the escalation of the illegal wildlife trade."
The London Conference, to be attended world leaders, heads of state, and delegates from about 50 countries tomorrow, will hear how, across Africa, as many as 50,000 elephants are being shot every year to satisfy the surging ivory market, driven largely by China.
At least 45 tonnes of ivory were seized in 2013, believed to be the biggest annual haul in a quarter of a century. Conservationists warn that in some parts of Africa, elephant populations could be wiped out in five years. Last year, was the worst on record for rhino poaching in South Africa: 1,004 animals were killed, a 50 per cent increase on 2012.
"The Forces that are currently destroying some of the world's most endangered species are sophisticated and powerful, but this week we are seeing the creation of an equally powerful alliance, coming together to help fight them," Prince William said. "The commitments set out today will begin to address the challenges of protection, enforcement and demand reduction. We will use our combined resources to ensure they succeed."
Addressing conservationists at the Zoological Society of London's International Wildlife Trafficking Symposium, he added that the coalition was not exclusive to the seven organisations that have already joined it. "It is my hope that you will all become part of United for Wildlife and the global alliance to stop illegal wildlife trafficking."
In a bid to stop the slaughter of some of the world's most iconic species, including elephants, rhinos, tigers and pangolins, United for Wildlife pledged to strengthen protection for wildlife on the ground, drive down demand for wildlife crime products, support judiciary and enforcement authorities to combat wildlife crime, support successful community-led wildlife initiatives and work closely with private businesses to develop a 'zero-tolerance' policy against any dependents on wildlife products.
Renowned primatologist Jane Goodall welcomed the initiative. She told The Independent that the coalition would be "really important in getting the message out a bit further and bringing people together who should been working together for a long time."
Goodall added that she wanted leaders to ban the trade on live endangered animals or their parts, reduce demand, prosecute ringleaders of the crime and address the poverty that incentivises people to get involved in the trade. "I am really hoping that the gravity of the situation becomes really apparent and wakes people up," the 79-year-old said.
The conference kicks off as new data from the field in Central Africa shows that between 2002 and 2013, 65 percent of forest elephants were killed. They are being poached, for their ivory, at a shocking 9 percent per year, according to the Wildlife Conservation Society.
"These new numbers showing the continuing decline of the African forest elephant are the exact reason why there is a sense of urgency at the United for Wildlife trafficking symposium in London this week," said Dr. John Robinson, WCS Chief Conservation Officer and Executive Vice President of Conservation and Science. "The solutions we are discussing in London this week and the commitments we are making cannot fail or the African forest elephant will blink out in our lifetime. United for Wildlife... is determined to work together to turn back these numbers."
Dr Paula Kahumbu, executive director of charity WildlifeDirect, said she welcomed the new initiative, but hoped it would live up to its promise to do things differently. "I hope the assurances are genuine and it invests the organisations on the ground that have the legitimacy to deliver what is needed. This isn't just a conservation crisis and it shouldn't just be conservation organisations involved."
United for Wildlife is made up of Conservation International, Fauna & Flora,International Union for Conservation of Nature, The Nature Conservancy, The Royal Foundation, Wildlife Conservation Society, World Wildlife Fund and Zoological Society London.
The Independent, with its sister titles, is running an elephant appeal supporting Space for Giants, a Kenyan-based charity determined to defend Africa's elephants. But we want to halt all wildlife crime.
Our petition calls for world leaders to commit to better training and resources for rangers; to provide better education in places such as Asia, where consumer demand is driving up poaching; to stamp down on corruption and implement laws against those involved in the trade; to help local communities develop sustainable livelihoods; and to uphold the ban on the international trade in ivory.
Register for free to continue reading
Registration is a free and easy way to support our truly independent journalism
By registering, you will also enjoy limited access to Premium articles, exclusive newsletters, commenting, and virtual events with our leading journalists
Already have an account? sign in
Register for free to continue reading
Registration is a free and easy way to support our truly independent journalism
By registering, you will also enjoy limited access to Premium articles, exclusive newsletters, commenting, and virtual events with our leading journalists
Already have an account? sign in
Join our new commenting forum
Join thought-provoking conversations, follow other Independent readers and see their replies