Yasmin Alibhai-Brown: With Britain becoming ever more unequal, we need the likes of Tony Benn and Bob Crow more than ever
That's two more leftie nuisances gone. Now back to big business as usual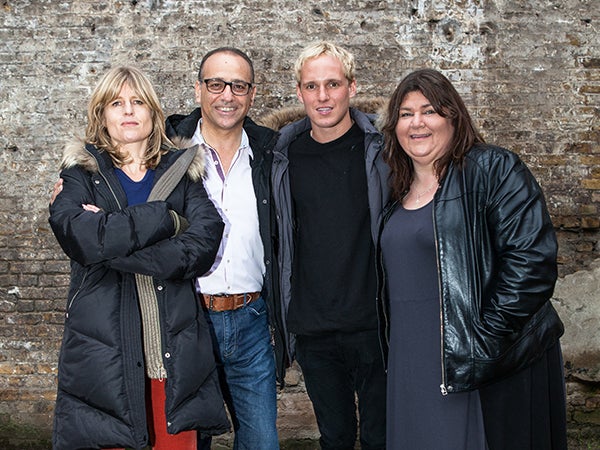 I last saw Tony Benn at the Friends Meeting House in Euston. We were both invited to speak about the austerity measures and their impact on the voiceless. Before the event started, I asked him what had made him give up his inherited privileges and become a ferocious warrior for fairness and justice. His reply: "Nothing special. A conscience and simple, common humanity. We all have that."
If only. Our government has neither and nor did the Blairites who came before them. They put on those faces, they poured honeyed libations when Benn passed away and even after Bob Crow suddenly died. But the ritual utterances meant nothing. For the ravenous rich and their political champions (or slaves), that's two more lefty nuisances dead and gone. Relief and champagne all round. Now back to big business as usual.
Admittedly, they are not completely indifferent to the lower and loser classes. Why, Rachel Johnson, talented and congenial sister of the London Mayor, dropped in on the poor, for a BBC TV programme – a "poverty safari", she called it – and was really, really affected when she discovered how bad cheap food really is. So, too, was Theo Paphitis of Dragons' Den. What, they didn't know? Michael Portillo made a similar programme in 2003 when he lived with a family who were on benefits.
Who benefited? Why Portillo, of course, who, by this well-paid sacrifice, shed his nasty-guy image. I don't understand how these people can remain so disconnected from their fellow citizens. My brother was like them and I didn't understand him either.
We both grew up in a home stalked by fear and intermittent penury. I didn't have my own bed until I was a teenager, I had to make reusable sanitary napkins from old sheets and get neighbours to pay for school books. My brother had to drop out of school to take a job at a petrol station. I became a socialist, he became a millionaire who hated taxes and despised miners, factory workers and those "too stupid to make buck". When I phoned him last, I didn't know he would die a week later, too young, not happy, but still inexorably committed to making the bucks that for him, like Tories, were the meaning of life.
OK, so George Osborne may want to raise the tax threshold to £10,500 in this week's Budget so he can say he cares about "hard-working" people on low wages. These people are kept down and struggling by firms whose shareholders and bosses have insatiable appetites. They who have too much already must have more, more, more and still more, otherwise the entire economy will crumble, or so we are incessantly told. Of course, those who don't get a living wage will be grateful for those few, stale crumbs thrown to them, which is how Osborne and co want it to be. Their social model is to ensure that workers and the poor never feel entitled to a proper share of the nation's wealth. That fundamental right has been stamped on, stamped out. Instead insecurity, punitive policies, slashing of the welfare net induces fear and keeps up class anxieties. And so the boss classes are able to be more exploitative and get knighted too for their contributions to an increasingly divided and unequal nation. Don't mind the gap, we're told. It creates a more flexible, agile work force. A lie. Germany and Sweden are doing better than us and they are patently not followers of these ruthless, government-licensed, profiteer's catechisms.
A report just published by think tank The Equality Trust warns that the great and growing divide between the rich and poor costs the country £39bn per year. The researchers came up with that figure after investigating the monetary effects of mental illness, life expectancy and crime rates among the less well off. The 100 wealthiest people in our country have between them as much money as the 18 million in the lowest classes. This level of inequality means people don't feel valued or motivated. The "trickle down" promise seems to be another damned lie.
Today, Oxfam adds its voice and research findings to challenge the statements and policies made by the Government: "The five richest families in the UK are wealthier than the bottom 20 per cent of the entire population. That's just five households with more money than 12.6 million people – almost the same as the number of people living below the poverty line in the UK." And lest you believe this is all to do with the feckless and lazy, know this: since 2003, the majority of the British public (95 per cent) have seen a 12 per cent drop in their disposable incomes while the top 5 per cent have never had it so good.
No society is ever completely equal or fair. But those with governments that strive through policies and principles for greater equality and fairness, are generally happier, more cohesive and have stronger national bonds. But hey, this GB, miserable, broken and riven, but still "the greatest country in the world". The final lie.
The pleasure of Shakespeare should be for all
Most of us first learnt Shakespeare in school. Some, alienated by Elizabethan English, didn't see the point of studying the long dead white male, while others were thrilled and roused by the greatest writer of all time. Today, school children sitting under trees in Uganda and India, young offenders and kids in care here, are transfixed by the power of the Bard's words, plots, characters and truths.
And so it was on Thursday evening, when I watched the rumbustious Royal Shakespeare Company production of The Taming of the Shrew, not in a lovely theatre in Stratford (where it was first performed this February) but in Phoenix High School in Shepherd's Bush, west London, close to tough housing estates. Jacqui O'Hanlon, the RSC director of education had organised it, one of her many brilliant, outreach initiatives. (Declaration: I am an RSC governor but this is my unbiased view.)
In this version genders are switched, so Kate is played by a hairy man – Forbes Masson – and Petruchio by actress Katy Stephens. The kids loved them and the rest of the cast. Most had never seen a professional company before. For a few hours, they were transported. They, who don't or can't go to the theatre, may never again experience that ecstasy. That's their tragedy.
Join our commenting forum
Join thought-provoking conversations, follow other Independent readers and see their replies