'You're just jealous', and other misconceptions about the Protein World bikini advert
This advert is not about healthy living – it's about looking good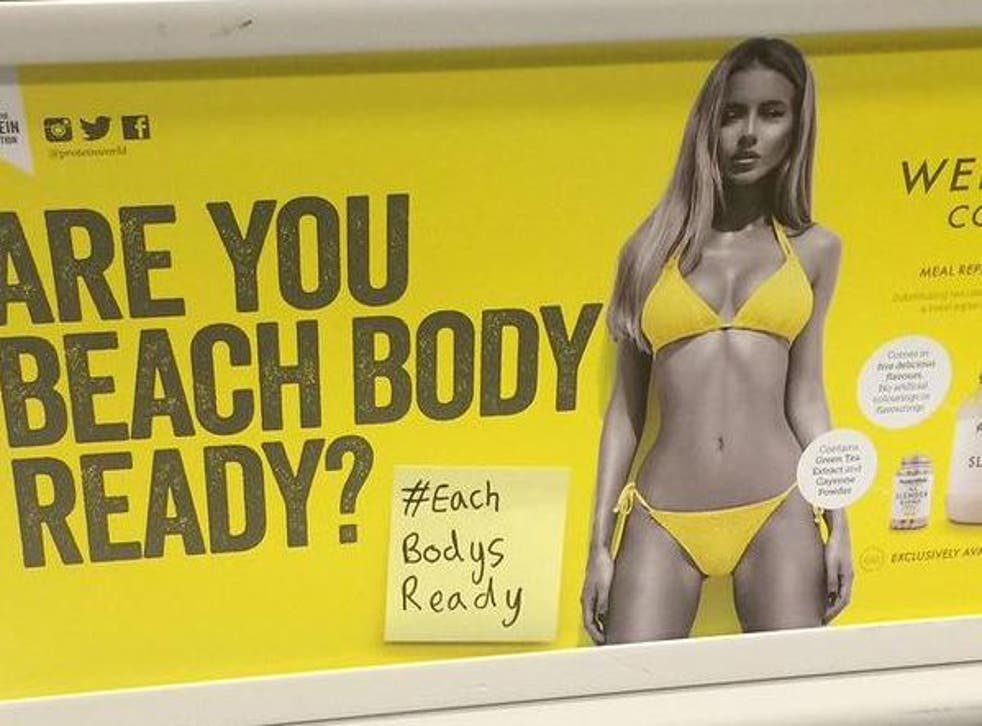 Dear Protein World,
A couple of weeks ago I was waiting for the Tube when a striking yellow advert caught my eye, featuring a model in a bikini and the question: 'Are you beach body ready?'. I walked down the platform to take a better look, and what at first appeared to be a subversive joke, was in fact an advert for your Weight Loss Collection.
Since then, as you well know, people have been vandalising the ads by writing body positive messages on them, and have even started an online petition to have them removed. Your response has been to aggressively defend your campaign (I work in a marketing department, I get it. That stuff is expensive), even branding some of us 'terrorists'.
Well, we're not terrorists, we're just fed up. You don't seem willing to engage in a reasoned debate, but I'm going to try to respond to some of the people who like your adverts anyway. I hope that some of these points will help you to understand why we are so angry. And hey – we've helped you gain 5,000 customers in four days, so I think you owe a quick read.
You're #fitshaming/you're against healthy living
Your model, Renee Somerfield, hit the nail on the head: 'But saying the ad is body shaming by body shaming the image is very contradictory. Two wrongs don't make a right.'
No one should be body shaming Renee. Being fit, strong and healthy is awesome. Exercise is great. We know this. But the point is that your advert does not express any of those things – it's entirely centred on looks and weight loss.
The women who are shaping our world

Show all 27
This advert is not about healthy living – it's about looking good, and a very narrow ideal of what constitutes looking good at that. It's also aimed at women in a way it wouldn't be aimed at men. You didn't choose to put Renee in a one piece flexing her guns – you chose to put her in a tiny bikini looking sexy.
You're just jealous
Nope, not this either. The problem is that plastering public transport with images of half-naked women make some people look at us differently. We become an object – something to be desired, and seeing this on your morning commute normalises it. Guys don't grab my ass in clubs because they think it'll get me to sleep with them; they do it because they've been told, countless times, that women's bodies are there for their pleasure to do what they want with.
Other adverts do this all the time!
Yes, they do. It doesn't make it right.
The reason this advert stands out is because it's so brazen. I'm sorry you're bearing the brunt of it, Protein World, but enough's enough. You're the straw that's broken the camel's back. You criticised people for using this issue to vent their own insecurities – but what does that tell you? Why do you want to make people insecure? Understand that those insecurities stem from a lifetime of having to judge our bodies on whether they are 'beach ready'.
You had great branding before this, and clearly a big marketing spend. You could have used this opportunity to change the narrative – make it about strength, about fitness, about achievement, about anything that isn't just looking acceptable to the world in a bikini.
Men don't moan about images of men
I'm not suggesting that men don't suffer from body insecurity, or that advertisers don't use images of Photoshopped male 'perfection' – of course they do – but it is different. It is different because of the context in which we view these images, in a society where men are not constantly sexualised, criticised and analysed by the media in the way women are.
I'd like you to stop pretending you are the symptom of the disease, and that you're just giving the people what they want. You're a cause. You are making women feel bad about themselves to flog a product.
How easily offended are you?
The issue is not about offense. If I got offended by this stuff every time it appeared, I'd never leave the house. It is disagreeable because it's sexist and it contributes to oppressing women.
What about the obesity crisis?
Perhaps if this advert was really about health, rather than image, this would be an issue. Obesity is a complex social and personal issue. It is not going to be fixed with protein supplement shakes and pictures of women in bikinis, so let's not pretend this is really relevant here.
Can't you just ignore it or look away?
No. And we shouldn't have to.
Register for free to continue reading
Registration is a free and easy way to support our truly independent journalism
By registering, you will also enjoy limited access to Premium articles, exclusive newsletters, commenting, and virtual events with our leading journalists
Already have an account? sign in
Register for free to continue reading
Registration is a free and easy way to support our truly independent journalism
By registering, you will also enjoy limited access to Premium articles, exclusive newsletters, commenting, and virtual events with our leading journalists
Already have an account? sign in
Join our new commenting forum
Join thought-provoking conversations, follow other Independent readers and see their replies