Your questions answered about the future of the i paper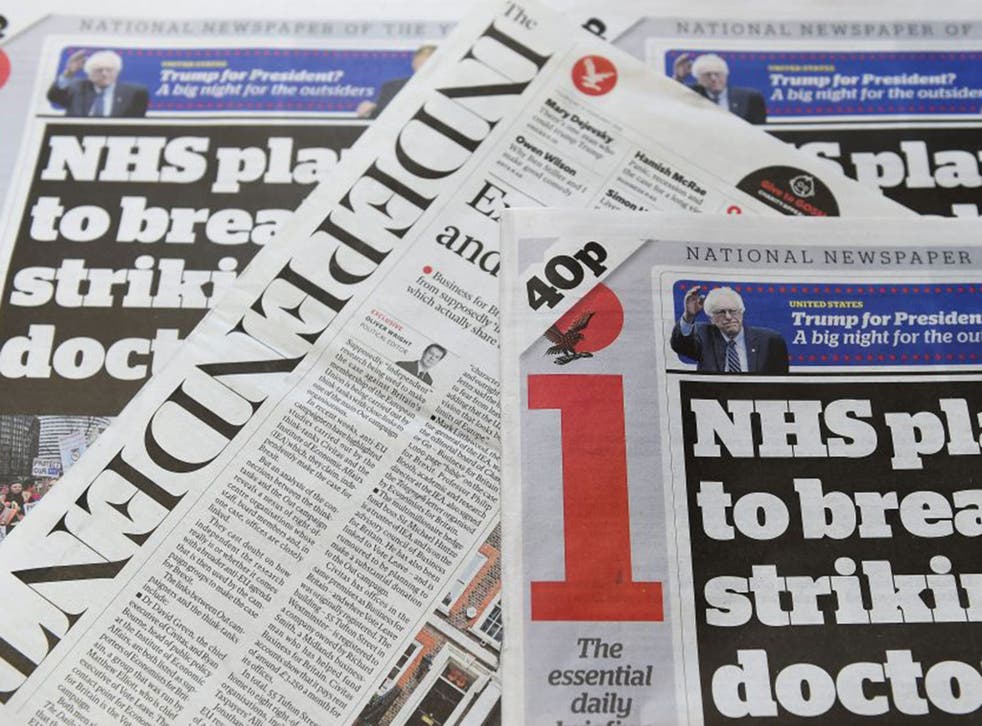 Thanks a lot for the weight of correspondence (and encouragement) about i's proposed new ownership, The Independent's leap to become digital-only, and this title's importance to the future of independent, quality, fair journalism. Just to recap, for those of you who missed Friday's and Saturday's papers: i will be bought by Johnston Press for £24m, subject to shareholder approval, after a deal was agreed with our current owners on Friday morning. JP will become Britain's fourth-largest print publisher.
Our sister title The Independent will become digital-only, with its last print edition on 26 March, employing many of the group's leading journalists - correspondents, columnists, reporters and editors.
The Independent's journalism will continue to be published by i, as it is now, under a three-year super-syndication deal. i and The Independent will co-operate on stories. This means your favourite writers and correspondents will continue to write for i, I will be editor, and the team behind i now will continue. Johnston Press loves i as it is (that's why it has made a £24m offer).
i's core staff will expand from a dozen to 51, hiring many Indy ex-print staff. Our new offices will be 30 seconds' walk from our current desks.
i will launch a new website, iNews.co.uk, creating a digital version of the essential daily briefing. i will continue precisely as it does now: the unique combination of brevity, quality and impartiality is the bedrock of this title's appeal.
Our i
With the not altogether surprising but sad ending of The Independent print version, I hope that i, with its expanded editorial team, will not be tempted to expand into a hybrid i/Independent newspaper. I believe the current i newspaper is perfect in both its quality of content and value, and can go from strength to strength in its existing, concise format.
Robin Little Liverpool
Too right. We would be foolish to mess with such a popular concept - so we won't. The current blend of essential briefing, alongside longform journalism "treats", remains.
As an i reader from day one, I'm delighted that your brave new(ish) venture has proven itself to be a product in its own right. Keep up the good work - and welcome, no doubt, to a number of new members to our family.
Gerry Pimm Northwood, Middlesex
I need to have reassurance that the paper will still be what it is, serious news, interesting articles, same commentators, and not a lot of partisan British politics. I will be quite lost without it. On another note, can we have jigsawdoku on Saturdays, I really miss the the brain work-out I get.In anticipation of gentle change.
Lizzie Devany Norwich
Be reassured: Johnston Press will not pay £24m for something they don't already like, a lot. Their remit to me is to give you more of what you want. If that's jigsawdoku on Saturdays, well, we'll certainly consider it.
So long as you continue as you are, new owners are fine! We like the paper and have done since day one. It feels like a family. Keep it up. One thing… we preferred the TV on the centre pages - it was easy to find and could be pulled out!
Best wishes, David and Ann Mahood Braintree, Essex
You're not the first readers to suggest we return the daily TV guide to the centre pages for ease of use. Although this won't be a priority over the next few weeks, it is something we will look at once the new team are appointed.
You are a brave man inviting people to drop you a line via your personal email! I suspect you will be inundated. I love i, have followed every copy since its conception and will continue to do so. Like many, I enjoy the tangible feel of paper between my fingers, and will never lose that. Hopefully i will reign for a long time to come.
Ellen Mackellar
My phone has not stopped lighting up all weekend, as readers have written in. Your correspondence has shaped i ever since its surprise arrival on newsstands five years ago. This dialogue between staff and readers is a genuine joy, and quite unique among national newspapers.
The letters page in i is one of its finest features; the subject matter is wide-ranging, and the content often very pointed, being presented with wit and panache. Under the new ownership, will the letters page continue in the same vein?
Sue and Paul Grayshan Leeds
Yes. If anything, we would like to increase the space for readers's correspondence. Leave it with me…
Reporting
I had become thoroughly disinterested with the printed news as it didn't adapt to what I wanted from a newspaper, primarily truth and news, in a compact form, that I could dip in and out of throughout the day, and at a reasonable cost. The day i launched was a revelation. At last the public had a newspaper that worked in the 21st century. It realised time was a premium for its readers and formatted the paper accordingly, and separated news from opinion. I hope the newowners continue in the same vein and that there is a seamless transition with the existing team employed in producing what I regard as the best newspaper in Britain.
David Beaumont
There are many reasons why people buy i, with brevity, quality, value and impartiality right up there. Our news coverage is often mentioned, so we will strengthen this, with a news desk of four editors, our first dedicated i newsroom and first fulltime business editor.
I wish you and your team every success. To make i even better, I would welcome more facts in order to form an independent opinion of the main news stories. This is of great importance for the forthcoming EU referendum. What are the pros and cons? How much do we contribute to Brussels and how much do we get in return? We can then make an informed decision. Can I ask that "Your View" contains a balance of views. With regard to the junior doctors dispute, the published correspondence is heavily weighted in support of the doctors. Jeremy Hunt and his team are attempting to run the service in a more cost-effective manner. The NHS is a 24x7 service and to provide this, staff should be rostered 24x7.
Peter Murray Fleet, Hampshire
Ahead of the EU referendum we're planning a similar approach to our 2015 general election coverage, where we compared the seven biggest parties' policies so readers could make up their own minds. We'll take the same approach to help readers decide whether or not we should stay in Europe, and also run a plurality of opinion.
Political balance
Will i's political views change because of the change in ownership? The new owners have a flagship newspaper, The Scotsman. Would this affect i's stance on the question of an independent United Kingdom?
Marek Wesolowski
No. Readers tell us they like i's political impartiality - true to The Independent's founding statement of "Free from party-political bias. Free from proprietorial influence." Johnston Press owns over 200 titles, and these have wildly different political viewpoints, depending on the communities they serve. You tell us you value political independence, so we are and will remain independent.
Price
I have taken i since it was first published. It's a brilliant read and at a sensible price. Let's hope the price of i does not rise - I am a pensioner and a tight-fistedYorkshireman. Keep up the good work.
Colin White
Under new owners, I would pay 50p for my copy of your paper. Where would I be without i? Chris Jones
We (the current Mrs Evans and I) will remain customers, so long as the content keeps to a similar vein (concise, even-handed, nonpartisan copy with very little "celeb" tittle-tattle) but will i still be able to stay keen on price?
Kevin Evans Lockerbie, Dumfries and Galloway
i will always aim to stay "keen on price". There are no plans in the immediate future for a rise. Further down the line it can't be ruled out, since the costs of quality journalism and printing have a nasty habit of increasing. We, like you, appreciate good value, which is why there have been only two price rises in more than five years of i.
Subscriptions
Having taken your paper since issue No 1, will the new owners be carrying on with the annual subscription scheme? Excellent paper.
Chris Fair Manby, Lincolnshire
Yes.
Any idea if Johnston Press will honour the pre-paid i coupons? I've still got 6 months' worth. Love the i... and I think it will widen its appeal by being less London-centric.
Gay Matthews
Yes, absolutely, every voucher will be honoured, no question. And I agree on regional coverage, especially of news, arts and sport.
Will I still be able to buy the great value annual subscription?
Mrs J Bowler
Yes. So far as subscribers are concerned, nothing will change, because Johnston Press already uses the same subscriber system as i. There's no need for subscribers to alter direct debits, since these will switch automatically from ESI Media to Johnston Press without the need for any action. Subscribers will be written to in advance.
My annual subscription for another year's enjoyable and informative reading is nearly due and I would like to know if I can renew now for another year? Congratulations on your first five years. Johnston Press has a real bargain.
Dr Alan Armitage, Knaresborough, North Yorkshire
Please renew.
Will my online edition stay the same? As a disabled reader I cannot get out much to buy a newspaper so having it online keeps me in touch with the world outside. I appreciate non-tainted journalism.
Ronald Roy, Flintham, Nottinghamshire
Yes, the i e-edition continues as is. Our new iNews.co.uk site will mix brevity with quality - not characteristics found in every rival news website.
Scotland
Will the excellent coverage of Scotland's news remain the same, and will it increase given the links with The Scotsman?
Kevin Hutchens, Stonehaven, Aberdeenshire
Scotland coverage will continue to improve. We have our own i Scotland Editor and we look forward to boosting reporting from around the UK as part of the wider Johnston Press empire, which has 900 journalists. We like to hear criticism from readers in every part of the UK - it keeps us on our toes.
Northern Ireland
A plea from your digital readers in Northern Ireland. Can you please press for the paper to be printed and distributed in Northern Ireland? You don't pay much attention to happenings here. But we love the paper!
James Starr
Yes. Watch this space
Availability
Normally I have i delivered but recently have had to go out and buy it. I have been frustrated because it sells out so fast that I have had real difficulty buying it anywhere after about 10 in the morning!
Juliet Williams
Plans have been drawn up to improve availability. Please let us know on i@independent.co.uk if you ever have trouble finding a copy at your most convenient shop.
If your question isn't one of those answered above, you can contact me via email on o.duff@independent. co.uk or Twitter @olyduff.
Register for free to continue reading
Registration is a free and easy way to support our truly independent journalism
By registering, you will also enjoy limited access to Premium articles, exclusive newsletters, commenting, and virtual events with our leading journalists
Already have an account? sign in
Register for free to continue reading
Registration is a free and easy way to support our truly independent journalism
By registering, you will also enjoy limited access to Premium articles, exclusive newsletters, commenting, and virtual events with our leading journalists
Already have an account? sign in
Join our new commenting forum
Join thought-provoking conversations, follow other Independent readers and see their replies