Zac Goldsmith: London may have found its next superstar mayor
He's a Conservative who does not conform, a free spirit within the party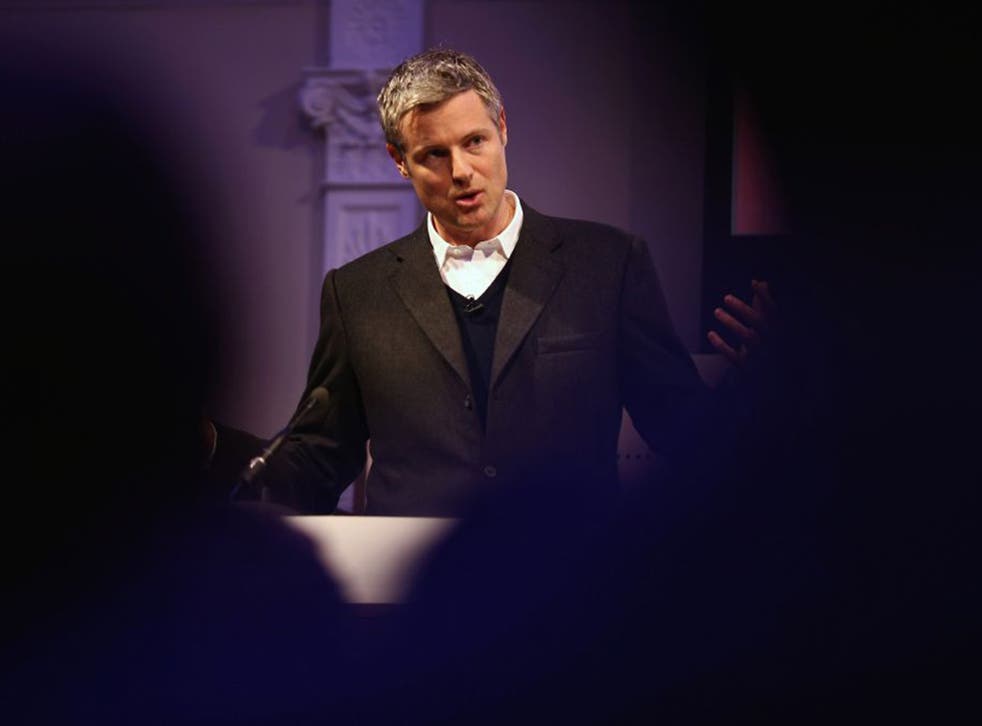 In a career of many interviews and lunches, I can still remember the time I first met Zac Goldsmith. It was at an Italian café on the King's Road, near Chelsea's football ground. He sat outside so he could smoke. In that languid manner of his, he picked at a salad, rolled his own cigarettes, and shared his concerns about climate change.
The second time was also over lunch, at Aspinall's, the Mayfair gaming club where he is a regular. Then we met at a coffee bar in White Hart Lane in Barnes, West London. Goldsmith was standing as the Tory candidate for Richmond Park, which included Barnes, and campaigning against a planned new Sainsbury's next door.
Over the years, there have been other meetings. He went on to win the seat. I'm a constituent, and I've met him at a street party and at a local business awards. We've discussed all manner of subjects – from how to deal with the cyclists in Richmond Park to the lack of state secondary school places for boys to a third runway at Heathrow.
I say this not to impress, but to try and give a measure of Goldsmith. Yes, he's an Eton-educated son of a billionaire, a handsome, blond, blue-eyed toff, who loves backgammon. But he also gave Sainsbury's a run for their money over the new branch, holding a referendum conducted by Electoral Reform Services Ltd among residents. They polled 85 per cent against Sainsbury's and the company had to revisit its plans.
Giving people a voice in their own affairs is an abiding belief –hence the referendum and his more recent consultation of his constituents before taking the plunge to become mayor. In the past, he's been anti-European but not as extremely so as his father – and he is likely to respect the outcome of the EU referendum (something, after all, the late Sir James Goldsmith with his Referendum Party campaigned for).
Zac is passionate about clean air, driving an eco-friendly Prius. But in that same Prius, he once gave me a lift and rolled a cigarette with one hand while holding the steering wheel with the other, negotiating Hammersmith roundabout. Clean air and cigarettes do not exactly go together; nor do driving one-handed and extolling the virtues of fatherhood, as he was.
That's Goldsmith: a maverick, full of contradictions. It's too easy to say that he behaves that way because he can – because whatever he does there is always the family trust fund to protect him. He still devoted years to running The Ecologist magazine with his uncle Teddy; his book The Constant Economy is a thoughtful manifesto for sustainability; in another work, We Are One: A Celebration of Tribal Peoples, he castigates the West for imposing its values on others. He might sound like a version of Prince Charles, but he is not. He may be passionate about the environment but his feet are on the ground – he likes flowers but he does not talk to them.
The major political figures who lost out in the General Election

Show all 16
Nor is he dissimilar from Boris. He doesn't do humour and play-acting for the camera as well, and he's not so good at repartee, but there are likenesses. They share the same school; a similar seemingly carefree, easy approach to work and life; they're slightly bumbling, self-deprecating charmers, when they want to be; and both have an ability to shake off episodes that might be the downfall of others.
Questions were raised, notably by Channel 4 News, about Goldsmith's election expenses – he was able to brush them aside. He left his wife, Sheherazade, with whom he has three children, for Alice, sister of his brother Ben's then wife, Kate – eyebrows were raised but that was all.
In Goldsmith, the Tories may have found their ideal would-be mayor. He's a Conservative who does not conform, who is a free spirit within the party, just as likely to vote against it as vote with it. But he is a Conservative. He's also, however, a Tory who can reach out to Lib Dems, Labour and the Greens – and that could be the determining factor come the actual contest.
London voted Labour in the recent general election. In theory, then, the Labour choice, probably Tessa Jowell, is a shoo-in. But if there's been a characteristic of the mayoral competition to date it's been the breadth of the winners. Ken Livingston is die-hard Labour, but Ken was also regarded by many Tories and Lib Dems with affection, as someone who spoke a great deal of sense, who, above all, adored London in all its guises. Likewise, Boris's appeal extends far beyond his fellow Tories.
Londoners want their mayor to be a star, to have a name that needs no introduction, where a single word will suffice – so it was Ken followed by Boris. Zac qualifies in that category. But they do not desire self-aggrandisement or pomposity. They like their mayor to be able to mix it with ordinary folk one minute, and to hob-nob with a world leader the next. They prefer a mayor as comfortable in a church hall gathering in Peckham as he or she is in attending a banquet at the White House.
London is looking for someone who can be front-of-house, selling the city abroad, but connecting with all walks of life at home; to work within their powers, such as they are, to improve the urban landscape, to support and challenge the police, to produce an efficient transport system. It's hard to see why Goldsmith does not match that job description.
His opponents will major on the detached posh boy who inherited a silver spoon-and-a-half, who has glided, effortlessly, along. That's undeniable, and it may, in the end, be what counts against him. That, though, would go against a precedent that saw Boris returned (and may see him in 10 Downing Street), and David Cameron become Prime Minister. Zac is going to take some stopping.
Register for free to continue reading
Registration is a free and easy way to support our truly independent journalism
By registering, you will also enjoy limited access to Premium articles, exclusive newsletters, commenting, and virtual events with our leading journalists
Already have an account? sign in
Join our new commenting forum
Join thought-provoking conversations, follow other Independent readers and see their replies