Alistair Dawber: Pity Hillary - now she has to face the leaders insulted by America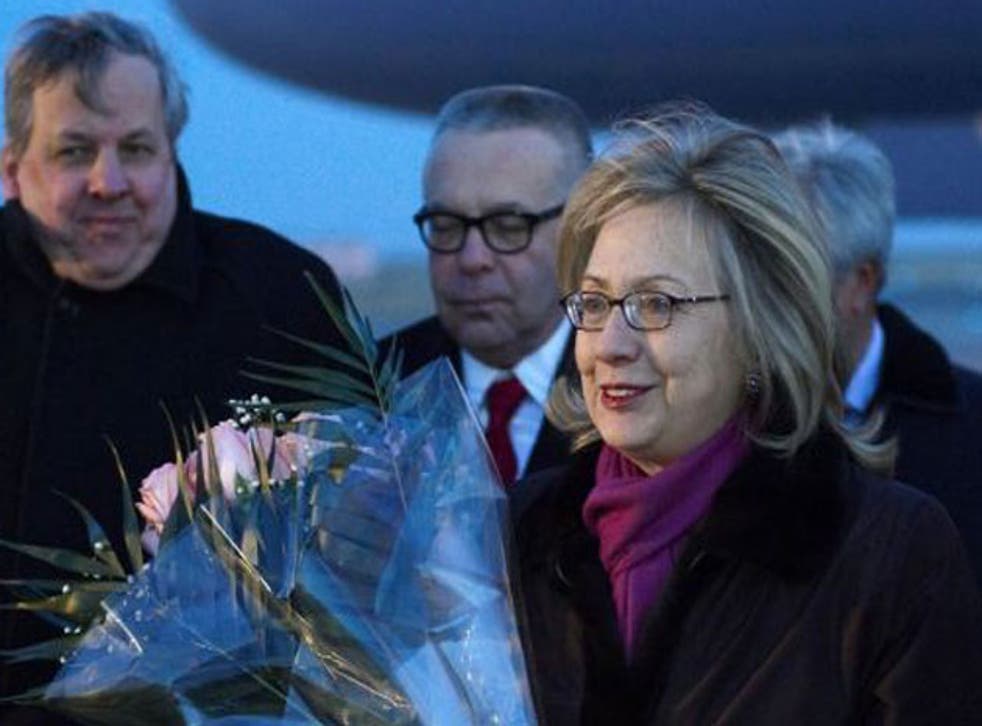 She might have wanted to keep her head down, but instead the US Secretary of State, Hillary Clinton, yesterday landed in Astana, the capital of Kazakhstan, for a meeting of the Organisation for Security and Co-operation in Europe.
At the gathering she will meet 61 heads of state, government and other leading dignitaries, many of whom will still be smarting from America's supposedly secret – and in many cases unflattering – assessments, as revealed in this week's Wikileaks disclosure of secret US diplomatic cables. So if America's leading diplomat wanted to keep a low profile, Astana was probably the last place to be.
Nursultan Nazarbayev
The first rule of diplomacy must surely be – avoid being rude to your host. In that respect Mrs Clinton has already come unstuck before meeting the Kazakh President, Nursultan Nazarbayev. The Secretary of State may be asked to explain diplomat Steven Fagin's suggestion that Mr Nazarbayev had a "strong affinity for horses", and officials questioning the ethics of his trading property in his own country for a palace in the United Arab Emirates.
Silvio Berlusconi
Mrs Clinton will probably also avoid insisting that the energetic Italian Prime Minister Silvio Berlusconi takes a break from the conference's punishing schedule, despite US officials in Rome reporting that Mr Berlusconi doesn't get enough sleep. According to the cables, diplomats reckon that the Italian Prime Minister's "frequent late nights and penchant for partying hard mean he does not get sufficient rest". It is also unlikely that Mrs Clinton will repeat the suggestion made by the US chargé d'affaires in Rome, Elizabeth Dibble, that the 74-year-old Mr Berlusconi is "feckless, vain and ineffective as a leader".
Dmitry Medvedev
The Americans are unlikely to remind the Russian President Dmitry Medvedev of Mr Berlusconi's presence at the conference either. The Americans think the Italian is a poodle of the Russian Prime Minister Vladimir Putin, who though lower in rank, is the Batman to Mr Medvedev's Robin.
Angela Merkel
Angela Merkel's reaction to Mrs Clinton should be warmer, although the Americans will be wondering if it is all genuine. In one cable sent from the US embassy in Berlin in early March 2009, ambassador Philip Murphy refers to the German Chancellor as "Angela 'Teflon' Merkel" for her habit of steering clear of conflict with the US. A meeting with the German Foreign Minister, Guido Westerwelle, could be tougher. He is "incompetent, vain and critical of America", according to the cables which have been leaked and released by Wikileaks.
Ban Ki-moon
Ban Ki-moon, the UN Secretary-General, may want to check that he has locked his room before he goes off to meet the US Secretary of State after the cables revealed Mrs Clinton ordered staff to provide detailed technical information about the UN's communications systems, as well as biometric data of important UN officials. The wishlist apparently included the passwords and encryption keys for accessing official communication networks, credit card and frequent flier numbers.
Hamid Karzai
Not that relations were warm between the US and Hamid Karzai before the Wikileaks disclosure, but Mrs Clinton's meeting with the Afghan President will be especially awkward after Mr Karzai was accused in the leaked cables of being "weak". Even so, the Secretary of State might be tempted to just ask why the president has released nearly 30 former detainees of Guantanamo Bay to fight US troops, now that everything is out in the open anyway.
Nicolas Sarkozy
At least France's "thin-skinned" President Nicolas Sarkozy will not have to meet Mrs Clinton. The diminutive Mr Sarkozy is holed up in the Elysée Palace after he decided – like David Cameron (who has gone to Zurich to try and win the World Cup for England) – not to travel to Astana after being described by American officials as the "Emperor sans clothes".
Elton's Heroes: #3 Hillary Clinton
As Hillary Clinton has discovered, sometimes nothing improves one's reputation like failure. Two-and-a-half years ago she lost the Democratic presidential nomination to Barack Obama. Now she is the most popular serving public figure in America.
Would she have made a better president than Obama? As the President's approval ratings slide (to under 40 per cent at the time of writing), a degree of buyers' remorse is evident among Democrats. In truth, it is impossible to say.
A strong performance as Secretary of State is one thing. The modern presidency, for whose crushing pressures nothing can prepare a candidate, is quite another. Her popularity is a measure of her competence in the job, and the dignity and lack of rancour with which she bore the 2008 defeat.
But it also reflects her fortunate distance from the demeaning hyper-partisan fray in Washington, and the domestic problems – above all an unemployment rate close to 10 per cent – that have brought Mr Obama low.
Today, she appears a mellower, less driven figure. Yes, "Hillaryland", populated by a praetorian guard of loyalists, still exists. But it is less in evidence than when she was a Senator or candidate. By common consent, she is a "good team player". She is respectful towards (and much respected by) the President, and gets on notably well with both Joe Biden, the Vice President, and Bob Gates, Secretary of Defence and hold-over from the previous Republican administration. Mighty egos have not visibly clashed; there is none of the open feuding that disfigured national security policy under George W Bush.
Hillary also knows that foreign policy is ultimately run by the White House, with the State Department as adviser and executor. Mr Obama sets the course on Iraq, Afghanistan and, to a large degree, the Middle East. Hillary's special preserve is Russia, with whom she has tried to "re-set" relations after the frictions of the later Bush years. And she has kept a focus on the great human themes of world affairs, the advancement of women's rights, and the fight against disease and poverty.
So what next? She insists a single four-year stint at the State Department is gruelling enough, and that she intends to devote her remaining active years to writing and teaching. Others are less convinced. Rumours continue that she and Mr Biden will swap jobs for an Obama second term, even that she will launch another bid for the White House herself.
But 2012 is surely out (unless Mr Obama decides not to run again) because a significant primary challenge to an incumbent president is invariably a disaster for all concerned; witness Ford in 1976, Carter in 1980 and George HW Bush in 1992.
But 2016 is another matter. Yes, she will turn 69 in the closing days of that campaign, but Ronald Reagan was almost 70 when he took office. And what a resume she would bring with her: Former First Lady, former Senator and Secretary of State. That's why many still think the first female US president is far more likely to be called Hillary Clinton than Sarah Palin.
Rupert Cornwell
Register for free to continue reading
Registration is a free and easy way to support our truly independent journalism
By registering, you will also enjoy limited access to Premium articles, exclusive newsletters, commenting, and virtual events with our leading journalists
Already have an account? sign in
Register for free to continue reading
Registration is a free and easy way to support our truly independent journalism
By registering, you will also enjoy limited access to Premium articles, exclusive newsletters, commenting, and virtual events with our leading journalists
Already have an account? sign in
Join our new commenting forum
Join thought-provoking conversations, follow other Independent readers and see their replies