Andrew Grice: How a wealth tax would pay dividends for Nick Clegg
Inside Westminster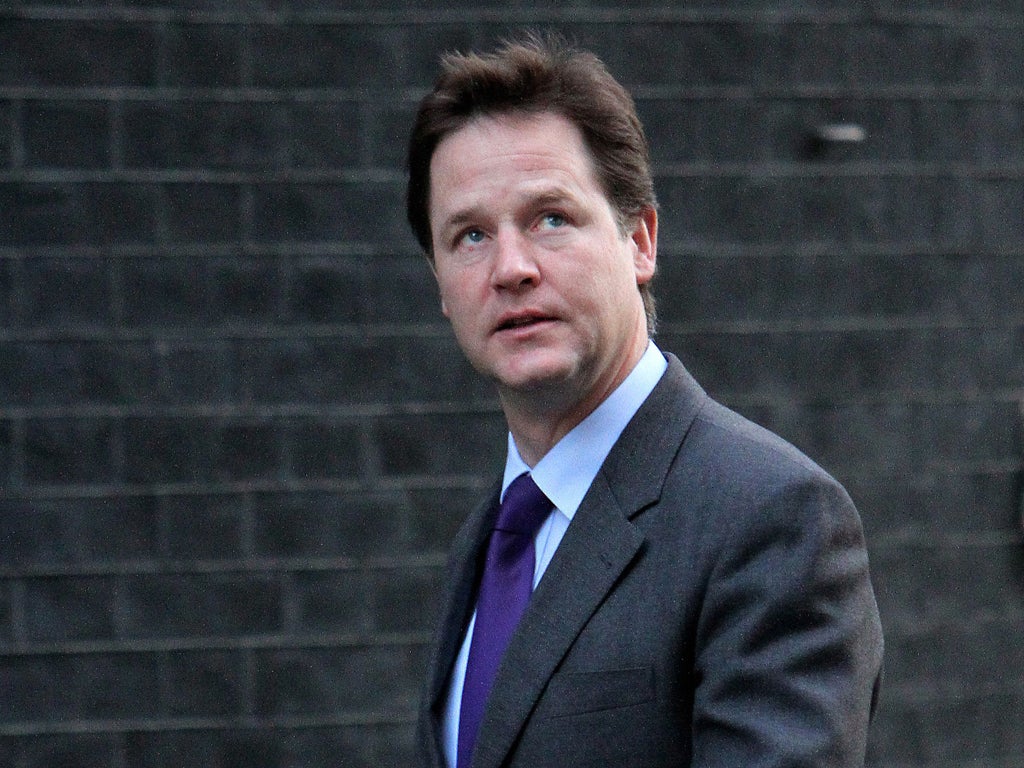 A Christmas card with a difference has been sent to Liberal Democrat ministers and spokesmen: a prompt card listing key points they must make in every media interview.
The edict includes: mention the Lib Dems and that the Government is a coalition. Interviews are being monitored. Marks out of five are being collated – for everyone from Nick Clegg downwards.
For a liberal party, it seems very "big brother". But there is good reason. The junior partner in the Coalition ends the year wondering how to get its distinctive voice heard by the voters. Its ministers relish their unexpected taste of power, but some risk becoming technocrats, too remote from their party roots.
Mr Clegg and his ministers fight hard for Lib Dem values and with some success. They wield disproportionate power for a party with 57 seats out of 650. Their policy "wins" are noticed in Whitehall but not beyond. With no general election in prospect, most voters see one government and don't have the time or inclination to wonder whether a policy is a Tory one or Lib Dem one. This benefits the Tories, and David Cameron ends 2011 on a confident note.
Behind Whitehall's doors, Mr Clegg's party has learnt how to fight its corner and get under the Tories' skin. What hurts Mr Cameron and his team most are Lib Dem attacks that portray them as "the same old Tories" or "out of touch" – the Achilles heel which could again stop them winning an overall majority at the next election.
Forget the Coalition parties' public spat over Europe. The strongest words in private were about Mr Clegg dismissing Tory plans to reward marriage in the tax system as a throwback to the 1950s and Lib Dem claims that persuading George Osborne to bring in wage subsidies for the young jobless was like getting a vegetarian to eat a kebab.
Indeed, the Cameroons were quite happy for Mr Clegg to pick a fight on Europe after the Prime Minister wielded Britain's veto at this month's European Union summit. In Toryland, Mr Clegg's "differentiation strategy" on Europe merely amplifies Mr Cameron's populist appeal on the issue. Yet the Lib Dems deserve credit for sticking to their pro-EU guns. Someone's got to.
Mr Clegg's new year wish would be for an issue on which to "differentiate" from the Tories which leaves him on the popular side of the fence. I suspect he already has one in mind: a wealth tax, perhaps aimed at people with high value properties worth more than £2m. This would be a clever move because, if Mr Cameron and Mr Osborne opposed it, they might look like those very "same old Tories" defending their rich supporters. Neat.
Despite the tensions between the Coalition partners, there won't be an early general election. The Lib Dems need time to convince voters they are achieving something and the Tories have their own reasons to wait. "We need the new constituency boundaries in place," one Tory insider confided over the mulled wine. The shake-up could hand between between 20 and 30 seats to the Conservatives, but first it must get through Parliament.
After flattening Ed Miliband at the last Prime Minister's Questions before Christmas and delighting his Eurosceptics by standing up to the EU, Mr Cameron's stock in his own party is at an all-time high. Yet he knows he cannot be complacent. I predict he will struggle to satisfy the Europhobes' great expectations in 2012.
Mr Cameron's advisers are torn between "safety first", in which he asks the voters for permission in 2015 to "finish the job" of clearing the deficit, and a bolder approach to boosting growth, even if that means unpopular measures such as eroding workplace rights.
Labour's predicament at the end of a difficult year has strengthened the hand of the cautious Cameroons, who judge that Ed Miliband will not pass the "can you imagine this man in Number 10?" test. Despite the bleak economic picture and Mr Osborne missing by a mile his targets to cut borrowing, Labour has failed to capitalise. The mood within the party is grim. "We are in trouble," one frontbencher told me. "We are in the wrong place on the economy."
Ed Balls, the shadow Chancellor, understandably feels vindicated after warning that the Coalition's deep cuts would kill the golden goose of growth. But his five-point plan for growth, including a temporary cut in VAT, has been cleverly twisted by the Tories into a claim that Labour's answer to the debt crisis is to borrow even more.
Mr Miliband grasps the need for Labour to shift its focus on to the long term – by spelling out how his party would clear the deficit and who would pay for it. Mr Balls is in no hurry, believing many voters will come around to Labour's current position and so it would be mad to vacate it. The Shadow Cabinet has been agonising over how to square this circle.
Mr Miliband and Mr Balls have a lot of thinking to do over their Christmas break if Labour is going to have a happy new year.
Join our commenting forum
Join thought-provoking conversations, follow other Independent readers and see their replies