Christina Patterson: Olympics could prove to be £9bn well spent
It was nice to feel a stab of pride – for eight years pride hasn't always been the main thing we've felt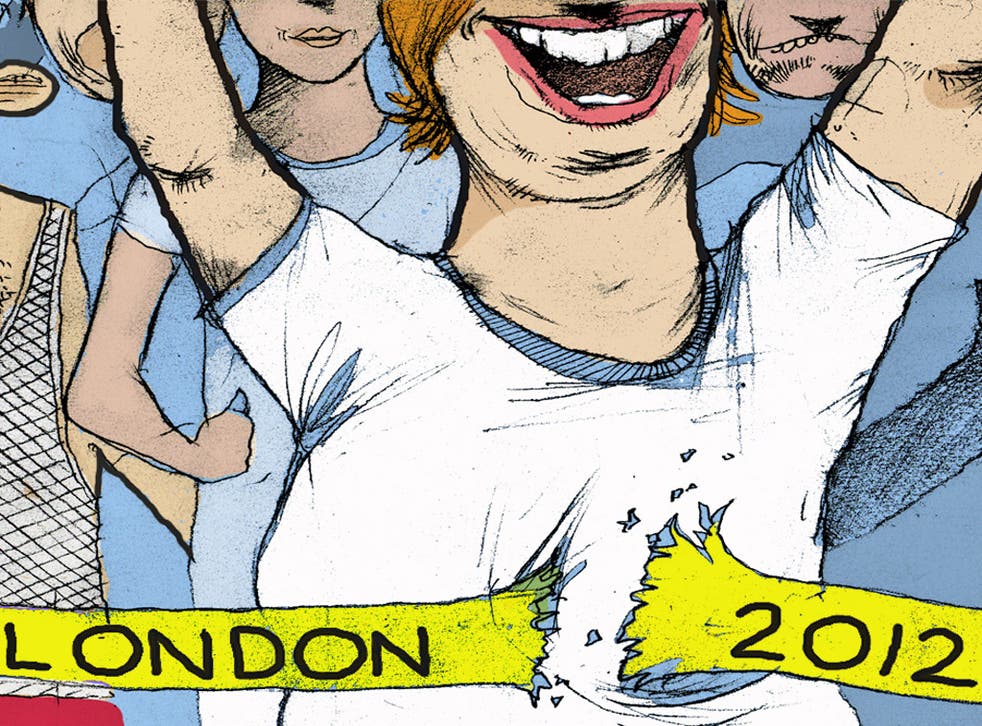 For a moment, he sounded like God. For a moment, the 70-year-old Belgian who came to our land, and looked at our work, and said it was good, sounded quite a lot like God. He sounded less like God when he said that he, and other members of the international committee he heads, who were staying in a five-star hotel and going everywhere in very nice cars, were "working class". When he said that, he sounded like someone who didn't know all that much. But when he said, on Monday, that the arrangements that had been made for the biggest party in the world seemed to be going well, it was hard not to feel that God had spoken. It was hard, in fact, not to feel a little stab of pride.
It was nice to feel a little stab of pride, because in the seven years since he announced that London would be the host of this year's Olympics, pride hasn't always been the main thing most of us have felt. Most of us, for example, felt surprise. We've felt surprised that the name of a year, which is usually just the name of a year, suddenly seemed to be something you had to pay to use. We've felt surprised that you could spend £400,000 on a logo that made people ill. And we've felt surprised that the biggest sponsors of the biggest celebration of sport in the world have been companies whose products make an awful lot of people fat.
We've also felt worried. We've felt worried that the builders wouldn't turn up when they said they would, or that they'd have so many tea breaks that they wouldn't finish. We've felt worried that something that was meant to cost £2.4bn might end up costing several times more. And we haven't felt at all confident that Tube trains that suddenly stop without any reason, and sit in dark tunnels, and do this even when there's a normal number of people on them, would suddenly work really well when there were several million more.
We didn't worry that the people who were being paid £57m to keep terrorists away wouldn't know how to recruit the staff to do this, or train them, or make sure they turn up. We didn't worry about this, because we didn't know you could be paid so much money for something you didn't know how to do, though next time we might be tempted to put in a bid. We didn't worry that the people who work on public transport would demand a big bonus just for turning up to work, and do this by making sure that the people who usually use it couldn't.
We worried about the things we worried about (but not about the things we didn't know you had to worry about) because we wanted to make sure that the £9bn we were spending wasn't just being thrown away. But most of all, we worried about them because we didn't want to be embarrassed. It would, we thought, be very embarrassing to invite the world to a massive party, and encourage people to spend lots of money on flights, and tickets, and hotels, and then find that they spent most of it stuck on a Tube. It would, we thought, be embarrassing if the very big party turned into a very big mess.
And it will be embarrassing, when people arrive at Heathrow and have to queue to get through passport control, because people from one particular union (or the 10 per cent of them that voted to strike) have decided that the best way to get a message to their managers is by giving people who have never heard of it massive delays. It will be embarrassing when people miss the events they've crossed oceans to get to because of signal delays on the Tube.
Some of us are already wincing when we hear newscasters talk about "the Olympic family" and "Team GB". And when we hear that the forecast for the opening ceremony is rain. But when you see the torch being carried down your street, and the people outside your front door, who are black and white and brown, waving flags and smiling, and when you see footage of the first British tennis player for 74 years to reach the Wimbledon singles final also carrying it, and of the mother of a boy who was murdered, who carried the torch to keep his memory alive, what you feel isn't embarrassment. What you feel, and are surprised to feel, is joy. And when you see pictures of a bit of London that was very ugly and now looks very smart, and of buildings that were finished on time, and look very nice, and of soldiers who cancelled their holiday to do the work that paid contractors couldn't find the staff to do, what you feel is what you felt when a 70-year-old Belgian said your city was looking good. What you feel is pride.
And when you see the young men and women, from all around the world, arriving in their tracksuits, with faces full of hope, what you feel, even if you have no interest whatsoever in sport, and didn't think to apply for tickets to see it, is what you could probably only call awe. When you think about the hours, and days, and months, and years, it takes to be not just good at sport, but one of the best people in the world at it, one of the best people out of seven billion, in fact, you can't help being reminded that people who think they can't do much can always do more.
You can't help thinking about the times these people didn't want to get out of bed before the sun came up, and the times they trained even though they thought their body would collapse, and the times they came second, and felt terrible for coming second, and decided that next time they would come first. You can't help thinking about what it's like to try to do the most difficult thing you've ever done with millions of people watching, and knowing that whether you achieved it wouldn't be a matter of anyone's opinion. It would be a matter of pure, unchangeable, fact.
When you see these people, from all around the world, and sometimes from poor families in some of the poorest countries in the world, and think about where they started, and where they are now, what you think is that all is not lost.
You think that some people in the world can carry on thinking that it's good to be famous just for being famous, but many, many other people can carry on thinking that what matters isn't who you are, or if you're famous, but what you do with what you've got. What we'll see, for the next three weeks, will remind us that the most spectacular feats in the world don't cost money. And that, for all the worry and embarrassment, will be £9bn well spent.
twitter: @queenchristina_
Register for free to continue reading
Registration is a free and easy way to support our truly independent journalism
By registering, you will also enjoy limited access to Premium articles, exclusive newsletters, commenting, and virtual events with our leading journalists
Already have an account? sign in
Join our new commenting forum
Join thought-provoking conversations, follow other Independent readers and see their replies