Christina Patterson: The first step to mass murder is a belief in good and evil
Anders Breivik hates Muslims, multiculturalism and feminism, but really what he hates is himself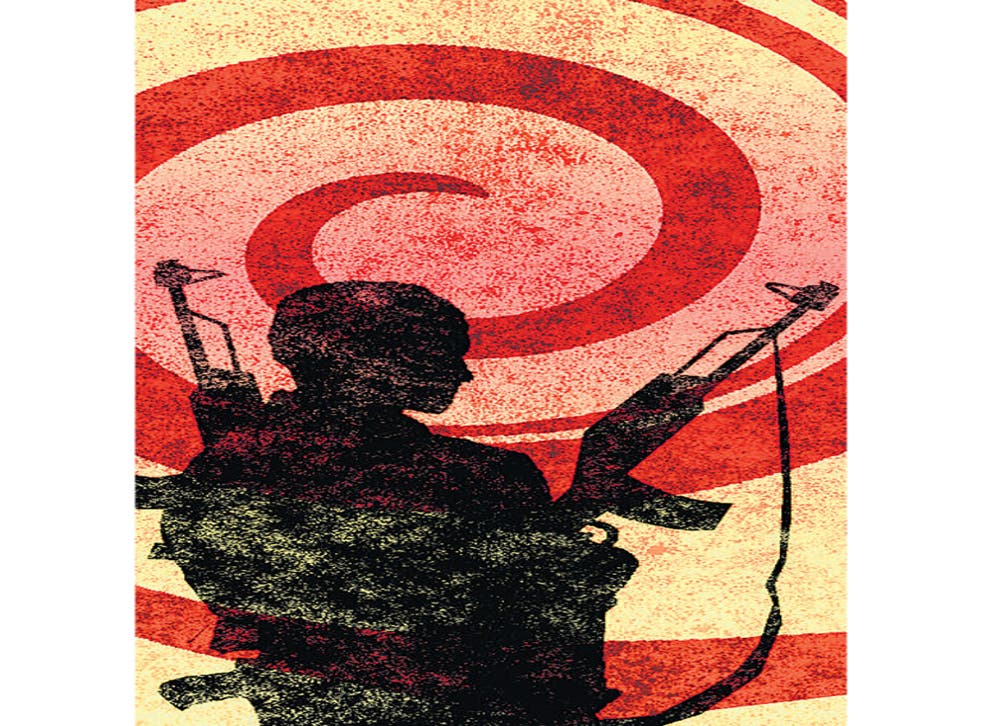 The day before, they were eating ice cream. They were sitting in the sunshine, in the clearing between the pine trees, gazing up at a blue, blue sky. They were laughing, and joking, and looking, if they were girls, at the boys they liked, and looking, if they were boys, at the girls they liked, and arguing about how to make the world better. They were, as one of their leaders reminded them, in "the safest place on earth".
The next day, as some of them wept, it rained. They wept, these young people on this beautiful island, because they had just heard about a massive bomb in Oslo. They wept because people, and maybe even people they knew, had been injured and died.
Some of them were still weeping when they heard the shots. One young woman thought they were fireworks. But when she saw the bodies piling up, she knew they weren't. Another managed to scramble down to the shore and hide behind some rocks. She sent a text message to her parents. "We love you, you mean the world to us," she told them, and signed it with her name, and her sister's. She was still hoping her sister was alive.
Her sister, Bano Rashid, was one of 69 people slaughtered on the tiny island of Utoya. She was the daughter of Iraqis who had left their homeland in search of peace. She was, according to fellow activists, a "rising star" in the youth wing of the Norwegian Labour party. She was, therefore, a prime target for a young man who believed that immigration, and the liberal left, were contributing to "ongoing processes of cultural and demographical genocide", and that it was his duty to wipe these things out.
"I have," said Anders Breivik in an Oslo courtroom yesterday, "carried out the most spectacular and sophisticated attack on Europe since World War Two. These acts," he said, "are based on goodness, not evil."
It is, unfortunately, true that Breivik's attacks, on the Parliament building in Oslo, which killed seven people and injured 200 more, and on the youth camp in Utoya, were Norway's biggest act of violence for nearly 70 years. It was spectacular, if you can call something that blows the brains of teenagers out, and breaks their parents' hearts for ever, a kind of show. And it was sophisticated, since the dictionary says this means "developed to a high degree of complexity", and you can't really say that something that's been planned for nine years, and described in a "manifesto" that runs to 1,500 pages, wasn't carefully planned.
The "manifesto", it's true, isn't all that clear. The "manifesto", which is called 2083 – A European Declaration of Independence, and which was sent to about 1,000 email addresses an hour and a half before the bomb in Oslo went off, seems to have been copied and patched together from other people's pamphlets and blogs. It demands that "the ideology of multiculturalism" be "immediately removed from all government policies and school curricula". It demands that "all Muslim immigration in whatever form" be "immediately and completely halted". It also stands up against "cultural Marxism", anti-Zionists, and feminism. What it stands for is less clear, but it seems to include paramilitaries, and things that don't change.
What it also stands for, apparently, is good against evil. It mentions Edmund Burke's comment that "the only thing necessary for the triumph of evil is for good men to do nothing". And it doesn't seem to be joking. Its author seems to think that bringing what one witness called "a blanket of death" to a tiny island full of life and hope wasn't poisoning a paradise, but shining a light into hell.
Is he mad? It's hard to see how anyone who holds these views isn't, but, actually, it isn't clear. The first report, by psychiatrists appointed by the court, said he was a paranoid schizophrenic. The second one said he wasn't. The trial that's now under way is meant to establish whether he's mad, or not. It will also establish where, since he doesn't deny the killings, he'll spend the next 20-odd years.
If Anders Breivik isn't actually mad, he's certainly a little bit strange. In his early twenties, he had cosmetic surgery, on his forehead, chin and nose. After failing at various businesses, he lived in his mother's spare room. And he has spent quite a lot of that time playing an online role-playing game called World of Warcraft. Anders Breivik, in other words, is just like an awful lot of other young men who commit terrible acts of violence. He's a man who has failed at work, and failed with women. He's a man who can't stop thinking about his appearance, and his ego. He's a man who prefers fantasy to reality. And who feels like a failure, but wants to show the world he's special.
Anders Breivik says he hates Muslims, and multiculturalism, and feminism, but really what he hates, like everyone else with a narcissistic personality disorder, which is clearly what he has, and clearly what most terrorists have, is himself. Women who hate themselves tend to harm themselves. Men who hate themselves tend to turn their hate on to the world. They'll hate whatever they can find to hate. If they're white, they might, like the Unabomber, whose "manifesto" Breivik actually plagiarised, hate black people. If they're Muslim, they might hate people who aren't. Most people who hate other people they don't even know won't do much about it. But some people will buy fertiliser, or guns. And use them to blow other people's lives apart.
What all of these people have in common, apart from their hate, is a view of the world that divides it into good and evil. They like things to be simple. They want to live in homogeneous cultures where one view, which happens to be their own, prevails. When cultures change, as they all will with globalisation, they stamp their feet, and want to bend the world to their will. They can't bear their own feelings of failure, and want to feel strong.
Countries do this, too. They think evil is something you can vanquish by throwing bombs and waving guns. They sometimes even think that the best way to respond to a mass murder is to start a war.
Norway, thank God, doesn't. Norway knows that there have always been young men who have felt powerless, and full of rage, and who have gone to extreme lengths to vent that rage. It knows that this can happen in poor countries, where young men sometimes have good reason to feel powerless, and in rich countries, where they often don't. It knows that this is a horrible fact of life, and one that can wreck the lives of innocent people, but it knows that it is a fact of life. And it knows that what you do with horrible facts of life is face them, calmly, with dignity, and due process, and then what you do is carry on.
Register for free to continue reading
Registration is a free and easy way to support our truly independent journalism
By registering, you will also enjoy limited access to Premium articles, exclusive newsletters, commenting, and virtual events with our leading journalists
Already have an account? sign in
Join our new commenting forum
Join thought-provoking conversations, follow other Independent readers and see their replies