Christina Patterson: We transformed sport. Let's do the same for young lives
A year on from the events that wrecked so much, not a great deal has changed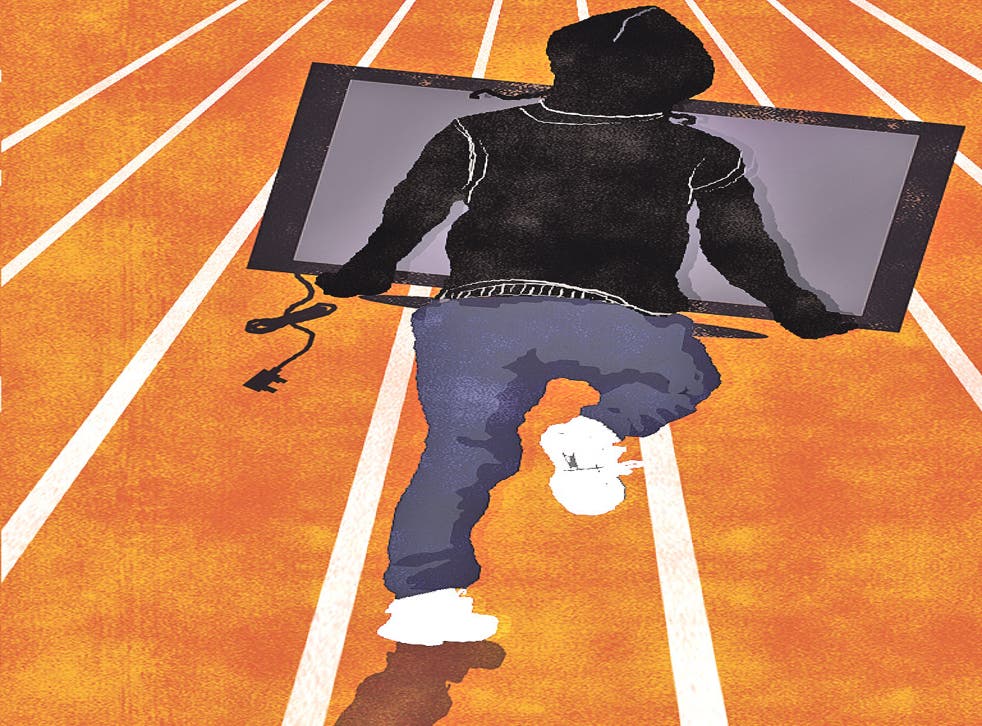 There has been joy. There has been so much joy. There was joy when a young man from Milton Keynes ran up to a sandpit and flew like a bird. There was joy when a young woman from Yorkshire, who had run, and jumped, and thrown a spear, ran one more time and got the highest score in the world. And there was joy when a young man from London went round and round and round a track, and then round it one more time, and won gold.
There was joy in the stadium, and tears and screams and roars. There was joy in pubs, and on sofas. It was, said the sportswriters, including the one on this paper who saw Muhammad Ali and George Best when they were more like gods than men, "the best night in British sport". Which was very lucky for those of us who've hardly ever watched any sport before.
There was joy in the studio, too. It was there in the voice of the man who announced it, though he didn't really need to when the moment came. But the joy in his voice didn't seem like joy when you compared it to the joy of the other people in the room. We didn't see it at first, because the cameras were on the man who'd won gold. But when we did, because the BBC wanted everyone to share it, we saw three people leaping up, and waving their arms. One of them even danced. And these three people, who all used to be athletes, shrieked and waved and danced because they knew what it took to win gold.
It might not get better than this. This moment, in this year, in this country, might be the best we get. We're having a party, and doing it well. We started the party with a big, mad, happy show that showed the world who we wanted to be. In that show, we had young people, and old people, and white people, and black people, and people who could write, or sing, or design, or act, or dance. In that show, we looked like a big, happy family. We looked like the kind of family where everyone works together very well. We looked, in fact, like the kind of family where everyone gets the chance to shine.
It's very nice that we looked like that, and very nice that we feel like that, and very nice to see people from all kinds of backgrounds winning medals. And it's very, very nice to see black people on TV. It's nice to see black people achieving more than other people, in a country where they often seem to achieve less. And it's nice to see black people who have achieved more than other people being asked to say things about people who aren't black.
The last time we saw more black people than white people in a TV studio was a year ago. It was, in fact, during the riots. When the riots happened, lots of people said they had nothing to do with race, but you don't normally get people being asked about their "community" when things have nothing to do with race. The riots started, in a part of London with a black population five times bigger than the average for the country, when a black man was killed by the police. As the madness spread, across the city, and across the country, to people who had no idea why it had started, things changed. Some people who got caught up in it were middle-aged. Some were middle-class. Some were girls. But most were young and male. And an awful lot of them – about half, according to the figures from the Ministry of Justice – were mixed race, or black.
About 4 per cent of this country's population is mixed race, or black. If we were a big, happy family, like the one we seemed to be in the ceremony that launched our big party, then about 4 per cent of the prison population should be, too. But it isn't. About a quarter of our prison population is mixed race, or black. And now, after the riots, about 1,000 more young black men have criminal records. Their chances of finding work aren't looking good. But then they weren't looking all that good before.
People have talked a lot in the year since the riots about what may or may not have caused them. Our Prime Minister said at the time that what happened was "criminality pure and simple", but in the year since then he has learnt that not very much in life is "pure and simple". He might even have learnt that a third of the rioters had no qualification higher than a GCSE. He might have learnt that half the prison population can barely read or write. And that the figure for working-class black boys is even higher.
If you can't read or write, you're not likely to get a job. If you don't have a job, you're much more likely to commit crime. About half of young black men don't have jobs. You don't need a GCSE to do the maths. If we want to solve this, we have to make schools better. We have to encourage more men, and more black men, to teach. We have to make sure that someone teaches these children how to read, and write, and speak. Sub-Jamaican street slang is fine as a second language, but it doesn't really work as a first. If you want to get a job, as the immigrants who have taken 81 per cent of the new jobs created in this country since 1997 know, people have to be able to understand what you say.
It isn't easy to stop teenagers from having children they don't really want to bring up. But we have to try, and we have to help the children they have when we fail. We have to show them that there's a bigger world than the one they feel trapped in. We have to show them that there are ways other than prison to escape.
A year on from the events that wrecked many people's homes, and hopes, and the future of the people who wrecked them, not all that much has changed. But it doesn't take a year to solve a problem like this. It takes at least a generation.
It's 16 years since the Olympic Games in which we – if you can call those of us who didn't take part "we" – won a single gold medal. Someone decided that wasn't good enough. Someone decided our country deserved better. Someone decided to spend money, and time, and thought, and care, to make sure it achieved what it knew, if it was given the chance, it could.
Let's try. Let's take this moment, and this feeling of being a family, and try. Let's make Mo Farah, and Jessica Ennis, and Greg Rutherford, and all the men and women who have brought us so much joy, as proud of their country as we are of them.
Register for free to continue reading
Registration is a free and easy way to support our truly independent journalism
By registering, you will also enjoy limited access to Premium articles, exclusive newsletters, commenting, and virtual events with our leading journalists
Already have an account? sign in
Join our new commenting forum
Join thought-provoking conversations, follow other Independent readers and see their replies