David McKittrick: If we are at peace, why are soldiers still dying?
Sense of calm shattered by republican hardliners who refuse to give up the fight with British troops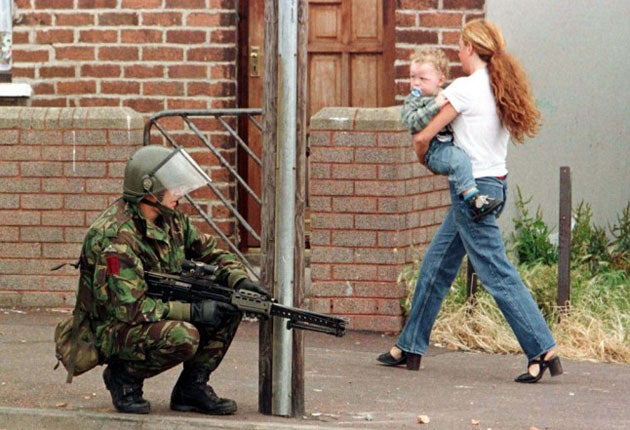 So how could it happen, everyone is asking: how could two soldiers die violently in a Northern Ireland that has a powersharing political settlement and which is supposed to be at peace?
The answer lies in the fact that Belfast's peace is comprehensive but not complete. Well over 90 per cent of the population supports the peace process, the mainstream IRA is defunct and most loyalist groups are quiet.
Yet a few republican backwoodsmen remain committed to the ancient belief – long discarded by the old IRA and the modern-day Sinn Fein – that bombings and shootings will one day force a British withdrawal.
The weekend attack is just the latest in a series launched with the aim of killing members of the security forces. It has taken the dissidents dozens of attacks to achieve their ambition, and they will now be celebrating the murder of the two soldiers.
The groups are, in effect, splinters from the old IRA but are tiny in comparison to it. No one believes they have the capacity to maintain a serious and sustained campaign.
A recent assessment of them by the head of Special Branch in Belfast, Assistant Chief Constable Drew Harris concluded: "They lack public support, they lack finance, they lack personnel and they lack munitions and equipment. What they can do is sporadic murder and sporadic bombing attacks and, in their terms, be successful at that."
Mainstream republicans concur with that analysis. Sinn Fein leader Martin McGuinness described them as "micro-groups which are living in cloud cuckoo land" and appealed to young people not to get involved in "these pointless activities".
But they can kill, as they demonstrated at the weekend, and they have the capacity to stage occasional bomb attacks which can also lead to deaths. The weekend incident was just one of dozens.
In the past two years, they have been responsible for four deaths, but these have attracted little attention since they have arisen from internal fall-outs over power, money or control of weapons.
Four or five splinter groups are in existence, the most notorious of which is the Real IRA which was responsible for the 1998 Omagh bombing in which 29 people died. After that atrocity, dissident activity faded for a time but within a few years the Real IRA became active again while other splinters appeared.
Two of the most prominent figures in the dissident republican underworld are brothers who currently stand accused of terrorist offences including trafficking weapons for the Real IRA.
Michael Campbell has been held in Lithuania since he was arrested at a lock-up garage on the outskirts of Vilnius in January while allegedly trying to complete an arms deal. Before proceeding against him, the authorities want to extradite from the Ireland his brother, Liam, who has served a jail term for Real IRA membership.
In Northern Ireland the authorities have for several years been locked in battle, usually undercover and therefore invisible, with the violent dissidents. They recruit informers and agents from within their ranks, while police and MI5 meanwhile devote substantial resources to maintaining surveillance on them.
This has resulted in many security force successes, evident in frequent seizures of weapons and explosives. Almost a hundred dissident suspects are in prison in both parts of Ireland, either convicted or on remand.
Yet despite these developments, police regularly issue warnings that the dissident threat is dangerous and growing, a point demonstrated in the most lethal way this weekend.
Recently, some republicans and others involved in the peace process suggested opening contact with dissidents, but so far there is no sign that they are interested in negotiations or any political approach.
This was highlighted when one leader told the Belfast Irish News last month: "We have no political wing because we feel that strategy failed republicans in the past. Politics and military cannot operate side by side.
"We will not be leaving bombs in town centres. Irish republicanism couldn't take another Omagh, nor would anyone want to revisit that period in history. As far as we are concerned, our targets are those in the security forces."
The maverick groups include a number of republican veterans, but although the dissident claimed most members were ex-IRA, both police and republicans say the bulk of members are young men.
According to Chief Constable Sir Hugh Orde: "The people we are arresting are not 50 or 60 year olds from the old world. These are young people who are being targeted by dissidents – disenfranchised, marginalised youth, young people who they are now using to do their dirty work for them."
The weekend killings represent a setback for the efforts of the authorities to civilianise policing as much as possible, a painstaking process which has been going on for years.
The weekend killings will mean a complete review of security which will inevitably include the re-introduction of more rigorous measures.
Join our commenting forum
Join thought-provoking conversations, follow other Independent readers and see their replies