Dominic Lawson: Can we please stand up for Michael McIntyre?
Comedy shows based on shocking us carry the seeds of their own destruction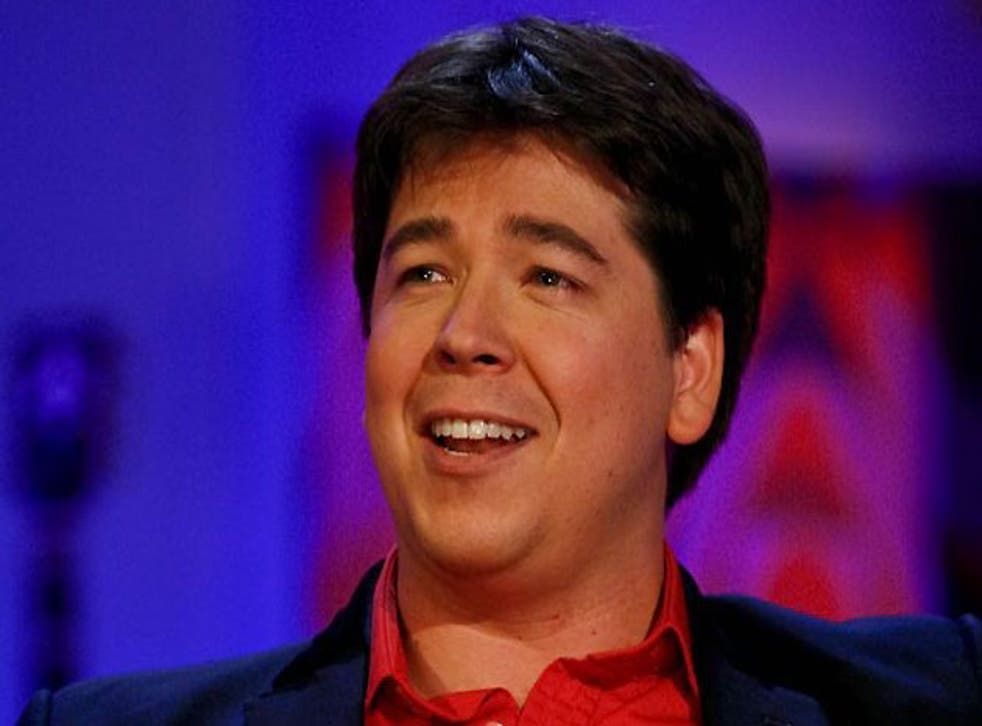 Like most parents of teenagers, I have grown used to the experience of the television's sound being turned off when I walk into the room. It is a reversal of the relationship that used to exist between the generations. Forty or so years ago, parents would do this to shield their children from something which might shock them. Now it is our children who turn the sound down to protect our ears from obscenities which they regard as suitable only for adolescents.
This usually happens when they are watching what is sometimes referred to as "alternative comedy". I regard this phrase with the same puzzlement that comes over me when people talk about "alternative medicine". Either medicine works, having passed the usual tests, or it doesn't. If "alternative medicine" works then it isn't alternative; and if it doesn't work then it isn't medicine. Similarly, something either is comedy, or it isn't.
One programme which sends my elder daughter reaching hastily for the mute button when I enter the room is Mock the Week – the show which attained a certain notoriety when one of its regular performers chose to mimic the Queen saying: "I'm now so old that my p...y is haunted." Yes, comedy has for thousands of years derived some of its attraction through its power to shock: but divorced from some higher social purpose – for example, by attacking injustice – it becomes merely a kind of commercialised Tourette's syndrome.
Unfortunately, this sort of vulgarity for vulgarity's sake has become almost the norm, which is presumably why the then controller of BBC Radio 2 thought the Jonathan Ross/Russell Brand tormenting of Andrew Sachs was suitable for broadcast. So it was a pleasant surprise when a few months ago my elder daughter allowed me to stay in the room and watch a BBC comedy show. She evidently considered it also suitable for someone of my age group; put another way, she realised that it would not have me rolling my eyes and shaking my head censoriously.
This was the Michael McIntyre show. Suddenly, here was a man who managed to be extremely funny without being cruel to anyone – not even politicians. The subject of his wit was nothing more than the everyday domestic engagements of bourgeois life: the struggle to keep the house tidy, the anxiety of family holiday flights, the embarrassment of choosing wine in a restaurant, the problem of persuading your children to be polite to strangers. Some critics have criticised McIntyre for being "unchallenging" or of not asking his audience "to think"; but in fact it is extremely difficult to do what he does. To find original humour in the most ordinary of circumstances, to put into words what millions experience but themselves have never been able to articulate – this is a rare and valuable gift.
Where many middle-class comedians will affect a proletarian accent which they can only have contrived with much struggle – Ben Elton springs to mind – McIntyre has never sought to pretend he is anything other than the beneficiary of his parents' decision to pay for his education, first at the prep school Arnold House – which he describes as "unbelievably posh" – and then at the public school Merchant Taylors'.
Good heavens, he (together with his wife, of course) even dared to name his sons Lucas and Oscar. Indeed, in appearance – invariably suited and with a plump prosperous look – McIntyre could easily pass as a successful commercial barrister, or even (pass the smelling salts!) a country estate agent.
Perhaps it was this which made it so difficult for McIntyre to get the critical recognition which his talents merited. Luvvie-land has long had contempt for bourgeois values – seeing Margaret Thatcher, for example, as the epitome of evil – so how could they regard McIntyre's affectionate observations about the day-to-day struggles of suburban life with anything but dismissive condescension?
It's clear that McIntyre himself is more than a bit sore about this. Although his new DVD, released this week, has had bigger advance sales than any other British comedian has ever managed, he spent many difficult years in penurious obscurity as he fought for recognition beyond the warm embrace of small regional theatres.
In this weekend's Sunday Times he launched into his interviewer as a representative of that critical milieu which has so coddled the "alternative comedians" – but ignored him: "People used to come to my show and love it, and critics were coming and not seeing that... This is what I find weird about other comedians, when I hear that they have been less than complimentary about me, because I've done their game. I did my time. I did more than my time ... I was getting a reaction, encores and standing ovations. And not. Getting. Noticed. At. All. Not even getting invited to festivals."
McIntyre showed a similar level of cold anger when he suspected his interviewer was being condescending about his material: "Everyday stuff is all I have to talk about: eating, travel, cars. You can't criticise me for talking about an everyday life. Lots of people have that life. If only I'd had a more troubled upbringing. Richard Pryor's mother was a prostitute. I was never on fire, shooting up my car. All that happened was that some people came round for pasta, so I talk about pasta."
You can tell from these outbursts that McIntyre, under that cosy, comfy exterior, has the neuroses and anxieties that characterise the greatest performers – comedians perhaps most of all. The art is in translating that inner angst into something apparently natural and effortless. As for the implicit charge that McIntyre is "failing to challenge" the comfortable middle classes – what's wrong with that? It is much more appealing than middle-class comedians pandering to what they imagine are "ordinary people" by dropping their aitches and affecting a Cockney glottal stop.
Besides, when I took my daughter and two of her friends to see Michael McIntyre at the 02 Arena a fortnight ago, I could not pigeon-hole the audience of fully 15,000 as being of any particular background. To judge from the voices I heard among that vast assembly, from teenagers to pensioners, McIntyre's appeal is universal – which is, of course, true of all genuinely memorable comedy.
McIntyre is all the better for harking back to a time when television comedy – largely through the medium of the BBC's light entertainment department under the late Sir Bill Cotton – attempted to appeal to all generations, rather than desperately chase the transient affections of teenagers with attention deficit disorder. Although Cotton's reign was most associated with such programmes as The Morecambe and Wise Show and Dad's Army, he also oversaw the introduction of Monty Python's Flying Circus, a far more intelligent offering than its latter-day imitators, most notably the indescribably scatological Little Britain.
The problem with such "comedy" programmes is that being based almost entirely on the ability to shock us, they carry with them the seeds of their own speedy destruction. Each episode has to be more shocking than the last, as a result of which it appeals to fewer and fewer people until even those responsible for broadcasting "alternative" comedy decide that it has become too alternative even for their own avant garde cultural sensibilities.
McIntyre, however, ought to be a Saturday evening BBC banker for years to come, inspiring the same sort of cross-generational affection as that great Irishman Dave Allen enjoyed in an earlier era. After all, the more society fragments and fissures, the more important it is to be reminded of what we still have in common.
Join our new commenting forum
Join thought-provoking conversations, follow other Independent readers and see their replies