Every woman in India is likely to have experienced some sexual harassment
You learn to not make eye contact with men, to avoid crowds, and to shield yourself with scarves and bags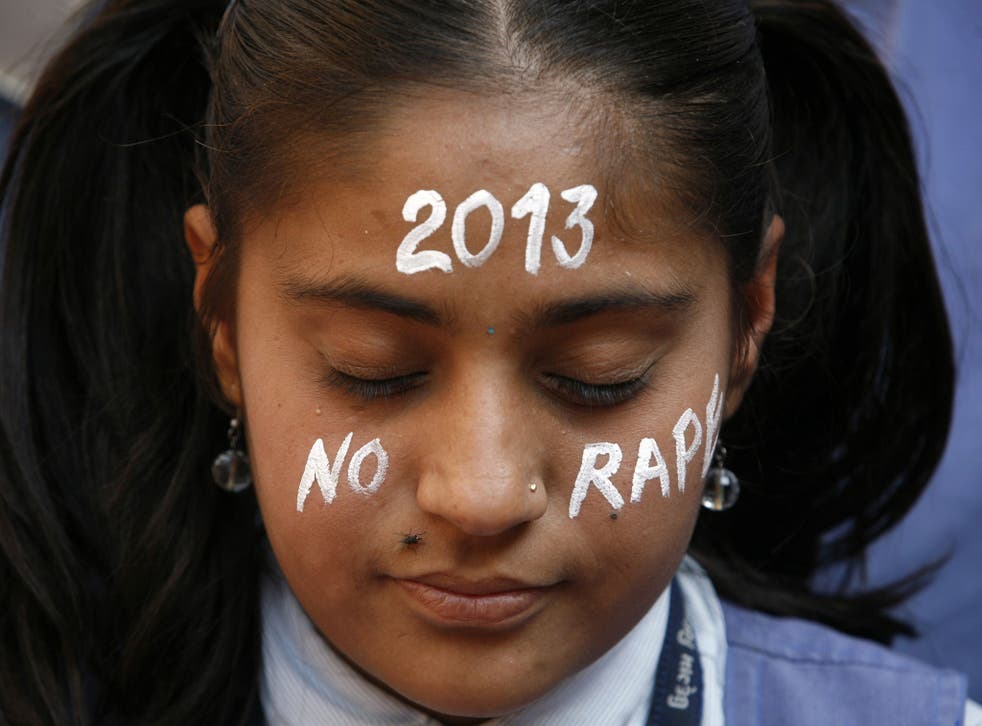 There is no simple explanation of what it is like to be a woman in India today. It depends on where you live, whether you are rich or poor, and on your caste.
But every Indian woman has one thing in common: they have almost certainly experienced some kind of sexual harassment. If you are an Indian woman in a public space, you are forever on edge, looking out for men standing too close, wondering if that grope on a crowded bus was accidental. At an early age, you learn to not make eye contact with men, to avoid crowds, and to shield yourself with scarves and bags.
Today, India is sunk in unprecedented national sorrow over the death of a 23-year-old woman who was gang-raped on a Delhi bus on 16 December. Despite being tear-gassed and beaten, thousands of young Indians have taken to the streets to call for justice, social networks are awash with rage, and there has been much soul-searching over how and why such a crime could happen.
I am one of the privileged women in India, but even in Bangalore where I live, which is regarded as relatively safe for women – certainly compared to Delhi – I face leering stares and comments at least weekly. It becomes so routine I hardly notice.
I remember my parents telling me to "ignore the gropers". Most Indian women will have received similar advice, and continue to live by it. My parents were simply being realistic; India's record of punishing sexual harassers is abysmal.
Now I have a 13-year-old daughter, and as I think about what advice I should give her, I realise that although life for women in India is changing rapidly in some respects, in others it is as though time stands still.
This generation is the first to encourage women to go out to work, to travel at night, and wear Western clothes. The rape victim in Delhi was a medical student who came from a lower middle-class family, which could barely afford her education. Only a decade ago, she might never have left home. But, as traditional values are dissolving, modern values are not widely accepted. Many Indian men are outraged at the idea of women having the same freedoms they have. The Delhi rapists taunted the girl because she was with a male friend. "Only prostitutes go out with men at night," one is reported to have said.
The government has vowed to increase protection for women, but that is pointless in a country like India, where police are already too few, and if approached, are still likely to ignore women who complain of sexual harassment or assault. In Delhi this year, 635 cases of rape were reported, but there was only one conviction. Last week, even as India grieved for the Delhi victim, a girl committed suicide because police were pressuring her to marry her rapist.
It is hard to blame Indian "culture", because in a country this diverse, there is not one culture. But, by and large, families coddle boys and excuse bad behaviour, while girls are told to "be careful".
Scrutiny has turned to Bollywood films, most of which objectify women and often show the hero harassing an unwilling heroine, who eventually yields to his "charms". But politicians also mirror the problem. In 2012, politicians blamed everything from late marriages to fast food for attacks on women. According to the Election Commission, every one of India's leading political parties has fielded candidates accused of sexual crimes against women in the past five years, and two members of India's parliament are facing rape charges.
Will the tragic case of this dead woman change anything? It's hard to see real change in a climate such as this, and generations of oppression cannot be undone easily.
As a feminist, I balk at the idea of restricting my daughter's movements, telling her what to wear, and especially telling her to ignore groping and leering. But at the same time, I know it will take years before all of India can accept girls like her, and I worry I am endangering her with my thinking. I am going to teach her that if she is ever harassed or molested, it will be the fault of the perpetrators, not hers. I will teach her how to be aware of her surroundings and steps to take care of herself.
When I look at the fierce rage of young women braving tear gas, or the quieter wave of women fighting for education, I see women who are encouraging change. It will take us a long time, but we will achieve it.
Register for free to continue reading
Registration is a free and easy way to support our truly independent journalism
By registering, you will also enjoy limited access to Premium articles, exclusive newsletters, commenting, and virtual events with our leading journalists
Already have an account? sign in
Join our new commenting forum
Join thought-provoking conversations, follow other Independent readers and see their replies