Robert Fisk: Egypt has no constitution, parliament... or control
Morsi's victory has done nothing to calm fears among Egyptians – or to rein in the army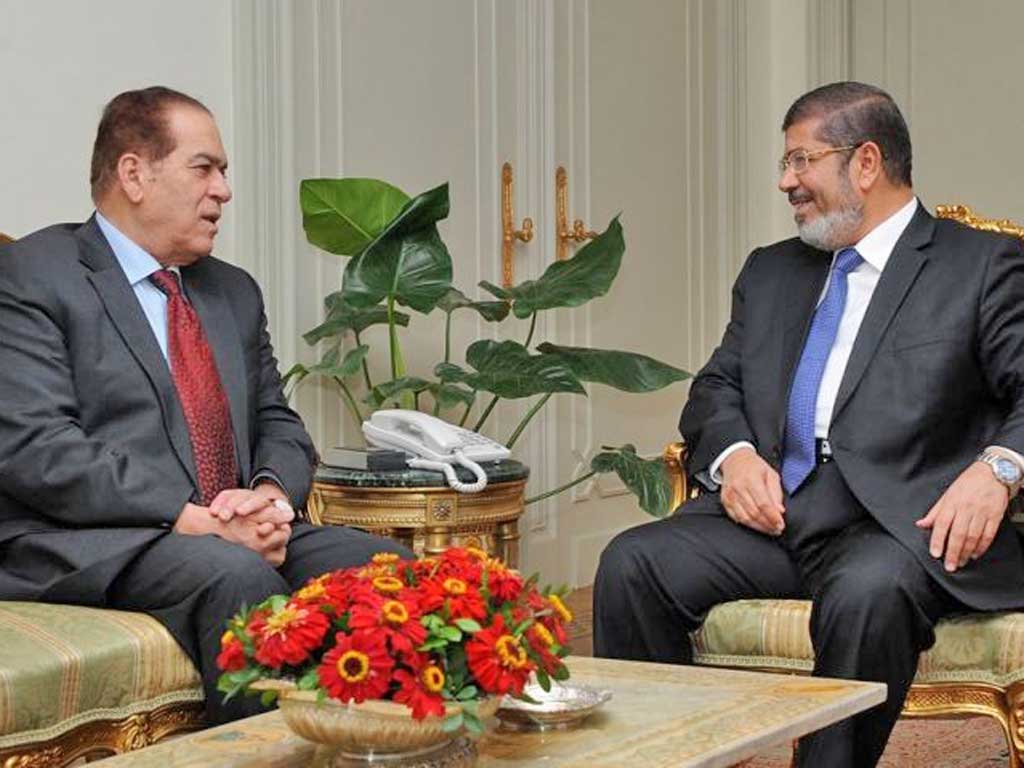 A couple of hours after Mohamed Morsi's supporters greeted the democratic election of the first Islamist president in the Arab world with cries of "Allahu Akbar", a young Egyptian Christian woman walked up to my coffee table and told me that she had just been to church.
"I have never seen the place so empty," she said. "We are all afraid."
I'd like to say that Morsi's placatory speech on Sunday – CNN and the BBC made much of his all-inclusive message because it fits in with the Western narrative on the Middle East (progressive, non-sectarian, etc) – was a pretty measly effort in which the army got as much praise as the police for Egypt's latest stage of revolution.
Put bluntly, Morsi is going to be clanking down the road to Egyptian democracy with tin cans dangling from his feet, fear and suspicion mingling among the old Mubarakites and the business elite, and, of course, the Christians, while the uniformed bulldogs of the Supreme Council of the Armed Forces – its acronym, SCAF, is somehow appropriate to its inefficiency – go on biting off the powers that any president of Egypt should hold. He's got no constitution, no parliament and no right to command his own country's army.
Morsi's friendly tone towards Iran yesterday, of course, will enrage the same beasts. The Saudis allegedly poured money into the Muslim Brotherhood campaign and now they find Morsi smiling upon the Shia regime they so much detest and suggesting they resume "normal relations". The Brotherhood must at least be happy that Crown Prince Nayef – the scourge of the Brotherhood and the man who could still entertain Mubarak's ex-security boss last November – is dead and buried and can never be king of Saudi Arabia. And anyone who doubts the dangers to come should reread the vicious coverage of the presidential election campaign in the Egyptian press. Al-Dastour claimed that the Muslim Brotherhood planned a massacre if Morsi won, while Al-Fagr claimed that the Brotherhood planned an "Islamic emirate" in Egypt. The novelist Gamal el-Ghetani vouchsafed that "we are living a moment that may be similar to Adolf Hitler's rise to power", an exaggeration that would have been less offensive if a certain Anwar Sadat had not once been a spy for Rommel.
Clearly, the Brotherhood has to watch out. Saad el-Katatni, the short-lived speaker of the democratically elected parliament – its throat cut by the SCAF last week – has been insisting that Egypt won't see an "Algerian war" even if the army has legalised their almost exclusive power for years to come. When Algeria's generals cancelled the second round of elections in 1991 – because Islamists would have won – they ignited a war against their political enemies that left 200,000 dead. "The Egyptian people are different and not armed," he said. "We are fighting a legal [sic] struggle via the establishment and a popular struggle."
Egyptians may be different than their Algerian cousins – whether they are unarmed is a quite different matter. And the Brotherhood has itself been drawn, in the words of the Egyptian journalist Amr Adly, "into the web of legalistic and procedural entrapment set up by the military".
For as the army has shut down the parliament, taken over budgets, produced an interim constitution taking away most of Morsi's power and reintroduced martial law – not to forget the dishonouring of its own promise to stand down after presidential elections – so a strange but not unfamiliar phenomenon has reappeared in Egypt: fear of the foreigner. Public service broadcasts, Mubarakite in their witlessness, have urged Egyptians to watch what they say in front of foreigners. Cameras in the hands of foreigners are increasingly regarded as spy machines. Egyptian film-makers meeting in Paris have described how the explosion of popular "image-making" during last year's revolution is now being effaced as distrust grows.
And civic law is being flouted across Egypt. In the Delta, for example, a smallpox of illegal building sites has spread across agricultural lands – 5,000 alone in the last few weeks, according to farmers – after Morsi's opponent, ex-Mubarak Prime Minister Ahmed Shafik, reportedly said that "those who have built houses in violation of the law on agricultural lands will be indemnified and their situation legalised". Since Egypt's agricultural land is growing smaller by the year, this is, in the words of one Egyptian agronomy professor, "a crime against all citizens".
For the "real" revolutionaries, the young of last year's rebellion against Mubarak, are going to have to connect with the poor of Egypt who voted for Morsi, and abandon many of their slogans. It was the Tunisian leftist Habib Ayeb who told an Egyptian journalist last week that those who called his country's uprising the "Jasmine Revolution" failed to realise that the original Tunisian revolutionaries of Sidi Bouzid had probably never seen jasmine in their lives. And there are many Egyptians today who believe they never saw an "Arab Spring".
Join our commenting forum
Join thought-provoking conversations, follow other Independent readers and see their replies