Robert Fisk: Hosni Mubarak has fallen. Assad clings on. Yet the fate of their nations is anyone's guess
The Long View: They can say Shafik's rule would be 'a more ferocious version of a police state than that under Mubarak'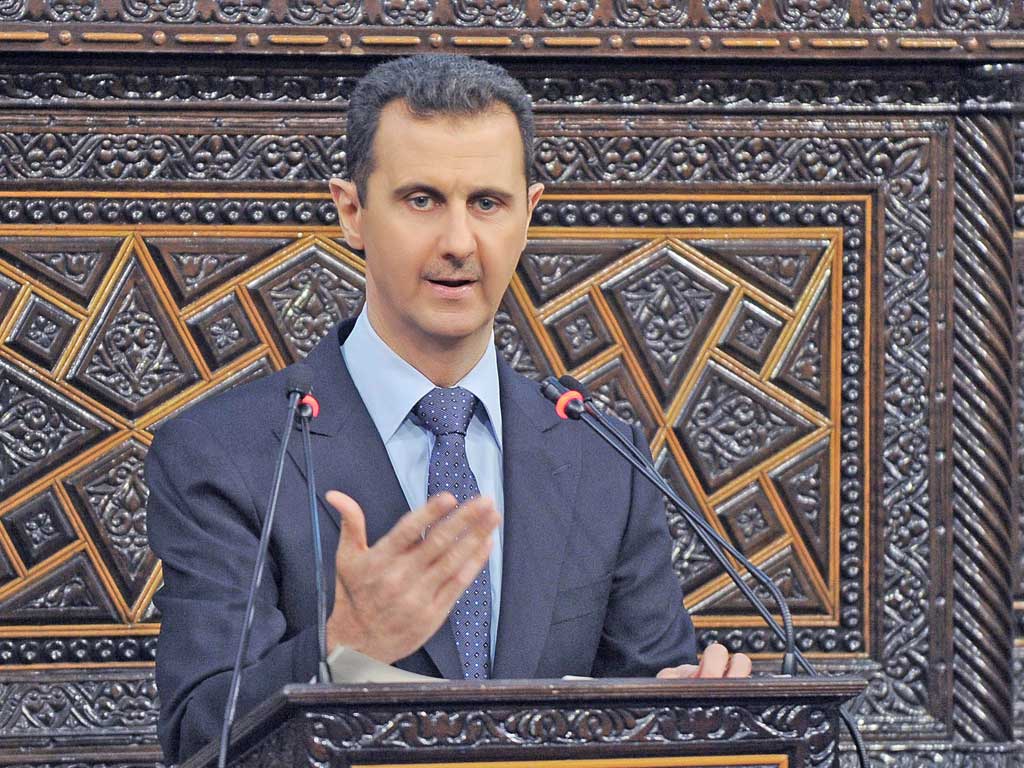 There is nothing so bad as a journalist in the wrong place at the wrong time. So here I was in Cairo, covering the trial of Hosni Mubarak, arriving from Lebanon – where 15 people have just died – while Bashar al-Assad pops up on my television screen yesterday to say that his army was not responsible for the massacre at Houla a week ago. And there was Assad, talking of the most serious crisis since the end of colonialism. Well, you can say that again.
And I don't feel a lot happier. Ahmed Shafik, the Mubarak loyalist, has the support of the Christian Copts, and Assad has the support of the Syrian Christians. The Christians support the dictators. Not much of a line, is it?
On Saturday, the dictator of Egypt was sentenced to life. On Sunday, the dictator of Syria fought for his life. And he said – he warned, he threatened – that his war could extend to other countries. And we all know what that means. The future of the Lebanese city of Tripoli is in doubt. Not long ago, a Lebanese friend said to me that she feared for her country if Assad was in danger. Now I know what she means.
These are bad times for the Arab "spring" or awakening. In Yemen, there are bad times – the government helping the US drone attacks on al-Qa'ida operatives. In Egypt, there are Americans who want to support Shafik. Yet in the country's Al Ahram daily, editors are free to say that the first reaction of Shafik's spokesman to the presidential election is that "the revolution has ended". And they can write that Shafik's rule would be "a much more ferocious version of a police state than what was under the second half of Mubarak's three-decade rule". The paper spoke of "endless sacrifices of young men and women so that all of Egypt, those who took part in the revolution, those who sympathised with it, and those who opposed it, can have a better life whereby violations will not remain the norm". Could I have read anything like this under Mubarak?
But could I have read anything like this in Lebanon? Is Lebanon not serious about freedom? Is Yemen? The fact is that the Arabs are waking up – which is why I prefer the Arab "awakening" to the Arab "spring". And I think Syria is "awakening". Now, President Assad said yesterday that his country's "security" is a "red line" and implied – only implied, mind you – that the war in Syria (and he called it a war) could topple over into a neighbouring state (for which, read Lebanon). And so I am worried about Lebanon and the Alawites in Lebanon who support Assad, who deserve better.
But I am also aware that the Shafik warriors, those in Washington who want Shafik to restore Egypt's old relationship with Israel, those who want, in effect, to restore Mubarak's dictatorship, to recreate the old paradigm (Mubarak "stability" versus the old fear of Muslim Brotherhood), will want to pump up Christian fears and frighten the West with the awfulness of "Muslim fundamentalism", will pop up their heads again as surely as Assad. And as the Republicans close in on Obama, will they not show their love for Mubarak's last Prime Minister?
But maybe we shall have to live, perhaps, with Mohamed Morsi as the next President of Egypt, a Muslim Brother, a man who will have to show that a Muslim government can actually run an economy, can tame corruption (or cannot, as the case may be) as the Muslim government of Algeria should have been allowed to do in 1991. I'm not sure.
But let's go back to Lebanon. Its press is free. Its people are. It got shot of Syria in 1995 (albeit at the cost of an ex-Prime Minister's life). It can look over the border to Syria to see how democratic and free its nation is. And – dare one say this? – poor Syria. It doesn't deserve the pain and massacres it is enduring. Its President is claiming that international conspiracies are destroying his country. Given Saudi Arabia's and Qatar's interest in helping the resistance, he may be right. And weapons are certainly entering Syria from Lebanon.
So here's a bad omen from Cairo. Shafik may win – though Mubarak's trial may prove otherwise. Assad may fail – though I fear the civil war of which Kofi Annan speaks. And Lebanon will live. Maybe I should fly back tomorrow.
Join our commenting forum
Join thought-provoking conversations, follow other Independent readers and see their replies