Robert Fisk: Late for the revolution, Muslim Brotherhood take over Tahrir Square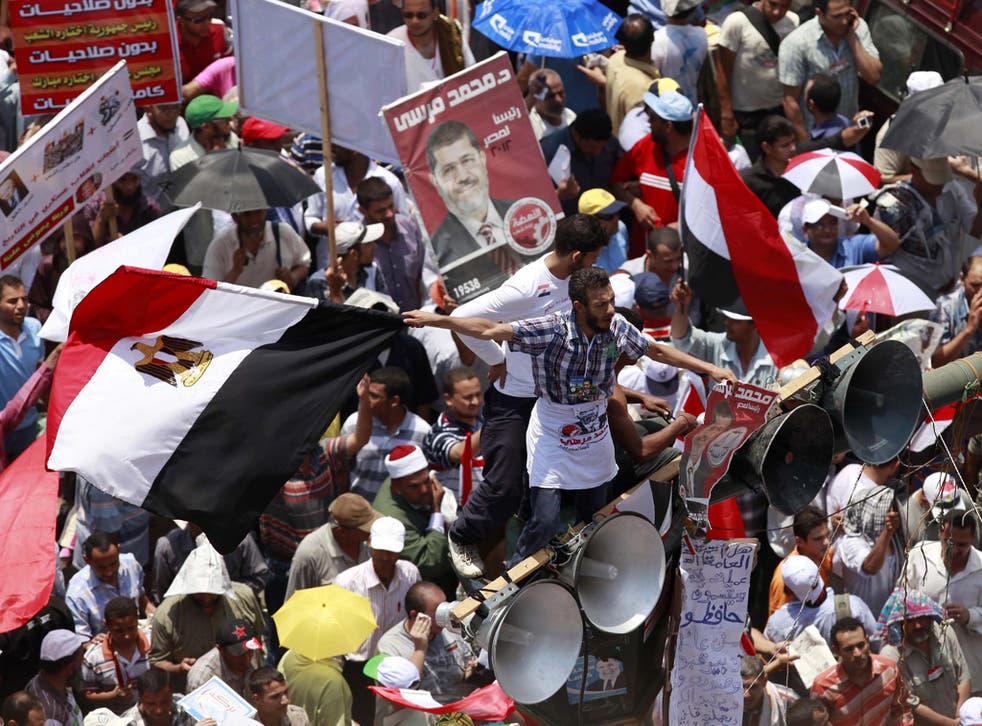 Supporters of the Muslim Brotherhood came in their tens of thousands to Tahrir Square yesterday to tell the Egyptian army to return to their barracks and transfer power to a national government without further delay.
And they were only 17 months late. Almost a year and a half ago, while the young of Egypt died for their revolution, the bearded gentlemen who run this brave, hitherto sub-clandestine organisation were face-to-face with Omar Suleiman, a former vice-president for the ousted Egyptian president Hosni Mubarak, trying to negotiate a seat in government. But there they were yesterday, revolutionaries to a man. Woe to Ahmed Shafiq, Mubarak's former prime minister, if the results of last week's vote are released and he is declared president tomorrow. A Mubarak clone if ever there was one.
Sad times. There were wonderful photo-montages of Field Marshal Tantawi, Egypt's military boss, holding a baby Hosni Mubarak in his arms, and a row of former dictators – Mubarak and Tunisia's Ben Ali and Libya's Gaddafi and even Mubarak's wife Suzanne – begging for dollars on an Egyptian roadside yesterday. But somehow it was all a little too late.
A guy offered me a face-mask of a dictator for 20 Egyptian pounds (£2.11) and – when I refused it – said "OK, it's Mubarak, ten pounds". But the old days of Tahrir Square – the courageous power of a new and youthful Egypt – were lost.
Who would come here, to "Freedom Square", and hope that Mohamed Morsi, the Muslim Brotherhood candidate, would be declared president when the delayed results are finally released, probably tomorrow?
There were so many beards. Massive beards, goatee beards, knife-pointed beards, Che Guevara beards. In fact, there were even postcards of Che Guevara on sale, along with former Egyptian presidents Gamal Abdel Nasser and Anwar Sadat.
I prayed for today, when I have an appointment to visit the home of that great and real Egyptian revolutionary, Saad Zaghloul, the early 20th century lawyer-rebel who tweaked the King of England's beard by demanding freedom and independence for his country.
And then, a distant relative of Saad Zaghloul happened to be right there in Tahrir Square. Ahmed Reda Saad Mohamed Zaghloul, a member of the Coalition of Youth, had the same slim face as his ancestor. And this is what he had to say: "We are a sentimental people. We adore our religion – but not the terrorism way of religion.
"There are two scenarios for this crisis situation: Morsi is like a hat you cannot wear. The other – well, if Shafiq is president, there will be blood, though only for a limited time. Because the big generals in the army will never be able to govern Egypt. Every home here in Egypt has a soldier in the army – and they will never allow these old men to govern. The army is on the side of the people."
Retired Egyptian Major General Sameh Seif al-Yazal vouchsafed to the BBC: "Sometimes I use my crystal ball. I have a crystal ball and I look at it in the evening and see the results. My crystal ball is telling me that Ahmed Shafiq will win."
I don't know, of course, if all Egyptian generals have balls. But it does suggest that Mubarak's last prime minister will be declared president on Sunday. So I guess we better keep our heads down (flak jackets on).
Register for free to continue reading
Registration is a free and easy way to support our truly independent journalism
By registering, you will also enjoy limited access to Premium articles, exclusive newsletters, commenting, and virtual events with our leading journalists
Already have an account? sign in
Register for free to continue reading
Registration is a free and easy way to support our truly independent journalism
By registering, you will also enjoy limited access to Premium articles, exclusive newsletters, commenting, and virtual events with our leading journalists
Already have an account? sign in
Join our new commenting forum
Join thought-provoking conversations, follow other Independent readers and see their replies