Robert Fisk: Syria slips towards sectarian war
Stories of killings in Homs are reinforcing support for Assad in Damascus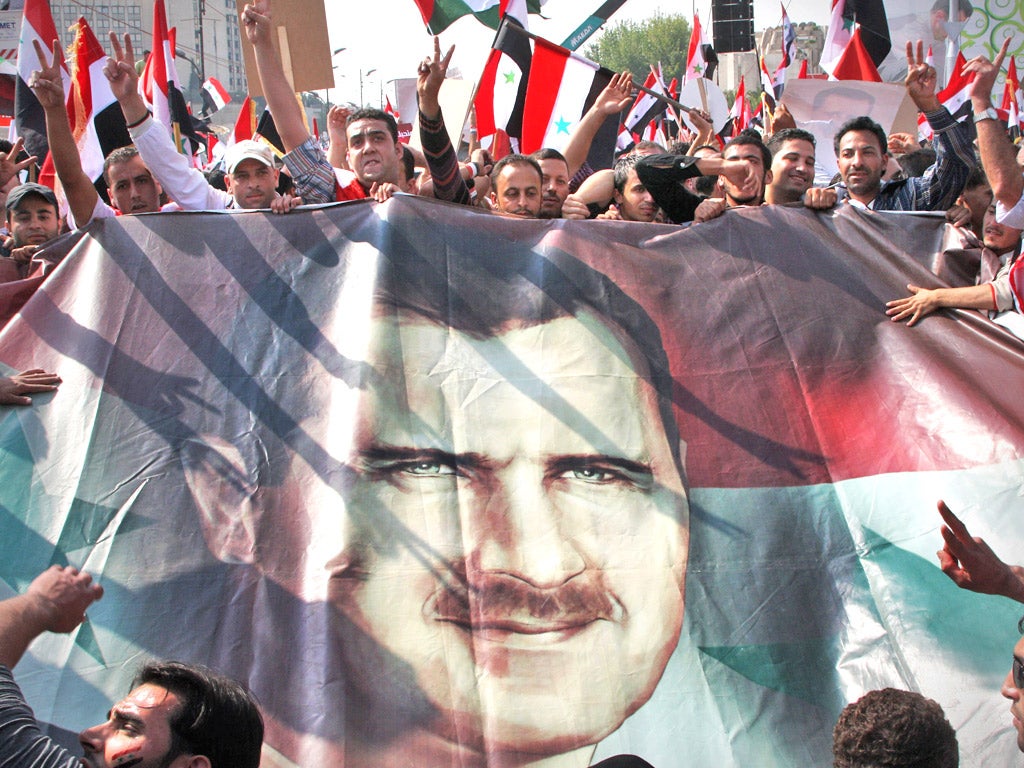 So there was the reporter from Syrian television asking what I thought of the situation in Syria, and there was I saying that you can no longer infantilise Arabs, that the uprisings/revolts/revolutions/unrest in the Arab world were all different; but that dictatorship didn't work, that if there were – if – a serious new constitution, pluralist political parties and real and genuine free elections, Syria might just climb out of its tragedy but that the government was running out of time, fast.
We shall see if this gets on air on Saturday (readers will be kept informed) but outside in the street another pro-Assad demonstration was starting, 10,000 then 50,000 – it might have reached 200,000 by midday – and there was no Saddam-style trucking of the people to the Omayad Square, no mukhabarat intelligence presence and the only soldiers were standing with their families. How does one report a pro-government demo during the Arab Awakening? There were veiled women, old men, thousands of children with "Syria" written on their faces. Most held Syrian flags, some held the flags of Russia and China.
Were they coerced? I don't think so – not by the Assad government, at least. Some played football games in the parks round the square. Others signed their names – Muslim and Christian – on a banner decorated with the branches of a massive Syrian tree. But if they were coerced, it was by stories from further north.I spoke to 12 men and women. Five spoke of relatives in the army killed in Homs. And the news from Homs was very bad. I had dinner on Tuesday night with an old friend. His 62-year-old cousin, a retired engineer, had given water to some soldiers in Homs. Next morning, armed men knocked at his front door and shot him dead. He was a Christian.
Of course, the Assad government had been warning of a sectarian war. Of course, the Assad government has set itself up as the only sure protector of minorities. Of course, the Assad government had claimed that Islamists and "terrorists" were behind the street opposition to the regime. It's also clear that the brutality of the Syrian security forces in Deraa and Homs and other cities against unarmed protesters has been a scandal, which those in the government privately acknowledge.
But it's also transparent that the struggle in Syria now cuts through the centre of the country and that many armed men now oppose the army. Indeed, I have been told that Homs slips – for hours at a time – out of government control. Damascenes travelling to the northern city of Aleppo can take the bus. But now more than ever, they are flying to avoid the dangerous road between Hama and Aleppo. These are the reasons, I suspect, why so many thousands came to demonstrate in Damascus yesterday. They are frightened.
Foreign journalists are not allowed to travel to Homs – a serious error by the regime – where Sunnis, Alawites and Christians live close together amid Armenians, Circassians and other groups. A sectarian war may well be in the cynical interests of any regime fighting for its life. But unless everyone I've met is lying (which I don't believe), this is now a growing reality in central Syria. Against this, no Russian or Chinese vetoes in the United Nations are of any use.
A delegation from the Arab League – that pathetic and most useless of Arab institutions – was due to arrive in Damascus yesterday afternoon. To what effect? Are they supposed to send a "peace" force? Two days ago, Mohamed Kadour, the Dean of the Petrochemicals Faculty at Homs University, was kidnapped in return for the freeing of detainees. He was released a day later. Whether imprisoned men were released, we don't know. But it has happened before. In Idlib, so they say, everyone is armed. And the weapons – so they say – are coming from Lebanon.
Ask who the armed men are in central Syria and you receive a spread of replies: Bedouin who smuggle drugs to Saudi Arabia, army defectors, "Islamists" from Iraq, "people who just think there is no other way to get rid of the regime". Damascus is safe; bright lights and late-night shopping and restaurants and thousands wandering the streets. But Damascus is not the rest of Syria. It lives in a kind of bubble.
I got up yesterday after only an hour and a half of sleep – because outside my hotel, government workers were testing the deafening sound system for the demonstration. All night there were bursts of taped cheering and drums and cheers and trumpets. But did those crowds yesterday really need this false applause and fraudulent additions to their own demonstration? Officially, things are getting better in Syria. I doubt it.
If the UN figure of more than 3,000 civilian dead is correct and if the Syrian statistic of 1,150 military deaths are correct and if the deaths of the last three days – perhaps another 50 – are true, then up to 4,200 Syrians have been killed in seven months. And that's enough to frighten anyone.
Join our commenting forum
Join thought-provoking conversations, follow other Independent readers and see their replies