Robert Fisk: The historical narrative that lies beneath the Gaddafi rebellion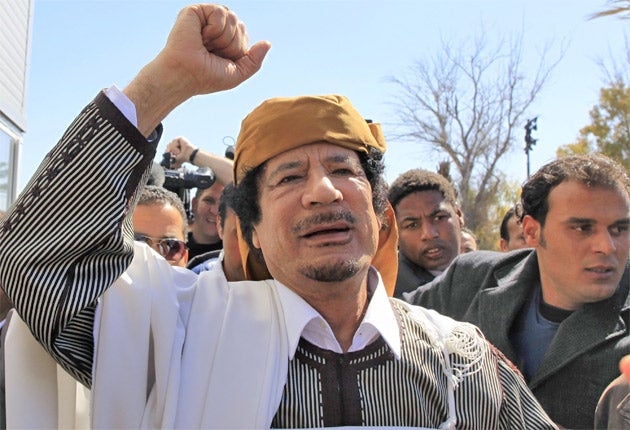 Poor old Libyans. After 42 years of Gaddafi, the spirit of resistance did not burn so strongly. The intellectual heart of Libya had fled abroad.
Libyans have always opposed foreign occupiers just as the Algerians and the Egyptians and the Yemenis have done – but their Beloved Leader has always presented himself as a fellow resister rather than a dictator. Hence in his long self-parody of a speech in Tripoli yesterday, he invoked Omar Mukhtar – hanged by Mussolini's colonial army – rather than the patronising tone of a Mubarak or a Ben Ali.
And who was he going to free Libya from? Al-Qa'ida, of course. Indeed, at one point in his Green Square address, Gaddafi made a very interesting remark. His Libyan intelligence service, he said, had helped to free al-Qa'ida members from the US prison at Guantanamo in return for a promise that al-Qa'ida would not operate in Libya or attack his regime. But al-Qa'ida betrayed the Libyans, he insisted, and set up "sleeper cells" in the country.
Whether Gaddafi believes all this or not, there have been many rumours in the Arab world of contacts between Gaddafi's secret police and al-Qa'ida operatives, meetings intended to avoid a recurrence of the miniature Islamist uprising that Gaddafi faced years ago in Benghazi.
And many al-Qa'ida members did come from Libya – hence the frequent nomme de guerre of "al-Libi" which they added as a patronymic. Natural it then was for Gaddafi, who once hosted Abu Nidal's Palestinian assassination groups (who never betrayed him), to suspect that al-Qa'ida lay somewhere behind the uprising in eastern Libya.
It is only a matter of time, needless to say, before Gaddafi reminds Libyans that al-Qa'ida was a satellite of the very Arab mujahedin used by the United States to fight the Soviet Union in Afghanistan. Yet Libya's own ferocious resistance to Italian colonisation proves that its people know how to fight and die. In "Tripolitania", Libyans were expected to walk in the gutter if Italians were walking towards them on the same pavement and Fascist Italy used aircraft as well as occupation troops to bring Libya to heel.
Ironically, it was the forces of the British and Americans rather than the Italians that liberated Libya. And they themselves left behind a legacy of millions of landmines around Tobruk and Benghazi that Gaddafi's weird regime never ceased to exploit as Libyan shepherds continued to die on the old battlefields of the Second World War.
So Libyans are not disconnected from history. Their grandfathers – in some cases their fathers – fought against the Italians; thus a foundation of resistance, a real historical narrative, lies beneath their opposition to Gaddafi; hence Gaddafi's own adoption of resistance – to the mythical threat of al-Qa'ida's "foreign" brutality – is supposed to maintain support for his regime.
Unlike Tunisia and Egypt, however, the "People's Masses" of Libya are a tribal rather than a societal nation. Hence two members of Gaddafi's own family – the head of security in Tripoli and the most influential intelligence officer in Benghazi – were respectively his nephew, Abdel Salem Alhadi, and his cousin, Mabrouk Warfali. Gaddafi's own tribe, the Guedaffi, come from the desert between Sirte and Sebha; hence the western region of Libya remains under his control.
Talk of civil war in Libya – the kind of waffle currently emerging from Hillary Clinton's State Department – is nonsense. All revolutions, bloody or otherwise, are usually civil wars unless outside powers intervene, which Western nations clearly do not intend to do and the people of eastern Libya have already said they do not wish for foreign intervention (David Cameron, please note).
But Gaddafi went to war in Chad – and lost. Gaddafi's regime is not a great military power and Colonel Gaddafi is not General Gaddafi. Yet he will go on singing his anti-colonial songs and as long as his security teams are prepared to hold on in the west of the country, he can flaunt himself in Tripoli.
And a warning: under UN sanctions, Iraqis were supposed to rise up against Saddam Hussein. They didn't – because they were too busy trying to keep their families alive without bread or fresh water or money. Saddam lost all but four provinces of Iraq in the 1991 rebellion. But he got them back.
Now western Libyans live without bread or fresh water or money. And Gaddafi yesterday spoke in Tripoli's Green Square with the same resolution to "rescue" Benghazi from "terrorists". Dictators don't like or trust each other; but unfortunately they do learn from each other.
Join our commenting forum
Join thought-provoking conversations, follow other Independent readers and see their replies