Robert Fisk: The rebel sheikh defying Hezbollah to take aim at Assad
The Long View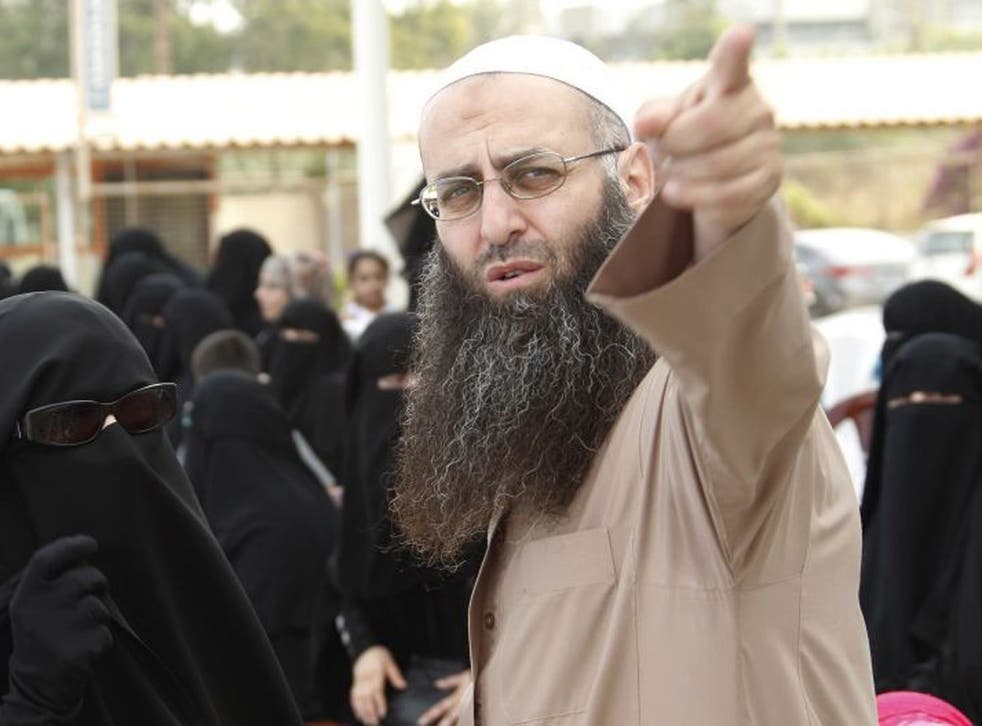 Yes, the former president of Syria and father of the president regime incumbent is roasting away there, and has been since he died of a heart attack while chatting on the phone to the Lebanese president in 2000.
I have this on the authority of Sheikh Ahmed al-Assir, the Sidon Salafist who has blocked the road between Sidon and Beirut and who promises me that his huge beard –a great field of graying hair that hangs proudly down his chest – took 20 years to grow. Being a sceptic about religion as well as biology, I'm not sure I accept either the Assad-in-hell or the beard claims.
But Assir, a Sunni Muslim who is demanding that Syria's militia ally Hezballah should hand over all its weapons to the Lebanese state is fast becoming a phenomenon in Lebanon, putting the heebejeebies into the pro-Hezballah government, the Hezballah and a lot of other factions in a country which still prays to keep out of the Syrian conflict. This weekend, another five Lebanese, at least three of them children, were reportedly killed by Syrian shellfire in the north of the country. In Sheikh Assir's eyes, it's another stake in the heart of Hafez el-Assad's son.
The odd thing is that when you meet him, Sheikh al-Assir is so forthcoming in all he tells you about himself that it's impossible not to have a sneaking respect for the guy. Ask him if he's married, and his sloping eyes twinkle merrily away behind his frameless spectacles. "I have two wives and three children," he says. And an older man – the Sheikh is 44 – sits down on a plastic seat beside me, beaming away happily.
"My father used to be a singer and sang love songs and sang at weddings but now he is a muezzin and calls Muslims to prayer at our mosque."
Tch, tch, I say; the calls to prayer are no longer chanted from minarets by real priests; across the Muslim world they have adopted the boring practice of playing a CD of prayer calls over amplified loudspeakers. "No," says Mohamed al-Hillal Al-Assir al-Hussain defiantly, "I actually climb the minaret and call for prayers myself from the top." Independent readers sceptical of this may turn up at the Mazjid Bilal bin Rabah mosque in the Sidon suburb of Abra five times a day to check it out. But you see what I mean; interesting family. Money comes from his own family – "we built the mosque ourselves".
Hezballah suspects, of course, that Qatar and Saudi Arabia, those great Sunni fortresses currently bestowing cash and guns to the rebels of Syria, are behind the sudden appearance of Sheikh Assir. Why does he preach against Syria in the Friday prayers in Tripoli? Why has he blocked the main coastal road north of Sidon, claiming he will not leave until the army hoovers up Hezballah's weapons – from pistols to rockets – and thus cutting south-west Lebanon off from the capital? There are no guns (to be seen, of course) at the sheikh's sit-in, and just a truck turned across the road to block it and a lot of black-chadored ladies hovering around. And a lot of enraged Sidon (Sunni) shopkeepers complaining that they can no longer take their famous patisseries up to Beirut for sale. No wonder even the Sunni opposition in parliament is against the sheikh's sit-in.
Sheikh al-Assir says that the Hezballah leader Sayed Hassan Nasrallah, whom he has never met, is making a terrible mistake by leading "political Shiism" away from the people of Lebanon. "I grew up in the civil war as a young child and we all used to be happy and play and go to school. But then we had to live in the basement. We were never secure in our homes, we were losing our childhood friends who were Christian and Shia. Today, the political Shia are making the same mistake which ruined us before. And because of this, I am against all arms – so my grandchildren do not grow up with a childhood like mine."
But it is Syria which claws at the Sheikh's anger. "Bashar will fall and he is one of the most serious problems in the region. And Iran will fall….Syria is a catastrophe. Assad is now in hell for killing 20,000 people in Hama in 1982. We will ask the Syrian people that they have a trial of the al-Assad family after the fall of the regime. Bashar will be killed, hopefully. He will not leave Syria. The people of Syria will not accept all these innocent victims of the regime. Those of the regime who die and go to hell – they go straight to hell the moment their soul leaves their body. If I die and I don't go to paradise, then I have lost everything. If I go to paradise, then it is with the blessing of God."
Strong stuff. But not exactly messianic. The Sheikh has nothing against the West although he has visited Abu Dhabi, Yemen, India, Ukraine and Pakistan, the latter making an impact on him – the very poor and the very rich being a microcosm of the world. "I come to my religion with serious convictions," he adds. I'll say.
Register for free to continue reading
Registration is a free and easy way to support our truly independent journalism
By registering, you will also enjoy limited access to Premium articles, exclusive newsletters, commenting, and virtual events with our leading journalists
Already have an account? sign in
Register for free to continue reading
Registration is a free and easy way to support our truly independent journalism
By registering, you will also enjoy limited access to Premium articles, exclusive newsletters, commenting, and virtual events with our leading journalists
Already have an account? sign in
Join our new commenting forum
Join thought-provoking conversations, follow other Independent readers and see their replies