Grace Dent: A Nineties revival? Has everyone forgotten what was wrong with them the first time round?
The Spice Girls' feminism consisted of shouting 'Girl Power' and doing peace signs in latex catsuits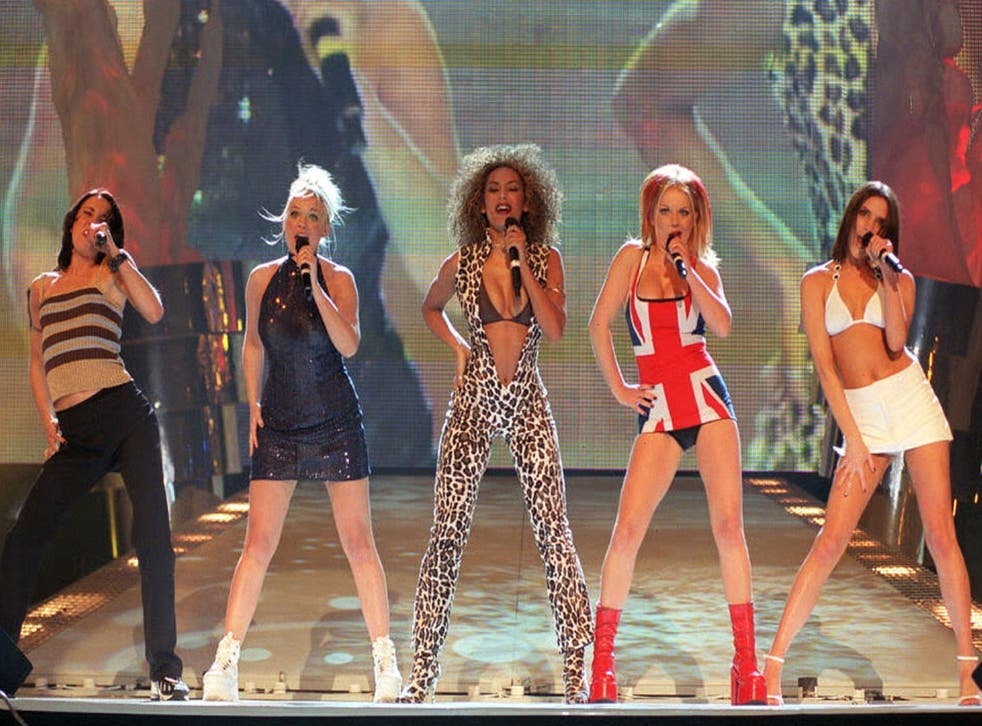 As Victoria Beckham lined up for the forthcoming Spice Girls musical Viva Forever photocall last week, her hunted and haunted expression spoke volumes. Possibly, it said, Posh felt less ebullient about this 90s revival than her cash-poorer/time-richer buddies. I feel I share her misgivings.
Wonky rose-tinted hindsight has painted the 90s as a rich and wondrous era. Welcome back, Stone Roses. Oh, Ian, your beautiful voice moved a generation, especially for the 3.4 million bores who now claim to have been at Spike Island. Oh, hooray, Damon and Cheesus from Blur have laid down two new tracks. It's just like the good old days again. Yet as teenage hipsters wander round Hackney dressed like dilapidated versions of Screech from Saved By The Bell, I feel a wholescale 90s reimagining taking place.
It's hard for me not to make my nurse wheel my bathchair close to these people and point out that the 90s were not that awesome. Brief flashes of brilliant perhaps; Liam Gallagher's swagger, really strong Es, the bit on This Life where Milly punches Rachel, the first thrilling 20 minutes of being shown "the world wide web" and feeling cyberspace made anything and EVERYTHING possible, before someone slighty sullied it by sending me a link to a man with a handlebar moustache making passionate love to a chihuahua. This was all good.
But my main memories of the 90s are a lot of bad grunge (unwashed men traipsing about dressed like breastfeeding lumberjacks), the sound of Heather Small wafting through every shopping centre, body-builders dancing with their tops off in leather trousers at Cream, endless Howard Marks Mr Nice readings, wearing out a Fast Show VHS tape, the one-joke buzz of Beavis and Butt-Head and the inescapable droning of student virgins analysing Buffy the Vampire Slayer.
Add to this Tom Paulin's weekly Late Review mumbling, getting an unwanted erection in your back every Friday night to Savage Garden, having to pretend to love Reservoir Dogs, having to sit through three hours of people drowning in Titanic, the NME covering Justine Frischmann's every waking breath, Lemonheads B-sides, the worst bits of Destiny's Child when there were four of them and Beyoncé was still worried about employment law, 90s men discovering the joys of 10-hour Nintendo sessions while smoking superskunk and listening to Cypress Hill.
Alarm bells about the 90s revival went off for me when I was told last week that the Spice Girls actually made some important headway for feminism. Excuse me while I laugh up a lung. (Don't worry it's better off out anyway after all the damage I did it in the 90s smoking Marlboro Reds as it was cool.) Any student in 2012 who regurgitates this Spice Girls-helped-feminism baloney in a dissertation should have the whole thing shredded and be made to wear a dunce cone in graduation pics. The Spice Girls' feminism consisted of shouting "Girl Power!"and doing peace signs in latex catsuits or a babydoll nightie with paedo-magnet hair bunches.
When asked to expand further on Girl Power, the Spices would shriek something about "fwends to the end, cos you need your fwends" and then something else about their role model Thatcher, whence they'd be told to STFU by their PR. Within a few years 90s' Girl Power transpired as the posh one being Britain's most famous Wag, the sporty one admitting she kept so slim through eating disorders, the scary one giving half her money away in a quick divorce to an idiot, everyone glossing over the fact that the baby one dressed like a child (a bit like we did with wee Jimmy Krankie) and one of them being Geri Halliwell, a woman rumoured – although perhaps this is just wilfully brilliant conjecture – to have tried to hire a real unicorn for her child's birthday.
Having thought deeply about the best bits of the 90s and the reasons for its deep appeal to pop-culture historians, I put it down to two things. One: strong drugs. In the 90s ecstasy was so strong Ian Brown sounded all tunesome like John Denver, "Ebeneezer Goode" by The Shamen was tolerable and Ocean Colour Scene were profound lyrical gods. Second, due to the lack of mobile phones and Facebook, one could make a big tit of oneself and no one would really remember. But I remember the 90s vividly. Kids: don't believe the hype.
Save Sindy? She's one doll we can do without
I'm not much in the mood to "Save Sindy", the sad sap doll celebrating her 50th birthday next year with a "girl next door" revival. Aged eight, I'd already worked out that massive-headed Sindy and her skinny Stepford wife nemesis Barbie were a pair of winsome dullards. Oh, the days the pair of them sat about in my bedroom in riding gear, kitten heels and tutus, while I brushed their hair and waited for Ken and Action Man to appear and take them on a camping holiday.
In my heart, I had no time for Sindy, or dolls in general, especially those monstrous Tiny Tears things that wet themselves. But somehow the adverts during Magpie and Runaround subtly told me that this was what girls did, so I begged for them. Today, I don't see the sanity in giving tiny girls a long-haired blonde specimen of female perfection as a blueprint for normality, with the half-hearted grunt "But you're lovely the way you are!"
In my experience, mums have rarely pushed Sindy or Barbie on to girls, the advertising is so good, so insidious, so captivating, they don't need to. So sod saving Sindy, she's doing all right by herself.
Who's interested in the Cruise divorce? Not me
As an intelligent woman, I'm not bothered about the tittle-tattle behind the divorce of Tom Cruise and Katie Holmes. Not me. I've not refreshed the news page updating me on who's serving papers on who for at least seven minutes. Images of Katie in high heels, post leaving Tom-bolina Pepperpot, do not float my boat. And I have not been idly speculating which very short female celebritiesTom Cruise will be auditioning for The tan goddess mark III.
All I'm saying is Mary-Kate Olsen, Janice Battersby from Corrie and whoever was inside that doll Chucky in the film Childs' Play, it may be time to spray on a bit of Impulse and get ready for romance. Not that this would interest me. I'll be reading Proust.
Twitter: @gracedent
Register for free to continue reading
Registration is a free and easy way to support our truly independent journalism
By registering, you will also enjoy limited access to Premium articles, exclusive newsletters, commenting, and virtual events with our leading journalists
Already have an account? sign in
Register for free to continue reading
Registration is a free and easy way to support our truly independent journalism
By registering, you will also enjoy limited access to Premium articles, exclusive newsletters, commenting, and virtual events with our leading journalists
Already have an account? sign in
Join our new commenting forum
Join thought-provoking conversations, follow other Independent readers and see their replies