Howard Jacobson: They may be criminals, but we're the ones who have created them
That form of looting known as corporate larceny continues to rage unchecked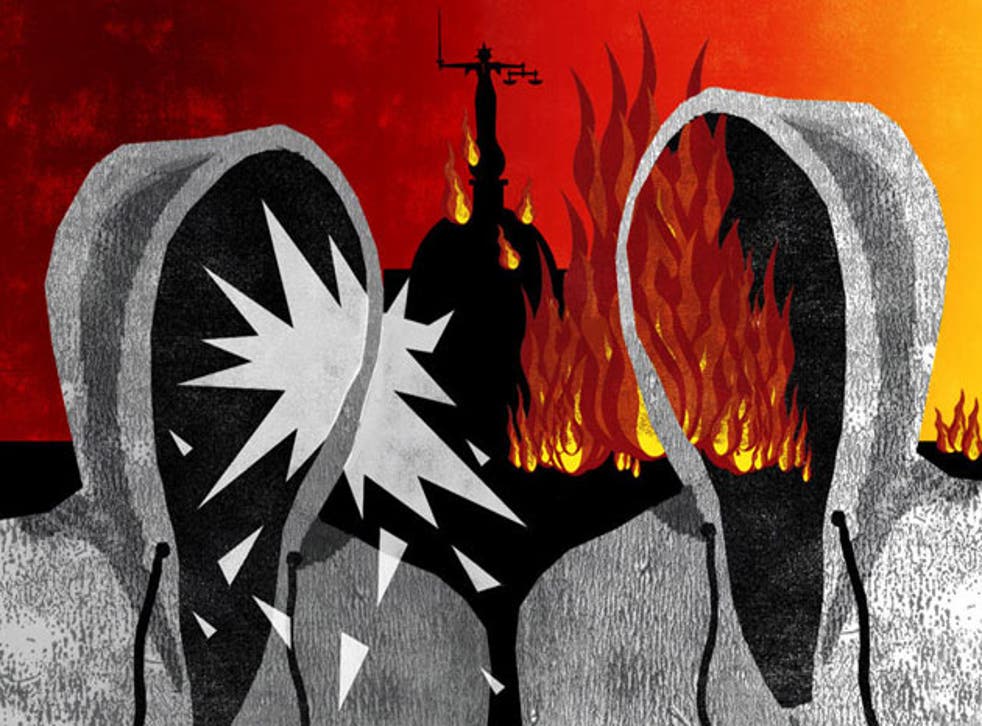 The one shop not looted in Clapham Junction last week was Waterstone's. A golden opportunity to nick a Harry Potter, or Anthony Giddens' Sociology: A Brief but Critical Introduction, spurned. So that's the end of the argument that looters were protesting against the high cost of acquiring an education.
Except it isn't. You can't identify a cause by isolating an effect. Punching someone in the face while making off with a pair of trainers you don't even bother to try on – reader, how do they know they fit? I don't know about you, but I can't buy shoes that accommodate my feet in under an hour – might not look like an expression of political disaffection, and every looter I've heard speak has spoken gibberish, but the best of us don't always know why we do what we do, just as the most intelligent can't always articulate their frustration. So I'm not buying the "criminality pure and simple" argument. Nothing is "pure and simple", least of all criminality, whose roots have troubled thinkers from the moment mankind began to think. Is Raskolnikov a criminal pure and simple? Is Macbeth? And don't tell me it's different in literature. The whole point of literature is that it makes you see it differently. In literature the imagination goes where morality won't.
Myself, having listened to everyone on the subject from taxi drivers to criminologists, from apoplectic told-you-so conservatives to self-righteous told-you-so liberals, from those who loot and those who have been looted, from black and white and from young and old, I have come to this conclusion: they are all right and they are all wrong.
What are we doing supposing the answer lies in one or other set of politicised interpretations? It's the cuts; no it can't be the cuts because the cuts (God help us) have not been felt yet. This is what you get when you brutalise the poor; no, this is what you get when you indulge them with everything they want. In our impatient adversariality we mirror the aggression of those who will drive cars at whoever stands in their way.
Check out the online comments that follow even the most reasonably argued article on the subject. We don't disagree any more, we vilify and desecrate. If we could kill by words we would. Even on Newsnight, which by and large encourages a more moderated discourse, no one was listening to anyone last week. On the second or third night of the disturbances Kelvin MacKenzie all but burst a blood vessel shouting down a rapper for having a go at understanding what was afoot. There are few intellectual heroes on either side, but on the whole, the right is in more danger of a collective heart attack than the left. Rage would seem to be robbing them of reason. Maybe it's the sight of objects being stolen. Either way, the verbal vehemence in the media is continuous with the mayhem on the streets. This, too, is part of the story: the mutual incomprehension of those who consider themselves civilised.
Yes, "criminality" is too soft a word to describe the savagery we've seen, but if it's criminality pure and simple, then how do we explain the number of criminals pure and simple our society is able to muster at the press of a key on a BlackBerry? Did they turn up on a spaceship? Are they the fault of some other solar system? Of course we know damn well where they came from – they came from places from which most of us have averted our eyes, hoping they would stay there, praying that their brutalism would be expended on one another, that they would solve the problem of their existence in their own blood. They are the price we pay – no, the price they pay – for the way we have chosen to live. Nothing to do with us? Criminality pure and simple? Then the other side of criminality – good works, benevolence, call it what you will – has nothing to do with us either. We cannot take credit for our achievements but not our failures. The odd criminal does not confute the society we live in, but when criminality is as widespread and ingrained as this, and among those too young yet to have cut their apron strings, we cannot pass it off as self originating. Call them what you like, but these things of darkness we must acknowledge ours.
These have been a disgusting few years. That form of looting known as corporate larceny continues to rage unchecked. Economic scavengers bring the world to the brink of ruin. We don't need the discrepancy between rich and poor laid out in percentages, we see the brute fact of it with our own eyes in the shops and on the roads and in the restaurants of our richest cities. One medium-sized banker's bonus would probably pay for all the trash that's been looted this past week. And we don't even have the decency to conceal the extent of this legalised pillage from those for whom, without sentimentalising them, a pair of trainers is a treat. The Sunday Times publishes its Rich List, celebrity magazines trumpet wealth, television fetishises unmerited success and, since we've mentioned trainers, you tell me, reader, who the young get the idea of their desirability from. Even in Tottenham you are not born needing trainers. A craving for trainers is not inscribed in the DNA of the poor. There's an irony in the sight of those peddling tat to people who can't afford it being the first to have their windows smashed. But theirs will be the losses soonest mended, and who's to say that what's happened won't make their merchandise more desirable still? What your friends looted on Monday, you might have to buy on Friday.
If the above sounds like wishy-washy liberalism to those who think that what's condemned is miraculously solved, let's add this: liberalism today lies in ruins, not only because it has indulged the cultural bilge that has given the looters their baseless sense of entitlement – welcoming their idiot hoodlum patois as a rebellion against conformity and government, and never mind the hateful brutality – but because it has failed, in its sanctimoniousness, to understand the necessary role illiberalism – guidelines, example, authority, boundaries – plays in the governing of society. It should never have happened that parents, teachers, and the police themselves, go in terror of the young, or in terror of the consequence of reining in their wildness. For the young's sake it should never have happened, never mind for ours. But the consequence is they are disinherited and we live in fear. In a society that is afraid to punish because it is afraid to judge, that does not understand the outrage of being offended against, that cannot feel the egregiousness of a crime, and that no longer even gestures at justice, it's no wonder there are people wildly calling for the return of capital punishment.
It might appear a paradox – a heartless society that is soft on the criminals it creates – but in fact it's a cynical trade-off. You turn a blind eye to our crimes and we'll turn a blind eye to yours. Those looters are criminals all right – but they are our criminals, trashing left and right what we, left and right, have trashed already.
Register for free to continue reading
Registration is a free and easy way to support our truly independent journalism
By registering, you will also enjoy limited access to Premium articles, exclusive newsletters, commenting, and virtual events with our leading journalists
Already have an account? sign in
Join our new commenting forum
Join thought-provoking conversations, follow other Independent readers and see their replies