Jane Merrick: Mine's a pint of Everything in Proportion
Labour MPs' beer ban may have backfired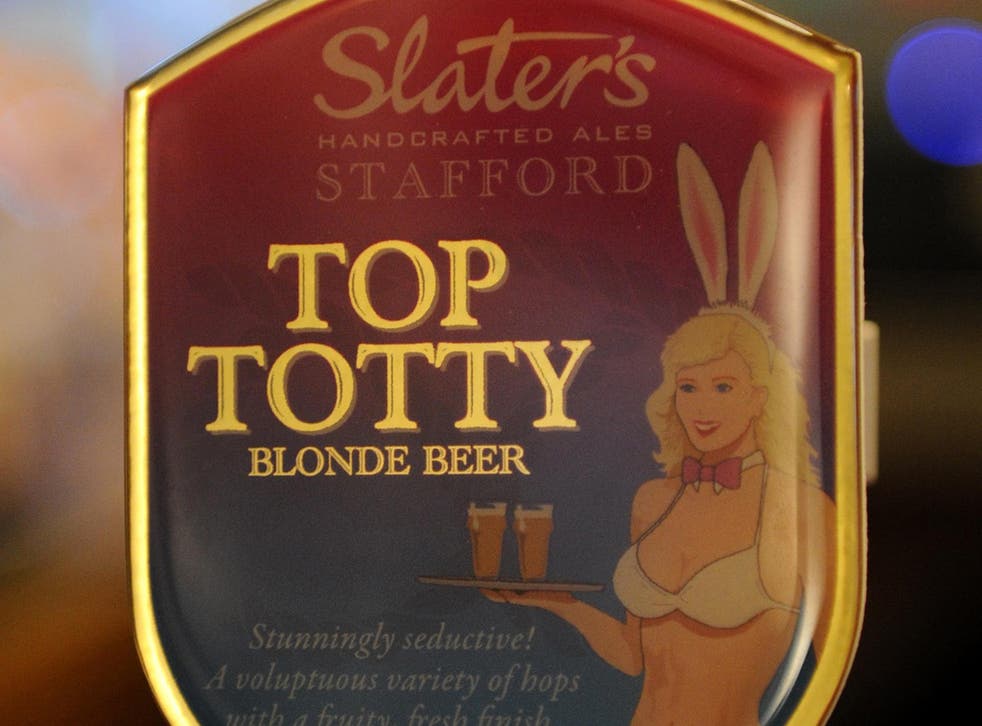 Last Thursday, I drank the last few drops of the House of Commons' last keg of Top Totty. Yes, I was literally scraping the barrel – but I am happy to report it was full-bodied, with citrus notes, and an after-taste of controversy.
This was technically a contraband half pint, as minutes earlier the Parliamentary authorities had ordered the Strangers' Bar staff to stop selling the ale, seizing the pump plate with its offending picture of a bikini-clad, bunny-eared blonde. The picture, which a female member of the family brewery, Slater's, insisted was "just a bit of cheeky fun", is in the retro style of many images used by microbreweries to sell their beer. But it was the response to the sale of Top Totty in the Commons that seemed just as retro: Kate Green, Labour's Equalities spokesperson, used Parliamentary time to demand it be removed from sale because it demeaned women.
While I accept that some women are demeaned by Top Totty, and have a right to feel so, hasn't the debate moved on? Isn't the blonde on the beer tap now such a rare sight (it was, as a guest beer, only sold in the Commons for a week), and so patently ridiculous, that it should be beyond outrage to assertive, worldly wise women MPs? It depends who you ask.
The response appeared divided along party lines: almost all the female MPs who protested were Labour, and almost all the women who defended the name and branding were Tories. This is a recurring theme: for many Labour women, themselves elected because of all-women shortlists, it is quotas that are the answer to equality. Women, it seems to them, are an oppressed minority, rather than what we are, which is more than half the population. If you start from a position of oppression, then isn't the equality argument already lost before it starts?
Yes, there are those on the right who also favour quotas – including David Cameron (described by Louise Mensch, the Tory woman with probably the highest profile, as more of a feminist than Margaret Thatcher) – who still wants a third of his ministers to be female. But many Tory women believe quotas to be patronising and tokenistic, because rather than be promoted by merit, you need a helping hand. This demeans your position, they argue, because you've been given the equivalent of a golfing handicap to get there.
So it is that right-wing women, from the new Conservative Women's Forum to the Women On think tank, are, instead, coming up with radical ideas to help women progress.
Women On's co-founder, Charlotte Vere, argues that the Top Totty row shows how some female MPs have become too "self-centred" – it is the working women beyond Westminster, particularly those in the squeezed middle, who should be the focus of politicians. Similarly, Tory MP Liz Truss, a dead cert to be in the Cabinet by the end of this Parliament, is working on a set of ideas to encourage more women to return to work after having children, including reforming regulation of childminders. There is a deficit of talent and skills in the workforce because so many working women – from low to high earners – are staying at home or working part-time because full-time childcare is less affordable. Perhaps Labour women are constrained by being in opposition, but I cannot find an equivalent force of ideas in that party.
I am not saying that, by opposing Top Totty beer, Kate Green wouldn't, naturally, also be supportive of better childcare provision for working women. To be fair to Ms Green, she has campaigned in Parliament against child poverty, and has helped the formation of a women's forum in her own constituency.
But, unfortunately, she is now best known as the MP who banned a beer from a small bar in Westminster. Paradoxically, it is Conservative women who appear to be the radicals.
Join our new commenting forum
Join thought-provoking conversations, follow other Independent readers and see their replies