Johann Hari: How Navratilova leads the way for lesbians
Gay women face a different prejudice to gay men and are trailing 20 years behind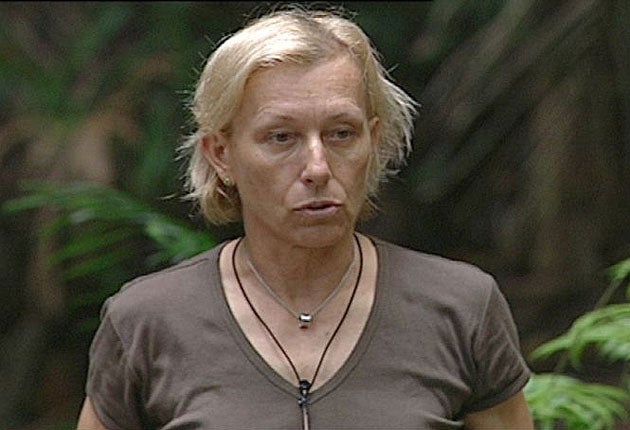 There's something strangely soothing about this year's I'm A Celebrity - Get Me Out of Here! If the credit crunch gets much worse we'll all be living on kangaroo testicles with a side-dish of maggots, so it is pleasing to see Robert Kilroy-Silk go through it first, in a cage, on live television, with Timmy Mallet cackling in his face.
But there's something even richer and sweeter about this series: the Zen-like poise of Martina Navratilova as she wades through slime and Wags. The tennis genius has an inherent dignity that even Ant and Dec cannot dent.
If – when – she is voted Queen of the Jungle by the British public, it will be another small symbolic step in the struggle for equality for lesbians.
Gay women face a different kind of prejudice to gay men, and in many ways they are trailing 20 years behind. It is only now that major public figures are finally coming out, and if you look at the crude abuse Navratilova was pepper-sprayed with for decades, it is not hard to see why.
Her biography is remarkable. At the aged of 18 she became a refugee from Czech Communist tyranny, swiftly thwacked her way to the top of women's tennis, and stayed there for 25 years.
Yet from the moment she began to speak about her sexuality, she was portrayed as a robotic muscle-dyke cruelly pounding her wholesome blonde, all-American rival Chrissy Evert. She lost her lucrative sponsorship deals. She was booed in the stands.
But the lesbian writer Julie Bindel tells me: "Seeing her walk out onto the court at Wimbledon was the best feeling in the world.
"She was the first role model for my generation of lesbians. You suddenly had this woman who was immensely talented, a feminist of sorts, and even won the respect of the men in the sport. You thought: if she can do it after all she's been through, you can too."
Yet you can see on the tv show how much more comfortable we are with gay men than lesbians. The contestants have a vocabulary to talk affectionately about sexuality to the gay men there: they make joshing camp asides, and everyone laughs.
But when it comes to Martina's lesbianism, they are silent, or bemused. Kilroy asked her: "Do you look at girls and fancy them?" Yes, Robert, lesbians fancy women.
This ripple of bemusement – tinged with hostility – runs through our culture. (As a gay man, I'm embarrassed to say that even gay culture is littered with anti-lesbian jokes.) Last year, it was ruled that lesbians could be denied in vitro fertilization (IVF) treatment, and there was very little protest. This weekend, a smear-piece in a right-wing newspaper said Navratilova "broke up a family" by snatching away "a devoted home-maker." The dykes want your wives! Run!
Prejudice against gay men has receded more quickly; it is rarely expressed as blatantly as this in public. Why? Perhaps the most obvious explanation lies with sexism.
Lesbians reject men sexually – and that shocks us. A woman who doesn't want to please men? Wha-at? Our culture is – in its very bone marrow – built around pleasing men. Little girls are taught it as an automatic assumption. So the only way we can assimilate lesbians is to turn them into porn. Then they are useful to men once more.
But the reasons also lie in the crooked timber of history.
In most cultures at most points in history, gay men have found small cultural niches where they could meet, but gay women have been denied even that. Women were dependent on men for money and they were largely confined to the home. We know sometimes they found each other. The recently-discovered diaries of an early 19th-century Yorkshire woman called Ann Lister show how she sought out affairs with women by asking if they had read Sappho – but these opportunities were fleeting. So for millennia, lesbians weren't even demonised as gay men were; the world simply seemed to say that they didn't exist.
Whenever proof emerged that women could lust after women, it was swiftly burned: the amazing poetry of Sappho was incinerated in era after era by popes and Crusaders.
In more subtle ways, this denial persists. When Pam St. Clement was on This Is Your Life, her female partner was nowhere to be seen. The role of spouse was taken by the actor who played her husband on EastEnders. When Susan Sontag died recently, most obituaries mentioned neither her sexuality nor her partner, Annie Leibowitz, as if they were holes in the air.
Lesbians have had to swing from invisible to mainstream in just a century – and to do it while climbing up the sheer face of sexism.
The coming-out of the Hollywood star Lindsay Lohan was an achievement, but buried in her story was also a sign of how far we all still have to go. Several gossip-sheets gleefully showed close-ups of the scars on her arms. If Lohan does cut herself, it wouldn't be surprising: gay teenagers are seven times more likely to self-harm or commit suicide than their straight contemporaries.
Laura Rhodes – a witty, loud Welsh girl – is just another recent case showing why this long, long story has to end. She told a friend she thought she might be gay when she was twelve, and soon began to be attacked and beaten as "the school dyke". She turned to her school for help – but they said she was herself part of the problem.
Cefn Saeson School's education welfare officer, Helen Langford, said Laura's "verbal indiscretion" – talking openly about her sexuality – was the cause of her bullying.
Langford wrote: "Laura fully realises and appreciates she must accept the blame for the current situation." In the end, the school decided the solution was for Laura to move schools. She took an overdose of prescription pills and died in hospital.
This story of the denial of a basic human sexuality ends here, like this.
But if they could watch Martina Navratilova – a wise, cool lesbian – win a national popularity contest, what would Laura Rhodes or Ann Lister or Sappho say?
I think they would feel a small sense of satisfaction – and then, with a warmed heart, they would vote for Kilroy to be force-fed more maggots.
Join our commenting forum
Join thought-provoking conversations, follow other Independent readers and see their replies