Mary Ann Sieghart: You don't have to believe in God to cherish the Church
It is precisely because the Church is established that it feels a duty to serve the whole nation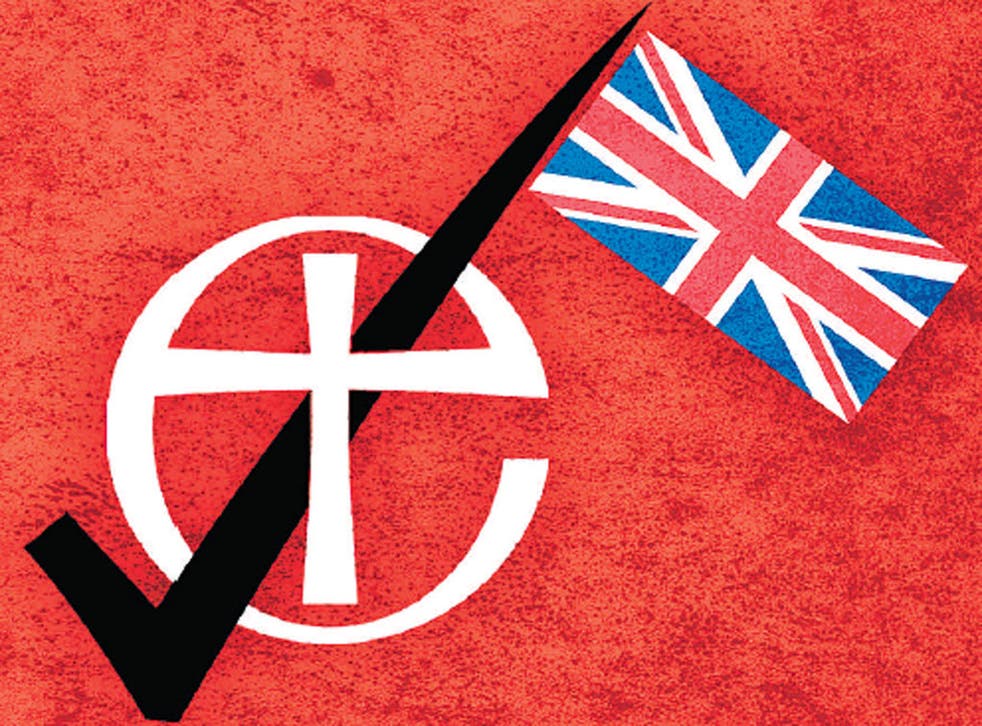 The Church of England couldn't hope for a better enemy than Richard Dawkins. Puffed-up, self-regarding, vain, prickly and militant, he displays exactly the character traits that could do with some Christian mellowing. In fact, he's almost an advertisement against atheism. You can't help thinking that a few Sundays in the pews and the odd day volunteering in a Church-run soup kitchen might do him the power of good.
And that's not a lazy cliché; for the power of good is what the Church in this country exemplifies. It's by no means true of all religions at all times – far from it – but here and now we are extraordinarily lucky to have the established Church we have. The Church of England is broadly charitable, open, welcoming, tolerant, compassionate and undogmatic. It does a huge amount of good for a huge number of people well beyond its pews, work that goes almost entirely unreported.
It spreads the power of good to its followers too, even the inactive ones. The poll that Dawkins published last week, commissioned by the wonderfully solipsistic Richard Dawkins Foundation for Reason and Science, purported to show that self-declaring Christians were anything but. Because they couldn't name the first book of the New Testament or didn't go to church every week, claimed Dawkins, they were somehow fraudulent. Yet only six per cent said they didn't believe in God. And the most heartwarming finding was that 58 per cent said, when asked what being a Christian meant to them personally, "I try to be a good person".
We could do with more good people in the world, and given that so much of modern capitalist society encourages the opposite – greed, consumerism, dog-eat-dog, self-interest – we should welcome any countervailing force. That's not to say that only religious, or Christian, people can be good. Of course not. But if the Church helps people to try to do the right thing, why should we be anything but grateful?
Aggressive secularists and atheists love pointing to the horrors that have been done in the name of religion, from the Inquisition to the Troubles in Northern Ireland. But they are strangely silent on the horrors perpetrated by atheist regimes, such as those of Stalin and Mao. It is militancy, not religion, that is bad. And you can be as militantly atheist as militantly Christian or Muslim.
The great thing about the Church of England is that it couldn't be less militant. If anything, people criticise it for being too meek and mild. Personally I prefer a Church that is forgiving and undogmatic, that is prepared to move – albeit a generation behind the rest of society – with the times. I like a Church that accepts women as priests (and soon, I hope, bishops), and that doesn't tell us that contraception is a sin. I look forward to one that comes to terms with homosexuality.
Most attractively, though, the Church of England sees its job as ministering not just to its own flock. All over the country, if you bother to look, you will find Church-run groups that help children excluded from school, the homeless, refugees, the elderly, the sick, disaffected teenagers, the poor. There is no expectation that the beneficiaries be Christian. On top of that, the Church Urban Fund has helped to finance more than 3,000 local bodies that try to tackle poverty and the problems it brings. A former Archbishop of Canterbury, William Temple, once said, "The Church is the only organisation that exists for its non-members". It is precisely because the Church is established that it feels a duty to serve the whole nation.
The Church is the largest voluntary organisation in the country, the epitome of the Big Society. And in many rural villages and deprived parts of the inner cities, it is the only institution left. The pubs, the post offices, the shops, the schools, the banks have closed. But most of the churches and their priests remain. Social workers, teachers and doctors may commute into impoverished areas, but the vicar is often the only professional still living in the parish he or she serves. You don't get more in touch than that.
Church of England schools take Catholics, Muslims, Hindus and sometimes those of no faith too. They achieve some of the best results in the country, and their ethos is so good that when David Blunkett was Education Secretary, he said he wished he could bottle it.
It might seem anachronistic that 26 bishops sit in the House of Lords. But that adds a welcome element of altruism to the upper house. You might not always agree with the bishops – I didn't over the benefit cap – but it is still good to have people there who believe it is their job to stand up for the weakest, most vulnerable in our society.
Rightly, leaders of other religions have also been ennobled, such as the Chief Rabbi, Lord Sacks. But this is still predominantly a Christian country, so Christianity is not disproportionately represented. In Dawkins' poll, 54 per cent called themselves Christian, more than 10 times as many as the next most popular religion, Islam, at just 4 per cent.
If our Church were so medieval and entrenched in the state that, to take an example, it insisted that abortion be illegal or, to take another, that pop music be banned, women prevented from driving and girls excluded from education, then I would be the first to campaign for disestablishment. But the Church of England isn't at all like that, and we should instead celebrate its benign influence. As the Queen said last week, "the Church has helped to build a better society – more and more in active co-operation for the common good with those of other faiths".
It has certainly been "occasionally misunderstood" and "commonly under-appreciated". More radically, though, she claimed that the duty of the established Church was to protect the free practice of all faiths and none. That is a noble calling, and one that can be met only by a Church that doesn't disparage unbelievers or those of other denominations or religions. The Church of England is rare among religious institutions in exhibiting this tolerance and free thinking.
"Gently and assuredly", said the Queen, the Church has created such an environment in this country. I like those adverbs. Yes, the C of E can be bumbling and take an inordinate time to resolve its internal disputes. But it is kind and generous even to those who don't agree with its teachings. And that's more than can be said of Richard Dawkins.
Register for free to continue reading
Registration is a free and easy way to support our truly independent journalism
By registering, you will also enjoy limited access to Premium articles, exclusive newsletters, commenting, and virtual events with our leading journalists
Already have an account? sign in
Register for free to continue reading
Registration is a free and easy way to support our truly independent journalism
By registering, you will also enjoy limited access to Premium articles, exclusive newsletters, commenting, and virtual events with our leading journalists
Already have an account? sign in
Join our new commenting forum
Join thought-provoking conversations, follow other Independent readers and see their replies