Owen Jones: There should be no immunity for Julian Assange from these allegations
Ecuador is wrong to describe the accusations against the WikiLeaks founder as 'laughable'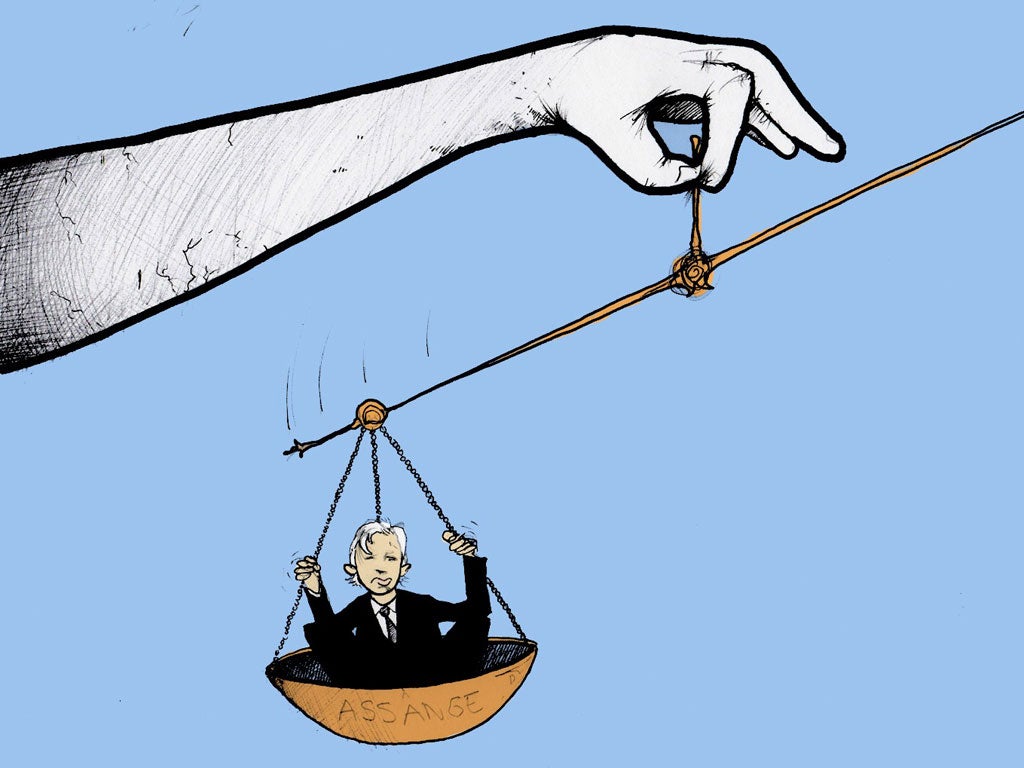 People who do otherwise commendable work are capable of rape and other crimes. If presented with rape allegations, they must face them like anybody else, however otherwise worthy their past contributions. Now, these statements should be so self-evidently obvious, it is ludicrous that they need to be said. But the furore over WikiLeaks founder Julian Assange sadly makes it necessary. Although now granted political asylum by Ecuador, Assange is a rape suspect who skipped bail. Yet some of his supporters have ended up making arguments that they would never dream of making about anybody else.
For the avoidance of doubt, I'm a strong supporter of WikiLeaks, an organisation that has exposed some of the dark crevices of Western power. Great Powers have always dominated other peoples without their consent, but high levels of secrecy are needed to maintain acquiescence from their own citizens. The leaking of 400,000 documents about the Iraq war in October 2010, for example, exposed widespread torture and the deaths of thousands of civilians.
That Western governments preferably want WikiLeaks crushed is indisputable. Former US soldier Bradley Manning languished in solitary confinement for 11 months on suspicion of passing classified documents to WikiLeaks, leading to the UN's special rapporteur on torture to accuse the US government of cruel, inhuman and degrading treatment. A US grand jury is currently examining evidence that might link Assange to Manning, though it is yet to report. Fears that Assange could end up extradited to the US – and what might happen to him there – are not without foundation.
But that does not mean Assange should be immune from very serious allegations in Sweden. Two women have both accused Assange of rape, and there have been repeated attempts by some of his supporters to discredit them. There have been suggestions that they are part of some kind of CIA honeytrap. The campaigning journalist John Pilger has described them as "concocted charges". But Assange's own lawyer, Ben Emmerson, does not dispute the sincerity of the accusers, arguing in court: "Nothing I say should be taken as denigrating the complainant, the genuineness of their feelings of regret, to trivialise their experience or to challenge whether they felt Assange's conduct was disrespectful, discourteous, disturbing or even pushing at the boundaries of what they felt comfortable with."
But what has been particularly disturbing is the attempt by some supporters of Assange to claim that the allegations do not constitute rape. It is reminiscent of the campaign mounted by certain celebrities in defence of Roman Polanski, who was finally held in 2009 after fleeing arrest in the US more than 30 years previously over the alleged rape of a 13-year-old girl. We've heard this perverse argument that some rapes aren't really rape in Britain, too. Last year, Ken Clarke tried to distinguish between "date rape" and what he described as "serious rape with violence and an unwilling woman".
Let's be clear: rape is rape. Rape is having sex with someone without their consent. And Assange is clearly accused of rape. The allegation of one woman is that Assange had sex with her while she slept, without a condom. Assange's legal team claims that, while she immediately asked if he was wearing a condom and he answered not, she consented to continuing the encounter. But both women allegedly made their consent to sex contingent on Assange's use of a condom: unsurprisingly, given the huge potential risk to their health if he did not.
Assange's lawyer described the allegations of the other woman in graphic detail in court. As he tried to penetrate her without a condom, she alleges, she repeatedly attempted to avoid penetration: her claim is that she tried "several times to reach for a condom which Assange had stopped her from doing by holding her arms and bending her legs open and try to penetrate her with his penis without using a condom".
Many of his supporters argued that this would not constitute rape according to English law, which is simply untrue. Our High Court ruled that: "It is clear that the allegation is that he had sexual intercourse with her when she was not in a position to consent and so he could not have had any reasonable belief that she did."
Again, his supporters query why Sweden has not charged Assange. But that is not how the Swedish legal system works. Defendants are not charged until very late into proceedings, and just before prosecution. He cannot be charged until he is arrested, which can only take place in Sweden. The country is a democracy with an independent legal system, and it is a signatory to the European Convention of Human Rights. But Assange's supporters argue that, if he is sent to Sweden to face his allegations, he will be extradited to the US. This is particularly puzzling. As leading QC Francis FitzGibbon has pointed out, under Section 58 of Britain's Extradition Act, Sweden would have to gain the consent of the British Home Secretary first. As signatories of the ECHR, neither country can extradite a suspect to a country where they will face the death penalty or "inhuman or degrading treatment or punishment".
In any case, why not simply extradite him from Britain? As the American Civil Liberties Union points out, our extradition treaty with the US is "lopsided", because a suspect can be deported if "probable cause" is established, which is not the case the other way round. As a result, the organisation says, UK residents are at risk of "ill-founded" extradition requests to the US. That's why Gary McKinnon, an autistic Scotsman wanted over claims of hacking, and Richard O'Dwyer, a 24-year-old wanted for alleged copyright infringement, face extradition. Christopher Tappin, a 47-year-old businessman accused of selling batteries to Iran that could be used to manufacture missiles, has already been extradited.
As legal expert David Allen Green put it to me: "The USA's best opportunity to extradite Assange is actually whilst he remains in the United Kingdom, a country very ready to grant extradition requests."
Ecuador's government has a great record of challenging the disastrous record of Western neo-liberalism, but its Foreign Secretary is wrong to describe the charges as "laughable" and "hilarious". Though its UK Embassy must be protected from any British Government attempt to attack its sovereignty, it is wrong to offer Assange political asylum. Assange should go to Sweden to face the allegations. That doesn't mean abandoning the struggle to hold Western governments to account, and to force them to be open about how they act in our name. But this is a struggle that has become tragically compromised by Assange.
Join our commenting forum
Join thought-provoking conversations, follow other Independent readers and see their replies