Rupert Cornwell: Cover-up at Penn State exposes its skewed values
Out of America: University cared more about its football team than saving children from sexual abuse by coach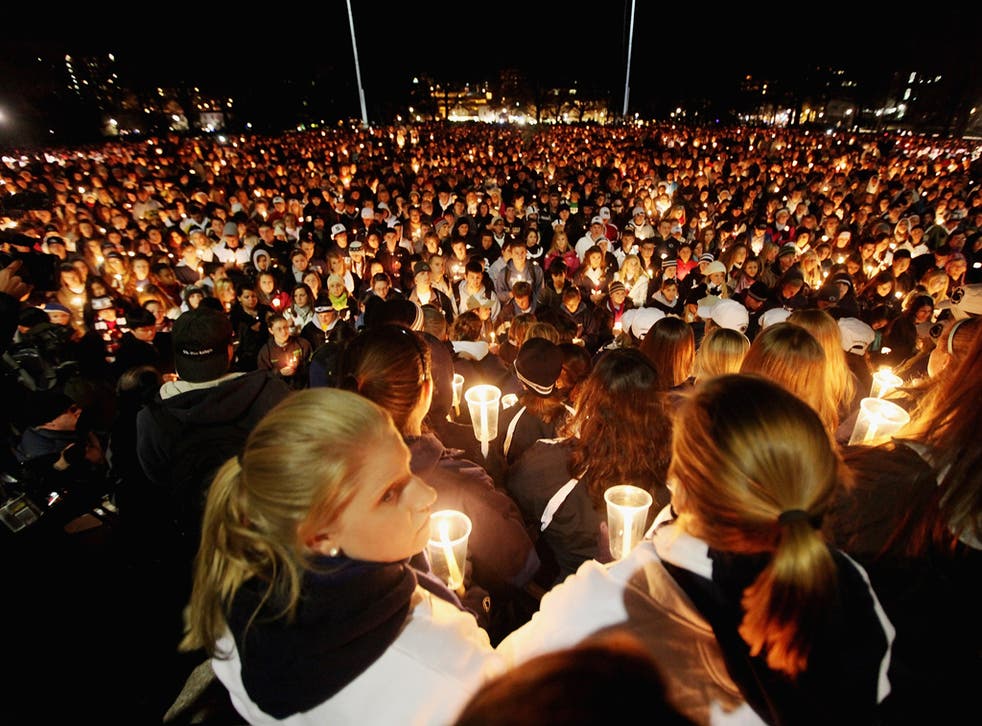 What is the news story that transfixes America? Certainly not the agonies of the eurozone, and not the sexual harassment accusations swirling around Herman Cain – rather, it's a college-football scandal.
But not the usual sort of scandal – illegal recruitment, phoney graduation standards and under-the-counter payments lavished on players who are meant to be amateurs.
No, this was a repulsive case of sexual abuse of children, that would have been horrific in any circumstances. But these were not any circumstances. It has besmirched one of the titans of US college football, and destroyed the reputation of one of its most legendary individuals.
Jerry Sandusky used to be a top coach of Penn State University's football team. Last week he was indicted on 40 counts of sexual abuse, involving eight young boys, between 1994 and 2009. Some of the alleged incidents occurred while Sandusky was the team's defensive co-ordinator; others after he had been eased out in 1998, when early reports of sexual misconduct were investigated by the college authorities.
By then Sandusky had set up The Second Mile, a charity that helped deprived children, some of whose activities took place on the Penn State campus. Some of these children, allegedly, were Sandusky's victims; their abuse is laid out in a 23-page grand jury report so graphic that it is almost unreadable.
Sandusky, who is 67, is free on $100,000 bail awaiting trial. If convicted, he faces life imprisonment. Already though, an earthquake has struck the university. Two senior Penn State officials have been charged with perjury, while the college president was fired on Wednesday night. And so, amid the greatest uproar of all, was Joe Paterno.
To describe Paterno as a mere football coach is to call Sir Alex Ferguson just another football manager. Paterno, a small feisty man rising 85, had been Penn State's head coach since 1966. Over the years, he has won more top-flight college football games than anyone in history, coaching no fewer than five undefeated teams. The university of late has been upping its academic reputation, but its greatest glory remains its football team, which plays in a stadium that holds 106,000 – more than double the population of State College, the idyllic university town in Pennsylvania where Penn State's main campus is to be found.
Paterno was regarded as a throwback to a nobler age in college sport. But now his college is engulfed in a scandal that makes every other pale, while his own incredible career has ended in disgrace and uproar.
After his dismissal on Wednesday night, 5,000 people took to the streets, finally having to be dispersed by helmeted police using pepper spray. Why should Paterno go, the rioters demanded. After all, he done nothing wrong. How could Penn State's most illustrious servant be treated so shoddily, after all he had achieved?
In truth, however, Paterno, wittingly or unwittingly, was part of a cover-up. In 2002, one of his assistants told him he had witnessed Sandusky anally raping a boy in a shower-room. Paterno passed on the information about his old friend to his superiors, as he was required to do; but not to the police. And, for years, nothing happened. Only in 2009 did the parents of another victim complain to police, and the decisive investigation was finally launched.
Parallels with the unproven allegations against Herman Cain should not be pushed too far. But in different ways, both illustrate a similar truth: how hard it is for victims, whether of sexual abuse or sexual harassment, to come forward when powerful institutions or powerful people are ranged against them.
In fact, the most obvious parallel is the scandal of sexual abuse by priests, long hushed up and ignored by the Catholic church. In that case, the reputation of an institution was deemed far more important than justice for individuals it had betrayed. The inescapable impression is that much the same happened at Penn State, to protect the university's most shining jewel, its football programme.
But, like the church scandal, this one was too big to hide. The university's trustees have appointed an outside committee to investigate what happened; it remains to be seen how badly the university's current $2bn fundraising drive will be affected.
In the meantime, though, the show goes on. Yesterday Penn State took on the University of Nebraska in its final home game of the season – a game many would argue should never have been played. Cancellation was considered, one trustee said, "but we felt very strongly that to penalise the players and the fans and the band... was just the wrong thing to do". And you can bet the TV ratings weren't bad either.
Register for free to continue reading
Registration is a free and easy way to support our truly independent journalism
By registering, you will also enjoy limited access to Premium articles, exclusive newsletters, commenting, and virtual events with our leading journalists
Already have an account? sign in
Register for free to continue reading
Registration is a free and easy way to support our truly independent journalism
By registering, you will also enjoy limited access to Premium articles, exclusive newsletters, commenting, and virtual events with our leading journalists
Already have an account? sign in
Join our new commenting forum
Join thought-provoking conversations, follow other Independent readers and see their replies