Rupert Cornwell: Even now, Democrats are eyeing 2016 election
Out of America: Obama is standing for the last time, so delegates at this week's convention in North Carolina will be looking for his successor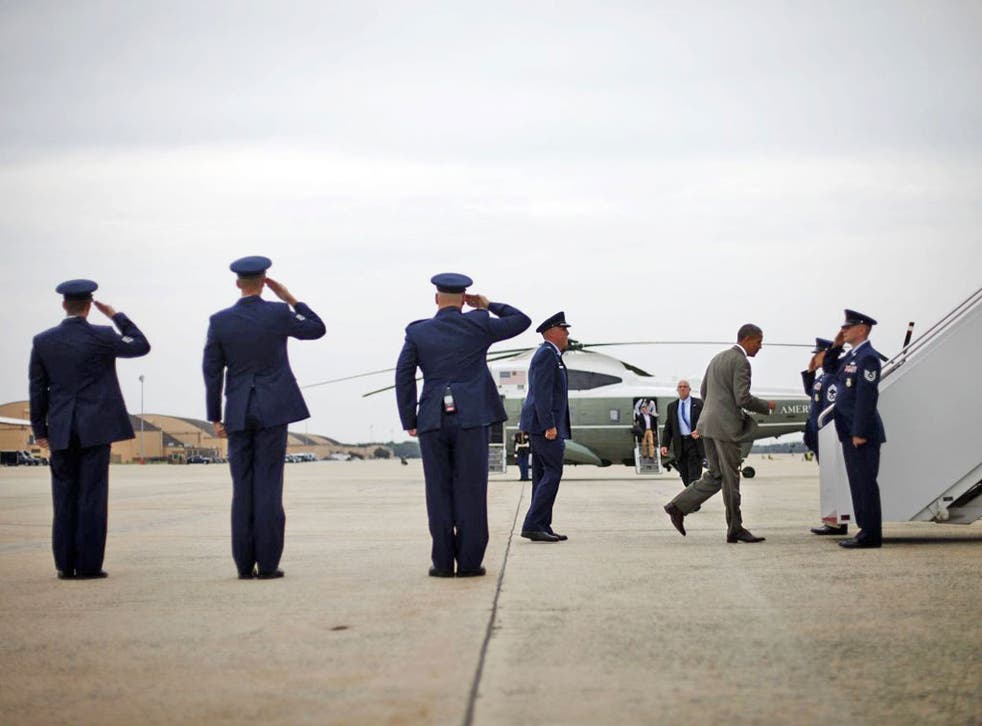 From Tampa to Charlotte. From a Republican convention where Mitt Romney did what he had to do and Clint Eastwood made a fool of himself, to the Democrats' jamboree in North Carolina. There an incumbent president must rekindle the enthusiasm that swept him to office four years ago, and explain to a dispirited country why he deserves a second term and what he's going to do with it.
But there's an intriguing subplot to events this week. Win or lose on 6 November, Barack Obama will be history. He will have fought his last election. Defeat would be a disaster, a terrible repudiation that could see the Republicans take full control of Washington; victory would offer a final chance to turn promise into achievement. Either way, however, Obama won't be running next time around. The Charlotte convention will be about 2012. But it also signals the start of the battle for the Democratic nomination in 2016.
Something of the same happened in Tampa among Republicans. Ostensibly, all eyes were on Romney. Would he make a decent speech, would the social conservatives and Tea Party types, who still don't trust him, kick up a fuss? The respective answers: yes and no. But the convention was also a showcase for people with an eye on 2016, should Romney lose the election.
Most of the party's young guns were given important speaking slots. Paul Ryan, Romney's running mate, who gave the convention's single most powerful speech, will surely be a factor in Republican presidential politics for years to come, whatever his fate in November. Marco Rubio, the photogenic first-term Florida senator, also seems to have done himself much good.
However, the bulky and distinctively less photogenic Chris Christie, Governor of New Jersey, was deemed less of a hit with his keynote speech. Too little Romney, too much Christie, was the general feeling. Then there's Jeb Bush, former governor of Florida and presidential sibling, whose appearance drew a standing ovation that made you think he'd have won the nomination by acclaim, but for that four-letter-word surname. If Republicans fail to recapture the White House this time, Jeb will surely be installed among the early favourites for 2016. If Romney wins, of course, all calculations go on hold for four years.
By contrast, the Democrats simply can't wait – not least because their opponents' talent pool right now looks deeper. Republicans were stunned by their heavy defeats in the mid-terms of 2006 and then in 2008, when they were overwhelmed by the Obama machine and a Democratic party desperate to regain power. The party poured a fortune into organisation and seeking out better candidates at state level. The reward was a bumper crop of new stars, of whom Rubio and Christie are just two.
In comparison the Democratic cupboard looks a bit bare. One reason, of course, is that potential successors to Obama have had to toil in his shadow. There are rising Democratic governors, too, but who's heard of Martin O'Malley, of Maryland, or Deval Patrick, of Massachusetts?
Andrew Cuomo, admittedly, is better known. He had a famous father, Mario, and as Governor of New York, has a bigger platform. The younger Cuomo's backing for same-sex marriage, coupled with his willingness to take on public-sector unions, has earned him support among both left and right of his party. Liberals also look longingly at Elizabeth Warren, Harvard professor and consumer protection advocate. She's a forceful and attractive politician, to be sure, but right now no more than a candidate in an extremely close Senate race in Massachusetts.
All of the above will be in Charlotte, and O'Malley and Patrick are already on the official programme. But the best gauge of whether they've an eye on 2016 is if they turn up to speak at breakfasts for convention delegations from the early primary states such as Iowa, New Hampshire and South Carolina. Conventions are, above all, get-togethers where ambitious young politicians network and put down markers – among them, of course, a certain Illinois state senator who was selected to give the keynote speech at the Democratic convention of 2004.
Barack Obama now needs no introduction, and nor will Julian Castro after he delivers the keynote in Charlotte. At 37, Castro is mayor of San Antonio, the seventh largest US city, and, like Obama, he's a graduate of Harvard Law. He's serious and hugely competent. He's been given the spotlight in Charlotte because he's Hispanic, from an ever more important, and heavily Democratic, demographic group. At least one Republican – Mark McKinnon, a former top adviser to George W Bush – has tipped Castro to be the first Hispanic president of the United States.
That day, though, if it ever comes, is well in the future. Think Democrats 2016, and you're thinking yesterday, not tomorrow. The two names at the top of every list are Hillary Clinton, who would start as prohibitive favourite if she decided to run, and, believe it or not, Vice-President Joe Biden.
Hillary insists that she's exhausted, and that four years as Secretary of State is the end of the political line for her. When Obama gives his acceptance speech on Thursday night, she'll be about as far away as geographically possible, wrapping up a Pacific tour in Vladivostok, Russia. But in politics, never count a Clinton out. Nor a Biden either.
At first glance, another Biden bid makes no sense. The Vice-President will be 74 come Inauguration Day 2017. He made his first bid for the White House in 1988 (when he dropped out after being caught plagiarising Neil Kinnock), and was a distant also-ran in 2008. In public, though, Biden is careful not to rule out another attempt, and associates say he really wants to.
And why not? In the nomination stakes, vice-presidents have a head start. There have been 47 in US history; of them 14 – almost a third – have ascended to the Oval Office, while three others (Hubert Humphrey, Walter Mondale and Al Gore) have won their party's nomination, but lost in the general election. On 11 October, Biden and Ryan square off in the vice-presidential debate. Could it prefigure the White House race of 2016?
Register for free to continue reading
Registration is a free and easy way to support our truly independent journalism
By registering, you will also enjoy limited access to Premium articles, exclusive newsletters, commenting, and virtual events with our leading journalists
Already have an account? sign in
Register for free to continue reading
Registration is a free and easy way to support our truly independent journalism
By registering, you will also enjoy limited access to Premium articles, exclusive newsletters, commenting, and virtual events with our leading journalists
Already have an account? sign in
Join our new commenting forum
Join thought-provoking conversations, follow other Independent readers and see their replies