Snared a rock star? They're asking for it
Insensitive reporting of the death of L'Wren Scott conforms to a pattern of media coverage of women who 'get above themselves'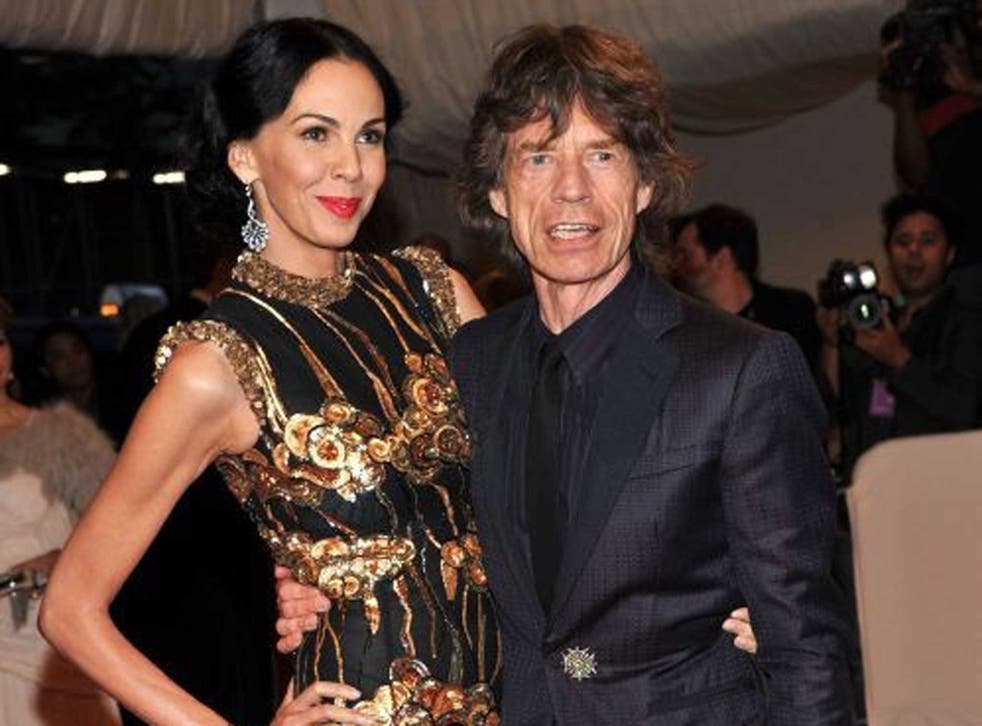 It is a well-known fact in some circles that rock stars suffer from "toxic girlfriend" syndrome. After dating their rock gods for just a few years, these women inexplicably decide they've had enough; they expect to meet the family, move in or get married, and have successful careers of their own. They want it all, in other words, and some of them might even be described as "bossy".
The prototype is the Japanese artist and activist Yoko Ono. John Lennon's widow has been unfairly reviled as the woman who broke up the Beatles, and her name has become shorthand in the popular press for any woman who refuses to be a doormat. Some people never forgave Linda Eastman, either, for replacing the saintly Jane Asher in Paul McCartney's affections. The Daily Mail was still trashing her in 2010, long after she died of breast cancer, as a "groping groupie" who was "on the lookout for something more permanent" when she met McCartney.
The American designer L'Wren Scott never dated a Beatle, but she was the partner of a Rolling Stone until her awful death six days ago. Scott was hardly an unknown in the fashion world, having dressed Michelle Obama and Nicole Kidman, but she was described as Mick Jagger's girlfriend in initial reports of her suicide. That upset a great many people, as did the torrent of cruel and perverse speculation which followed. It included a report in an American tabloid, firmly denied by Jagger, that he had dumped her shortly before her death.
Then came a claim, in the same paper, that the rest of the Rolling Stones loathed Scott and had refused to allow her to accompany the singer on the band's latest tour. "Mick Jagger's doomed lover … was loathed by his bandmates as the group's Yoko Ono," declared the New York Post. The claim came from an unnamed source who also described Scott as "controlling".
It was rejected by the band, whose members were reported to have accused the paper of running a "vendetta" against the dead woman. But it was picked up in the UK by the Daily Mail, which gleefully claimed that the rest of the Stones "compared L'Wren to the woman who broke up the Beatles". That's two holes-in-one for misogyny: using a slur against a live woman to damage the reputation of another who has died in tragic circumstances. It is also a breach of the code drawn up by the editors' code of practice committee, which requires that stories involving personal grief should be handled "sensitively" – an injunction that has been flagrantly ignored in the past few days.
L'Wren Scott: Career in pictures

Show all 20
As was Jagger's request for his privacy to be respected as he flew to the US and started preparing the funeral of his partner of the past 13 years. Some of the reporting has been so cruel that one showbiz website accused sections of the popular press of trying to "kill" Scott a second time.
The code advises caution about publishing "excessive" detail of how someone committed suicide, a clause designed to avoid the risk of copycat deaths. The Daily Mail columnist Jan Moir, whose editor Paul Dacre chairs the code of practice committee, not only mentioned the method Scott used in her very first paragraph; she even included a fashion detail, which I won't repeat, as though she was writing a breathless account of the designer's appearance at a red-carpet event.
Moir has form in this connection, having once attracted a record 22,000 complaints in a single weekend for a distasteful column attacking the gay singer Stephen Gately; Moir claimed that his death after a night out in Mallorca "strikes another blow to the happy-ever-after myth of civil partnerships". In her latest column she scoffed at Scott's "life of astounding privilege" and attacked the broadcasters Clare Balding and Alice Arnold, who were among the thousands who complained about the sexist coverage of her suicide. Balding and Arnold are a well-known lesbian couple, a point Moir may have had in mind when she mocked "the scalded feelings of a few peeved she-fems".
The causes of suicide are complex and no one knows what was in Scott's mind when she decided to end her life. What is clear – and distasteful – is the way in which the circumstances of her death are being used in a series of narratives which undermine women. Envy of the wives and girlfriends of pop stars is nothing new; it has been around for decades, as Ono, Jerry Hall, Heather Mills and others have discovered. But no stereotype is quite as irresistible to the popular press as the career woman who snares a rock star, but is secretly empty inside.
Register for free to continue reading
Registration is a free and easy way to support our truly independent journalism
By registering, you will also enjoy limited access to Premium articles, exclusive newsletters, commenting, and virtual events with our leading journalists
Already have an account? sign in
Register for free to continue reading
Registration is a free and easy way to support our truly independent journalism
By registering, you will also enjoy limited access to Premium articles, exclusive newsletters, commenting, and virtual events with our leading journalists
Already have an account? sign in
Join our new commenting forum
Join thought-provoking conversations, follow other Independent readers and see their replies