Steve Richards: Cameron can't easily dismiss the toxic trail to Murdoch's bid
A government has not been this fragile since John Major staggered from crisis to crisis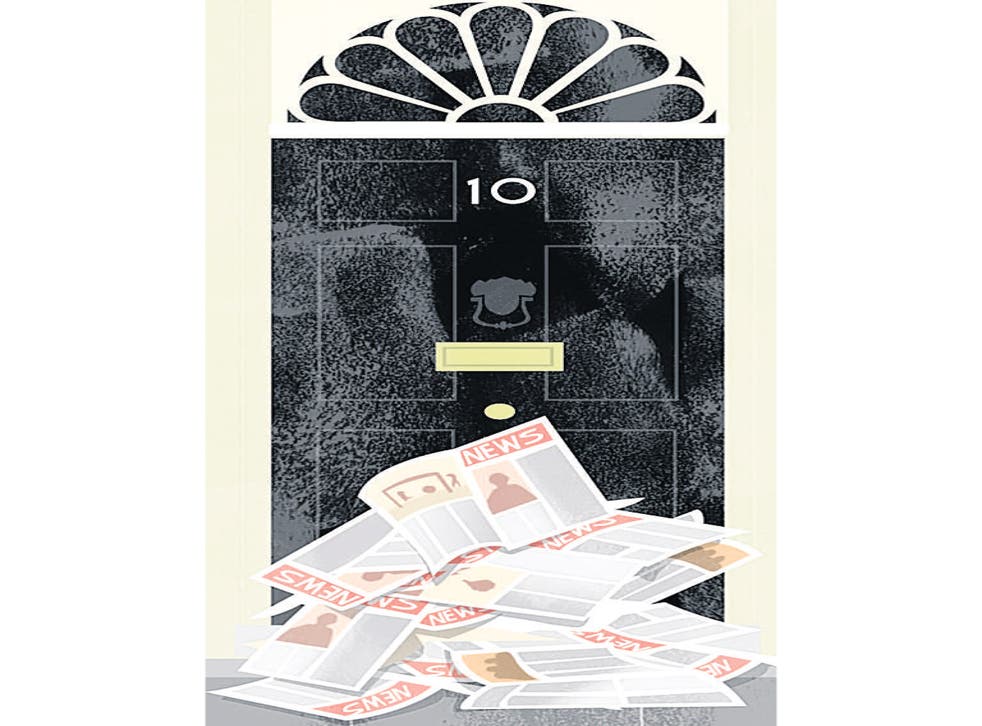 We are living through a very British revolution. In the messy transition from one era to the next, the old familiar policies and strategies do not work any longer. David Cameron and George Osborne are struggling to stay afloat not because they are suddenly useless, but because they are trapped by the past. In spite of their flimsy claims to be forward-looking modernisers they are, in reality, two young politicians with no previous experience of power, caught in a situation that calls for titanic insights and fresh thinking.
Instead Osborne's economic policies are framed on outdated assumptions formed largely in the 1980s that do not apply in these unrecognisably different times. Cameron's overt and unsubtle wooing of Rupert Murdoch came at a point when News International was already in crisis. Cameron did not seem to notice. Not fully formed as a politician he also looked to the past for guidance. He did what Margaret Thatcher, Tony Blair and Gordon Brown did and paid homage at Murdoch's altar. A government's relationship with Murdoch is determined at the very top and not by some fleeting adviser of the Culture Secretary. This is Cameron's crisis rather than Jeremy Hunt's.
A lot of yesterday's session with Murdoch at the Leveson Inquiry focused on the Thatcher era and rightly so. The lady sowed the seeds that once bloomed and now threaten to destroy her bewildered successors both in relation to the economy and Murdoch. Osborne's economic policies were formed partly after conversations with the Tory Chancellors in the 1980s. But those big figures, Geoffrey Howe and Nigel Lawson, far more experienced when they became Chancellor than Osborne was, made their moves in a different economic context.
In the 1980s the rest of Europe and the US were booming. Osborne was virtually alone in the western world in opposing a fiscal stimulus after the global financial crisis in 2008. In power he took demand out of the economy when there was no demand from any other source. Ed Balls warned of the consequences in the summer of 2010 and was widely derided. Even some of his weak-kneed colleagues took fright at Balls' analysis, fearing that the seemingly self-confident Osborne would be proved right. Bravely Balls stood firm. He is an economist who understands that policy in the post-2008 crash must go well beyond banal simplicities about the impossibility of borrowing your way out of a debt crisis.
Osborne looked to the comforting simplicities of the past for guidance because he is not equipped to come to terms with the tumultuous present.
The same dynamic applies to Cameron and Osborne's pursuit of Murdoch. On this they deserve a lot more understanding than in relation to their dogmatic approach to the economy. When a single media mogul is so powerful, at the very least it makes a big difference to have him on side. But if there were an election tomorrow, I suspect Cameron would be rather alarmed to get the endorsement of The Sun, further proof that we re moving from one era to another.
On one level Cameron is unlucky. He happened to be leader when the music stopped, although there were signs in the last years of Blair and during Brown's stormy reign that the tunes were less melodic than they were from the early 1980s to 2001. Blair made several calls to Murdoch in the days leading up to the war in Iraq. In the immediate aftermath he hoped for a "Baghdad Bounce" in the polls, arranging an interview with The Sun in which he was portrayed as a war hero, as Thatcher had been after The Falklands. Blair never got the bounce. Public opinion had become more questioning since Blair's political apprenticeship when he stood as a doomed Labour candidate in the first by-election after the Falklands War and noted the admiration for the Iron Lady. The Sun could not generate a "feelgood factor" for him.
Nevertheless I can understand why Cameron sought the backing of Murdoch's powerful papers. His one mistake was to become so overtly close when the BSkyB bid was under consideration. This is when his inexperience and his failure to recognise that the Murdoch empire was on the verge of crisis combined in ways that are still potentially combustible.
The Culture Secretary, Jeremy Hunt, is a cautious minister, one who carries out instructions rather than instigates wild, risky missions of his own. Hunt's former special adviser, Adam Smith, was a cautious adviser. This is dangerous for Cameron as well as Hunt. Last July Cameron answered questions in the Commons for more than two hours on his relations with Murdoch's empire. He answered them all with admirable candour except for those relating to the BSkyB bid. The extraordinary emails and texts published on Monday make sense only if Hunt sought to
offer as much co-operation with Murdoch's entourage as was possible in advance of giving the bid the go-ahead, while keeping formal distance, a clever contortion rather than an act of integrity.
Normally I am wary of calling for cabinet ministers to resign. I supported Theresa May and Ken Clarke during recent media frenzies, but the emails and texts between Hunt's office and News International's well -respected Public Affairs figure are damning. I can only assume that Cameron declares effusive support for Hunt because he knows better than anyone that the Culture Secretary was delivering precisely what he had asked for, a grateful Murdoch empire.
Now no one is grateful and gratitude is not sought. Politicians and journalists still talk. Owners of newspapers and politicians still talk. But the swagger of the imperious owner and the politicians' pathetic, supine kneeling at the altar are over.
It is tempting to repeat the cliché that the Murdoch affair is a "Westminster bubble" story and that the economy matters much more. In truth, they are connected and are equally dangerous for the two leading figures of the Coalition.
The Leveson Inquiry and the police investigation continue and will make waves every now and again right up until the next election. Cameron can just about brush aside allegations that he got too close to Murdoch on the basis that his Prime Ministerial predecessors did the same, although it becomes much harder for him to claim he is a different type of leader who has learnt from the past. But it is the BSkyB deal that makes the association more toxic, and there are too many emails and investigations to assume that no more will emerge.
A government has never been as fragile since John Major staggered from crisis to crisis in the mid 1990s.
Register for free to continue reading
Registration is a free and easy way to support our truly independent journalism
By registering, you will also enjoy limited access to Premium articles, exclusive newsletters, commenting, and virtual events with our leading journalists
Already have an account? sign in
Join our new commenting forum
Join thought-provoking conversations, follow other Independent readers and see their replies