Conor McGregor somehow managed to defend his racism by being even more racist
When the MMA star says he's 'half black from the bellybutton down' it's a crude joke about his penis and he's riffing off long standing stereotypes about black men's endowment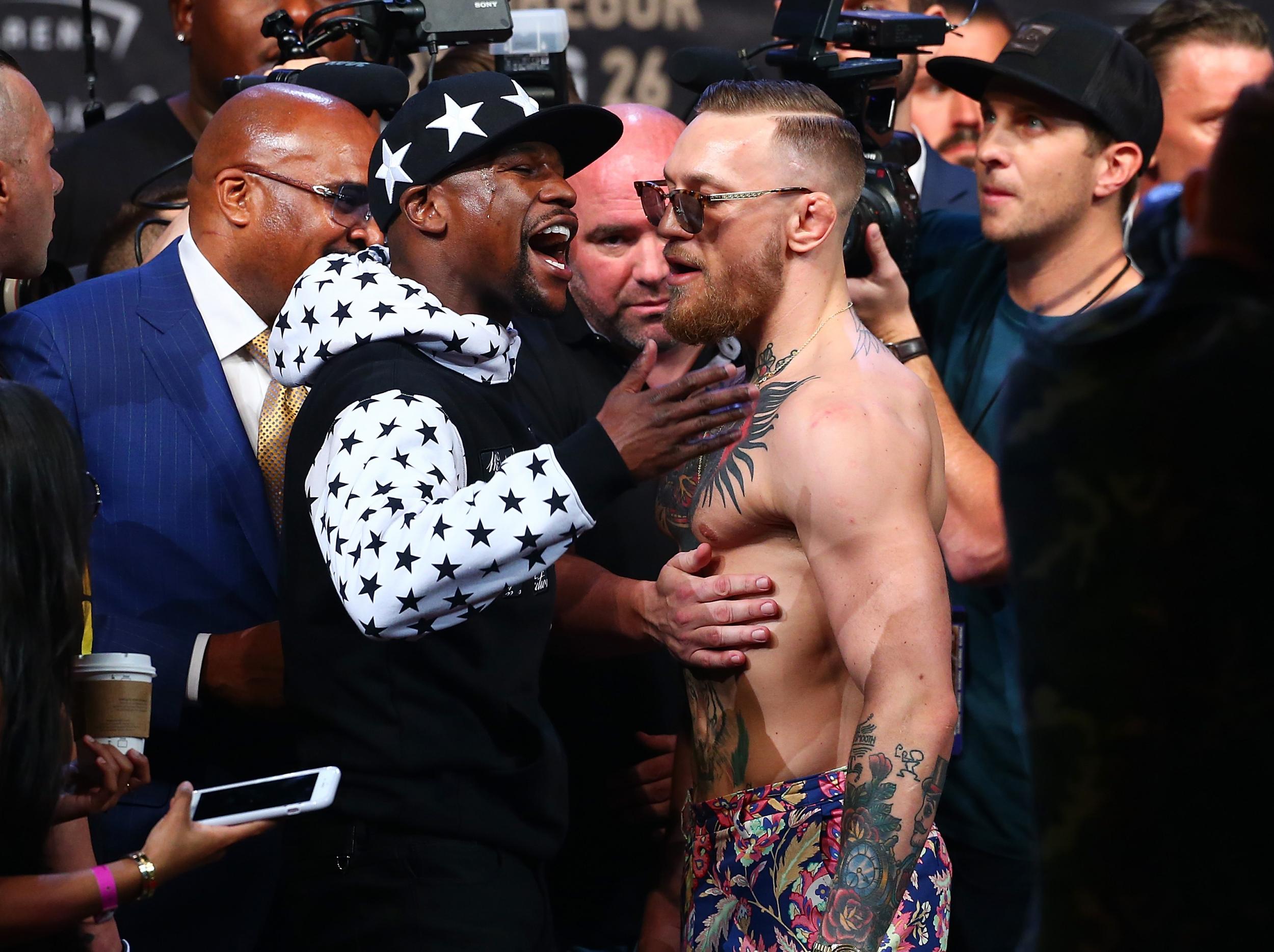 "I can't be racist. Some of my best friends are black," is a nauseatingly familiar response to accusations of racism. But now thanks to MMA star Conor McGregor we have a fresh twist on this hackneyed defence.
Having faced accusations of racism for comments at previous press events alongside Floyd Mayweather, who he takes on in a controversial boxing match in August, the fighter chose to clarify things and address his critics head on Thursday evening by claiming he can't be racist because he's "half black from the bellybutton down." As if that wasn't enough he continued by offering a gift to his "beautiful black female fans" and then grinding his crotch against the air whilst sporting a gaunt smirk over wildly masticating teeth.
The bravado, insults and cocky swaggering are at times as much a part of boxing as the actual fighting. But here McGregor has stepped over a line he doesn't seem to be able to see. Speaking to press after his comments at the Barclays Centre, the UFC champion defended himself once again, saying "I am a very multicultural individual. I do not have any ill feelings towards anyone. I do not even see colour." But his comments and actions have caused offence whether they've come from a place of ill feeling or not.
Conor McGregor reignites racism row by claiming he's 'half black from the belly button down'
For the avoidance of any doubt, Conor McGregor (as far as we know) has no ethnic heritage typically racialised as black. So when he says he's "half black from the bellybutton down" it's a crude joke about his penis and he's riffing off long standing stereotypes about black men's endowment.
This obsession with the size and shape of black people's genitals is old and tiring. At times the stereotype has been used as evidence of our animality, led to oversexualisation of black people and justified demonisation. In other instances it is seen as a 'positive' stereotype. But whether driven by malice or not, the repetition of racial stereotypes is racist. By speaking in this way we accept that having different skin tone, hair texture or genitals that look different some human beings fall into a different category. We accept that some human beings are black and that they ought to be treated as such.
Mayweather vs McGregor: Press tour in pictures
Show all 35
Racism isn't just a hatred of other races, it's also the acceptance that our division into races is natural or acceptable. McGregor is under the impression that the media is saying he is against black people. What people have been pointing out is that he has now on several occasions deployed well worn racist catchphrases with seeming ignorance. In Los Angeles and Toronto he told Mayweather to "dance for me, boy", a phrase with deep links to anti-black racism in the United States. The fact that he is oblivious to that history is very much part of the problem. His obliviousness allows him to do things like objectify black women as he did on stage at the Barclays Centre with apparently zero self-awareness. In our social context that kind of ignorance is dangerously racist in itself.
Whether McGregor hates black people is something for him to reflect on. What's important to recognise is that accusations of racism are serious regardless of how much animus he carries. It takes humility rather than humour to be able to see past one's own privilege and understand how others experience racism. Some aspects of racism are so everyday and mundane that they seem natural to those not on the receiving end of them. If you're defending racism with more racism and can't even see you're doing that, it's definitely time to listen.
Join our commenting forum
Join thought-provoking conversations, follow other Independent readers and see their replies