Integrity and a good product isn't enough in this country, apparently – you need Matt Hancock's number, too
I am constantly lectured by Conservatives about meritocracy and giving the job to the best person – I now realise that when they said the best person, they meant their best mate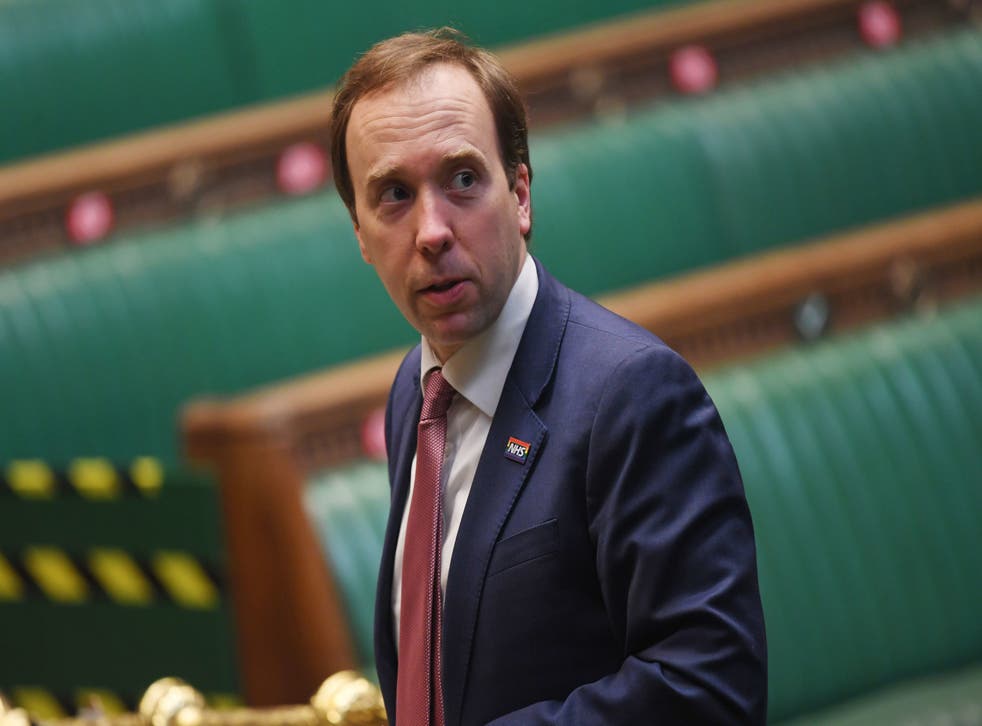 I don't have Rishi Sunak or Matt Hancock's mobile number, sadly, but if I did I would certainly be handing it out to all the businesses in my constituency. A cheeky text to Rishi or Matt is apparently the way to do business in this country. Pop and have a few pints with the lads, and Bob's your uncle, you could get a helping hand to see if you can get yourself a nice little piece of the pie. In fact, if Bob was the uncle of a cabinet minister, you can bet your bottom dollar he became the UK's premier PPE provider during the pandemic.
Let me tell you what life is like for ordinary businesses in my constituency, both inside and outside the crisis, just so you can have a comparison of how most businesses – where you and I might work – interact with the government.
Let's deal with PPE in the crisis first. I had a constituent who contacted me in the early weeks of the initial lockdown and told me that he had warehouses full of the sort of PPE that the NHS and social care were saying that they needed. He told me he was having absolutely no joy with the government portal for contracts; he wanted to help the British efforts, but no one was getting back to him. As a consequence, he was selling his PPE to Spain and Italy. He wanted my help to try and supply the UK.
On the same day that my entrepreneurial constituent was contacting me, I had arranged for a local care home to pick up science goggles from one of our local schools, as they had no eye protection for staff handling vulnerable patients and were reusing masks. Other care homes were desperate and reaching out to me for the most basic PPE, and all the while, Italian lorries were rolling through my constituency, picking up the PPE we so vitally needed.
Duly I popped on to the call set up for members of parliament with the Cabinet Office and, like many MPs were doing, expressed concern that no one was responding to these businesses and it was harming my local care homes. I was given a generic email to direct my constituents to. It was useless and got us nowhere. I got in touch with a local Tory mayor's office; again, the same response and email to contact. The business went all around the houses and ended up nowhere. It was utterly maddening. Turns out I should have been sending Rishi Sunak and Matt Hancock a little WhatsApp message with some smiley face emojis.
A second example is of a brilliant manufacturer of vehicle components in my constituency. This is a British business employing British workers who sell to the world's low- and zero-emissions markets. You would think that, with such credentials, these companies would easily be able to get the ear of government, right? Well, obviously their brilliant product and local British status is not enough.
Every time a politician has their photo taken next to a zero-emissions bus, this business will send me an email that reads, "This bus was made in China." I have tried to get them in front of transport ministers; I have tried to protect these local jobs, to boost this local business. I have failed.
On one occasion where I did get myself in front of a transport minister, where I did not ask for favour but instead expressed the concern of this business that the British government was largely buying from abroad, I was rather snippily told, "Well, we cannot show favour." Oh, can't we? I'm not sure David Cameron got that memo. Are you telling me that my local businesses cannot come and be advisors to No 10 and then later get access to taxpayers' money? I should have been an ex-cabinet minister with massive share options in the company and a packed contact list in my mobile. I didn't want a favour for anything other than British business.
What makes me balk about this whole saga is that as someone who speaks up for equalities and women's rights, I am constantly lectured by Conservatives about meritocracy and giving the job to the best person. I now realise that when they said the best person, they meant their best mate.
The businesses in my constituency, like businesses all over our country, are run by good, honest, hardworking men and women. They want to be able to employ local people, create wealth for their community by providing what our country needs to be free from emissions, and help it in a crisis. These people are patriots: they represent the best of British to me. They act with integrity, transparency and honesty, which is probably why they never get invited to the special lunches with chancellors and secretaries of state. It doesn't seem to be the kind of company they keep.
Register for free to continue reading
Registration is a free and easy way to support our truly independent journalism
By registering, you will also enjoy limited access to Premium articles, exclusive newsletters, commenting, and virtual events with our leading journalists
Already have an account? sign in
Join our new commenting forum
Join thought-provoking conversations, follow other Independent readers and see their replies